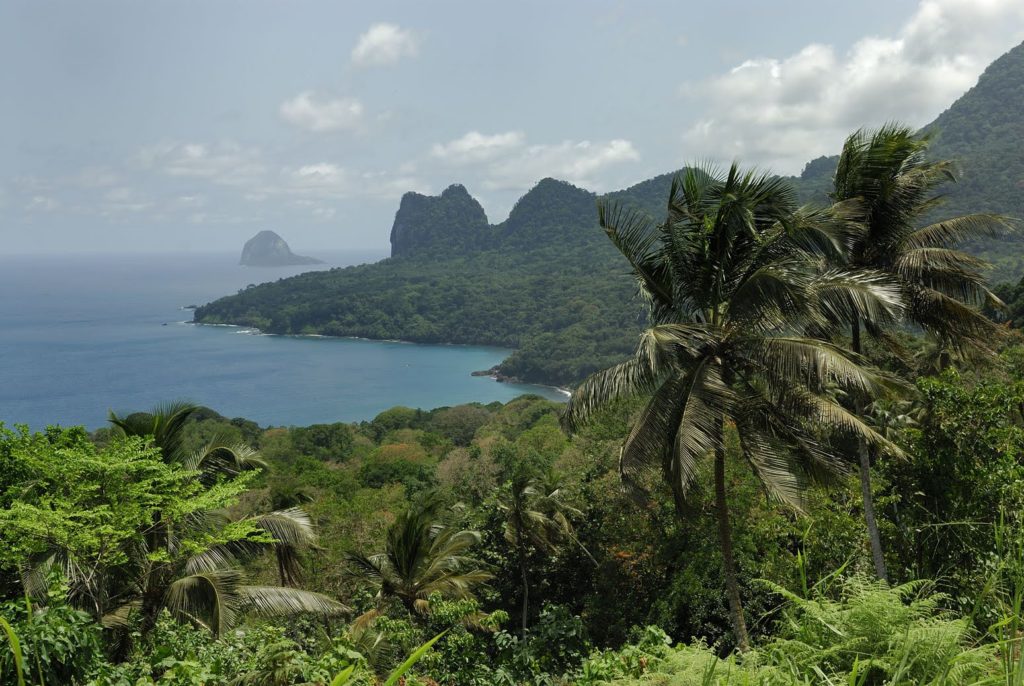 Carla Verónica Fuenteslópez (2014) writes from the remote island of Príncipe about her time at Magdalen and the expedition she is currently leading in one of the world's most unique ecosystems. 
Magdalen is a very special place for me: it was my first College in Oxford; my first home when I moved to England; and the place where this all started.
During my first term at Oxford, I was introduced to rowing (and haven't stopped since!) and very quickly, early morning outings, erg sessions and weekend double outings became a pivotal part of my life. One of my favourite moments was walking to rowing outings early in the morning. I would start walking towards the Meadows and then turn around to see the tower from Rose Lane. It was such a peaceful moment and I remember thinking how lucky I was to be there. I am now doing my DPhil at St Hugh's in tissue engineering, researching non-penetrating traumatic injuries. During the pandemic, I started rowing with Magdalen again. It feels like coming home.
As an undergrad at Magdalen, I joined the Oxford University Exploration Club (OUEC) and was instantly fascinated by the expeditions that were taking place. Little did I know that it would be the start of a passion for exploration and discovery. Over the next few years, as I completed my MSc and started my DPhil, I became more involved with OUEC, eventually serving as Chairwoman.
Bastiaan van Dalen, a friend of mine, and I had been talking about doing an expedition together for a while, but him being an archaeologist and me a bioengineer, the overlap between our fields wasn't too obvious. After the second lockdown, when things started opening again, we decided to finally put together an expedition. After several weeks of brainstorming and research, we had two research project ideas in different locations.
Then, one evening, we were talking with a few friends and the expedition plans came up. What we were not expecting was that one of our friends, Denise Swanborn, had a connection to São Tomé and Príncipe which was one of our candidate locations. We immediately started going into more detail about the research project, the island, and the expedition. Denise, a marine scientist, also had extensive experience doing expeditions and dealing with logistics and operations. So that very evening, we decided that we would embark together on an expedition to Príncipe Island.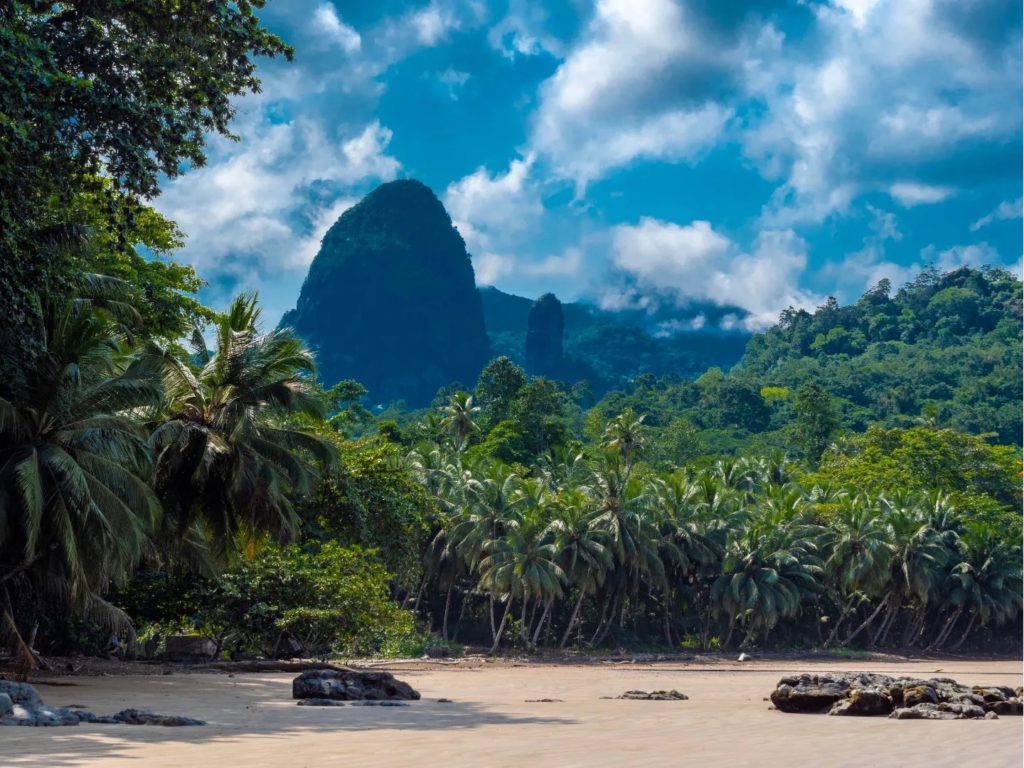 We then spent several weeks working on our Expedition Proposal, ensuring that our research project was not only scientifically interesting but would also contribute to broadcasting the voices of the people of Príncipe. From the very beginning, we established a collaboration with Forever Príncipe, a local charity focusing on conservation on the island.
As part of our expedition outcomes, we wanted to produce a documentary film. To that end, we recruited Sophie Carlarne who had filming and social media management experience.
Our first milestone was successfully pitching our project to the Expedition Council in Michaelmas 2021. This also meant that we would be recognised as an official University of Oxford Expedition. After this, we spent over a year writing up funding applications, doing interviews, refining our project, and sorting out the logistics. We finally deployed to Príncipe at the beginning of 2023 to start our expedition.
São Tomé and Príncipe have never been connected to mainland Africa, and their relative isolation has allowed the evolution of endemic species – species that are found nowhere else – much like on the Galapagos islands, which were the basis of Darwin's Theory of Evolution. Despite their rich and unique biodiversity, São Tomé and Príncipe remain relatively understudied – especially the smaller island of Príncipe. Key knowledge gaps remain about the effect of early human settlement and activity on the islands on its native biodiversity.
São Tomé and Príncipe poses an interesting case study for our research, as the islands are thought to have been uninhabited until relatively recently. Human settlement on the islands likely only started in the late 15th century, when the islands were discovered by the Portuguese.
It is understood that human arrival on islands can significantly change ecosystems. Although it is known that a large part of the vegetation and agricultural crops grown extensively on Príncipe were brought from other parts of the world, there is no quantitative information on the island's vegetation before its human colonisation. We therefore do not know how human-mediated species introductions have changed these earlier ecosystems. By reconstructing ecosystems of the past, we may be able to find out how human colonisation and settlement influenced biodiversity throughout time and provide lessons relevant for contemporary environmental management.
To answer these questions, we have been collecting sediment cores from open water bodies on Príncipe. We have been visiting coastal lagoons and swamps at seven different locations around the island for our surveys. We use a sediment corer from the Oxford Long Term Ecology Lab that we lower into the water whilst standing on a raft, so as to not disturb the sediment below us. The collected sediment core samples are then analysed upon return from the field. Amongst others, we will be checking the presence of pollen which can tell us something about the plant species present at different points in time. Combined with botanical surveys, these will allow us to build a picture of the state of the environment throughout time by studying changes in vegetation.
We are also interviewing local people to understand environmental stewardship practices and empirical environmental knowledge, as well as oral histories. These interviews will form the input for a short documentary which aims to amplify local voices.
We have been in Príncipe for a few weeks and it has been very intense but incredibly rewarding. The first few days, we focused on preparing all the equipment and scouting the lagunas for the surveys. In my case, those first days were filled with designing, prototyping, and testing (and several iterations of these!). We wanted to reuse materials discarded by local establishments as much as possible, with the idea of generating minimal waste from our expedition. For example, the raft we used for the sediment coring was built using wooden planks that were left over from hotel furniture.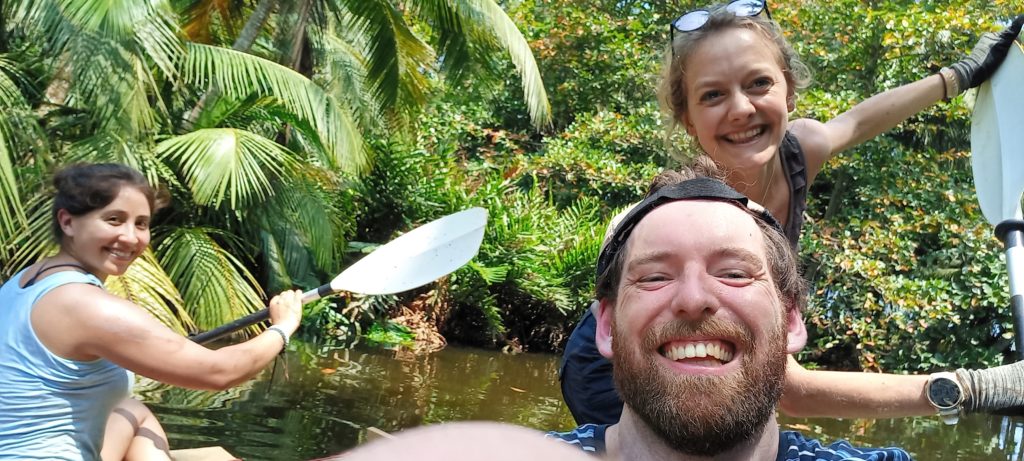 Once we started conducting the biodiversity surveys and the sediment coring, we all took on roles that were the best match for us. For instance, Denise and I usually do the depth measurement surveys (all that kayaking and rowing experience came in very handy!); and Bastiaan, Denise and I do the sediment coring while Sophie films. For the botanical surveys, Bastiaan and Denise take measurements of selected plants while I collect voucher samples and then press them so that they can be preserved long term.
The research we are doing in the expedition is completely different from my own DPhil work. For example, before the training for the expedition, I had never seen a sediment corer in person so was a bit nervous about spending several weeks on the island taking sediment cores. It is a very demanding process – both physically and logistically. I am very proud to share that we have obtained very promising samples so far. For instance, cores with many visibly distinct layers of sediment, cores that are 1m long (the maximum length allowed by the chamber), and double cores (two cores that are taken next to each other at different depths, so that when analysed together are the equivalent of a 1.5m-2m core).
Working on a type of research that is the first of its kind on the island comes with some unique logistical challenges. To identify appropriate research locations, we need to conduct scouting trips and site surveys to inform our research activities accordingly. Because of the nature of the research, some of these locations are quite remote and not easily accessible, which can be challenging with the large amount of equipment we bring with us. In some cases, some of these sites are very rocky or sandy, which means that the samples will not be of great quality.
Biodiversity is under pressure globally from rapid environmental changes. Because of their size and isolation, biodiversity on smaller island nations as São Tomé & Príncipe may be particularly vulnerable to such changes. These include the effects of climate change, such as sea level rise, extreme weather and reduced crop yields, but also direct human activities resulting in the degradation or conversion of ecosystems. Better knowledge of the unique biodiversity of the islands will facilitate education and conservation of these unique ecosystems.
We are hoping that the data collected during the expedition will provide new insights into environmental change and human environment interactions, both past and present. We also hope that this field season will form the basis for longer term multi-disciplinary collaborations to continue building on this work. Through our documentary we further aim to share the story of Príncipe with the world, and inspire others to work towards the sustainable stewardship of their own local environments.
We are very grateful for a range of partners and collaborators including the University of Oxford, the Explorers Club Rolex Grant, the Harvard Travellers Club and St Hugh's College. In the field we have received in kind support from the Belo Monte Hotel and Forever Príncipe for logistics, accommodation and the use of a laboratory space as part of their ongoing research support activities.
The expedition can be followed at www.principepastandpresent.com as well as Instagram, Twitter, Facebook and LinkedIn