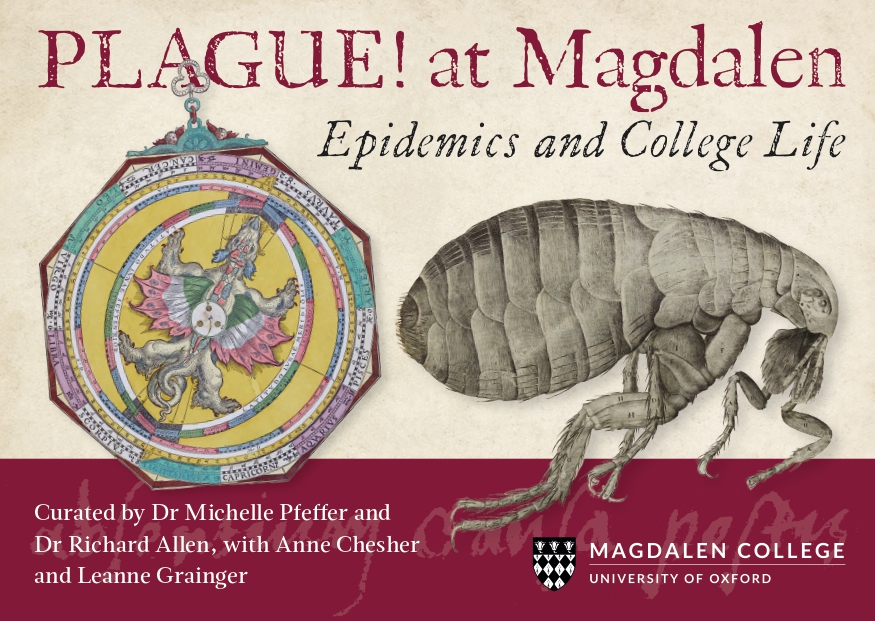 Location
Summer Common Room & Old Library
Event type
Alumni, College, Library, Public
Curator Dr Michelle Pfeffer will guide you through the fascinating history of epidemics in Magdalen and Oxford. Following the talk, there will be an opportunity to view the Plague! at Magdalen exhibition in Magdalen College's Old Library, with light refreshments in the Summer Common Room.
Plague! at Magdalen: Epidemics and College Life
Curated by Dr Michelle Pfeffer and Dr Richard Allen, with Anne Chesher and Leanne Grainger 
From bubonic plague to Covid-19, Magdalen College has been impacted by dozens of epidemics throughout its 564-year history. Through its rich library and archives, this exhibition explores the college's experience of—and responses to—epidemic diseases, from its founding in 1458 to the present day.
Epidemics have left a lasting mark on Magdalen and on wider Oxford. This exhibition shares stories of Magdalen's experience of epidemics, showcasing manuscript and print material on the history of plague, smallpox, cholera, typhoid, STDs, Covid-19, and other diseases.