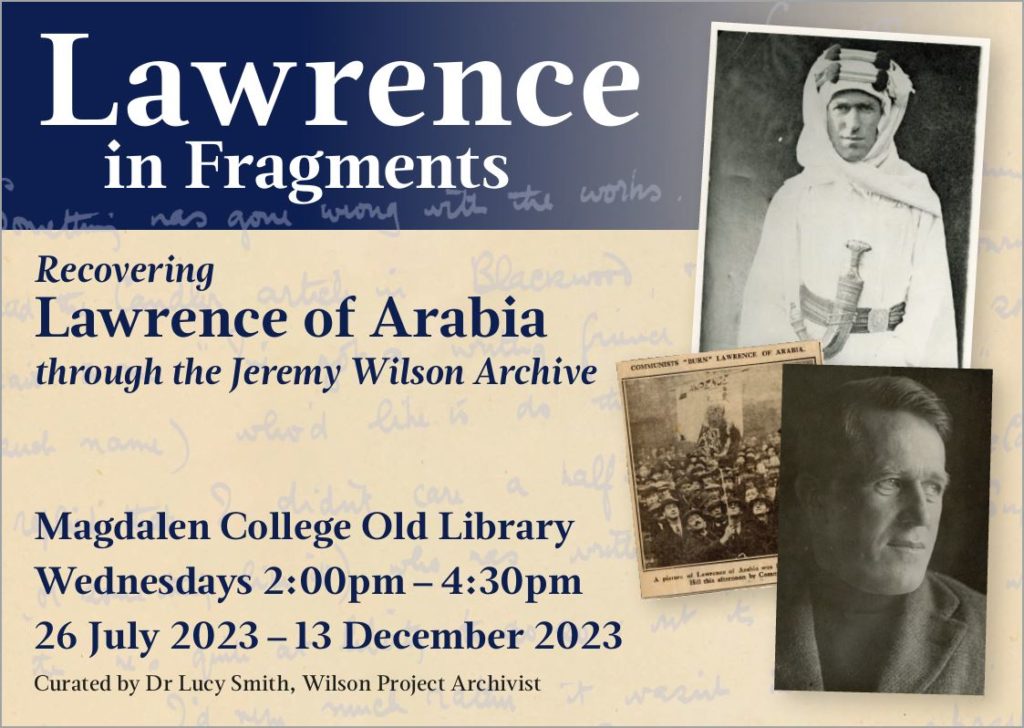 Event type
Alumni, Library, Public
Date
26 July - 13 December 2023
Lawrence in Fragments: Recovering Lawrence of Arabia through the Jeremy Wilson Archive
Curated by Dr Lucy Smith, Wilson Project Archivist
T.E. Lawrence took on many roles in his lifetime – archaeologist, soldier, writer, strategist, government adviser, R.A.F. aircraftman, daredevil, recluse, celebrity, quintessential Englishman, Oxford don, "Uncrowned King of Arabia", covert colonialist, independence fighter, national hero and figure of controversy to name only a few.
Magdalen College claims connection to T.E. Lawrence through his four years as a Senior Demy at the College from 1910-1914. In 2018, Magdalen acquired both the papers of David George Hogarth (1862-1926), Magdalen Fellow and Lawrence's mentor and the papers of Jeremy Wilson (1944-2017), Lawrence's authorised biographer.
These collections present Lawrence through fragmentary pieces. The Wilson collection is both a monumental structure and heterogeneous assemblage of Lawrence-related items from photographs to manuscript facsimiles to audio recordings and fan scrapbooks. Wilson's collection of over 50 years of research offers many glimpses of different Lawrences, sometimes amusing, often poignant and occasionally shocking…
This exhibition is now available to view online!
Please note that the exhibition is free, but that Magdalen College charges an entrance fee to some visitors. Click here for details of admission and access to Magdalen College.
Access: The Old Library is accessed via a steep flight of stairs. There is disabled access via a lift, but please contact us in advance so that we can arrange this for you. Many thanks.