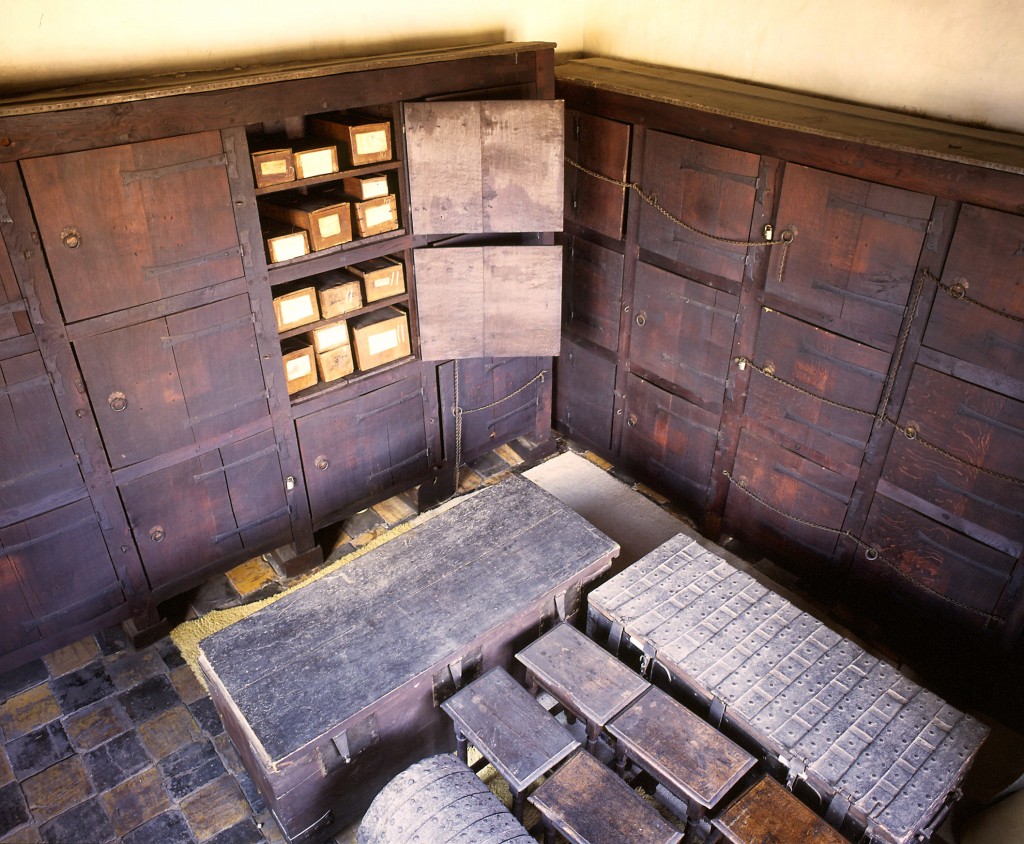 One of Magdalen's greatest treasures in the archives is our collection of about 12,000 medieval deeds relating to our many estates. When our Founder, William Waynflete, was acquiring lands for his new College, he received along with the properties all the documentation relating to it. Many of these deeds date from well before the foundation of Magdalen in 1458, and several even date from the twelfth century.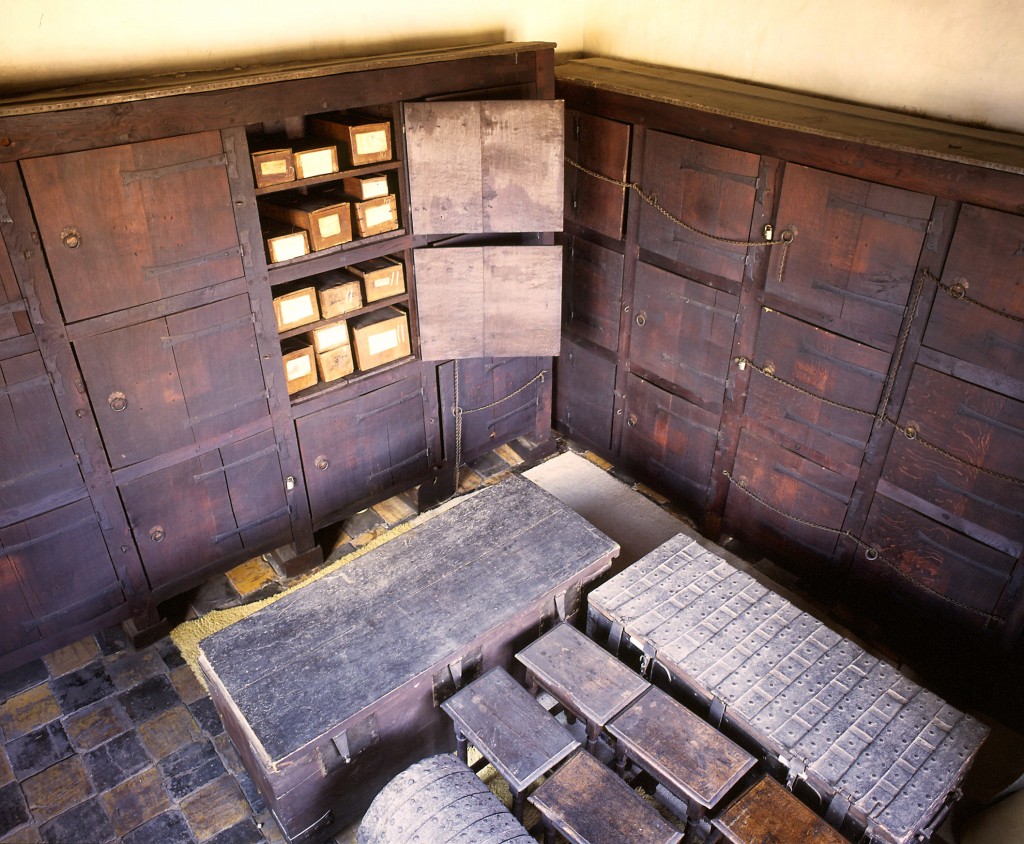 The College's title deeds are stored in its Muniment Room, in our Muniment Tower here. This is a special place in Magdalen: it was fitted out with these cupboards in the late fifteenth century, and has remained largely unchanged ever since. It is arguably the only room in the whole of Magdalen which would be instantly recognisable to any of our earliest Fellows.
The cupboards contain over 130 wooden boxes, several of which retain their original medieval labels. Each box contains deeds relating to a particular parish, estate or manor, and was tailor made accordingly. The boxes therefore vary greatly in size.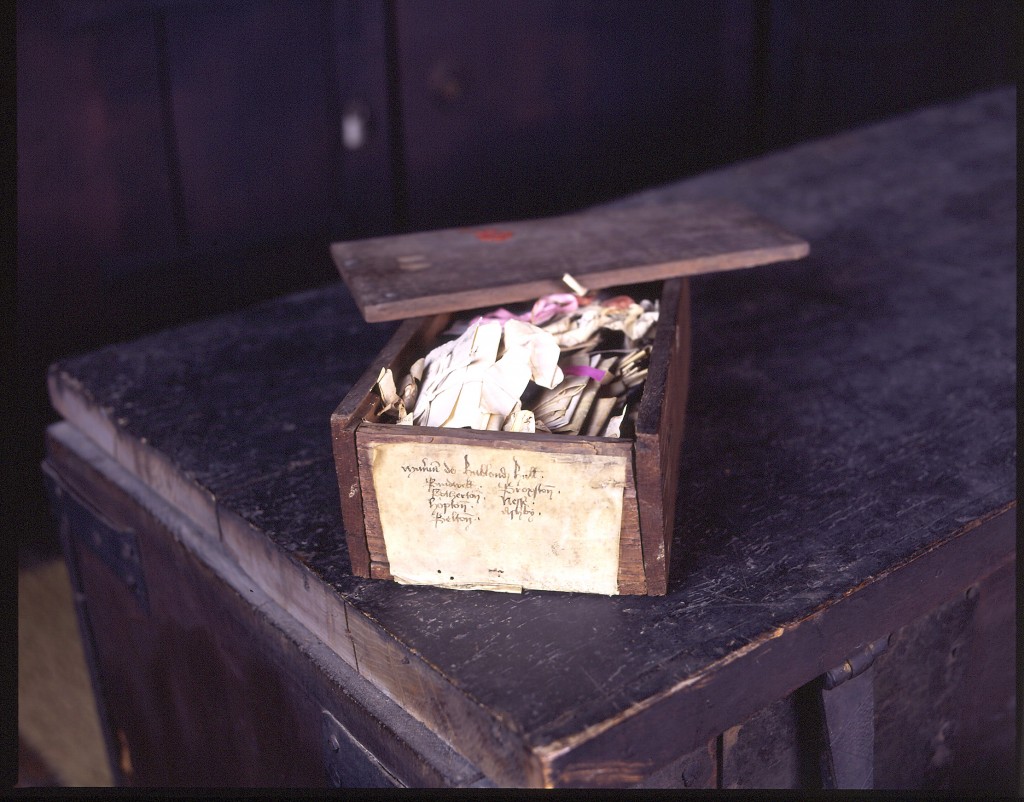 This is a typical box from the Muniment Room, containing the deeds relating to Hobland Hall, a manor in Bradwell in East Anglia.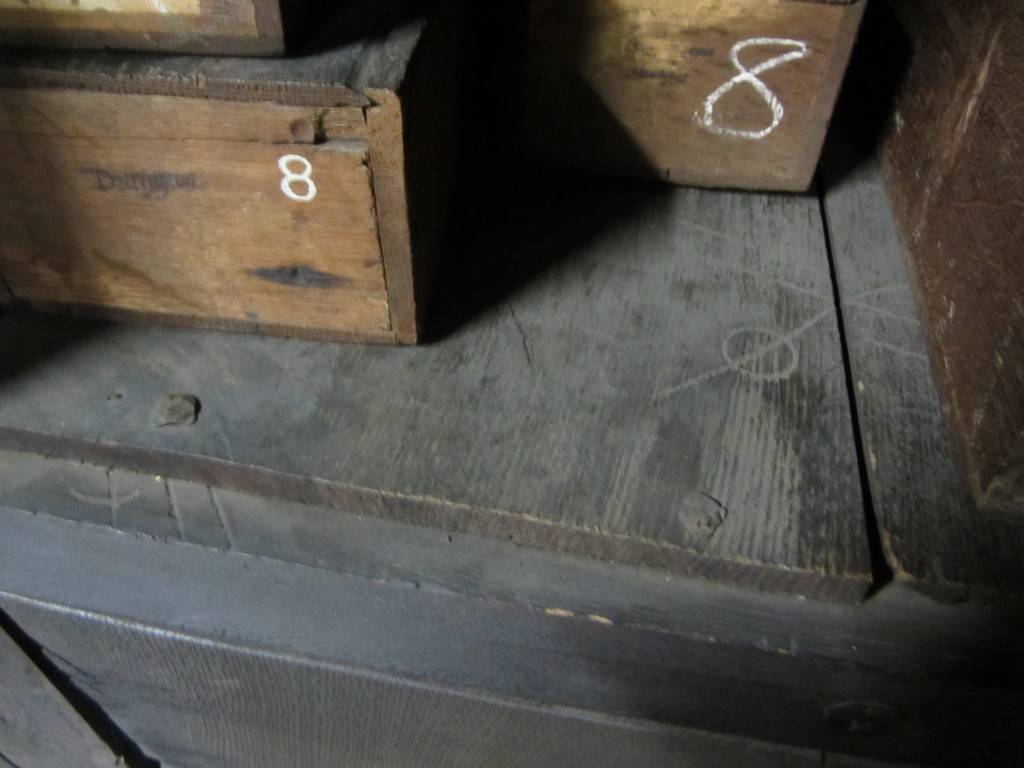 The cupboards were clearly made elsewhere in a workshop, then taken down and reassembled in the room. Before dismantling them, the workmen scratched little symbols like the ones seen here to help them put the right bits together again – not unlike a modern flatpack construction.
Here are a selection of some of the more striking deeds from our remarkable collection.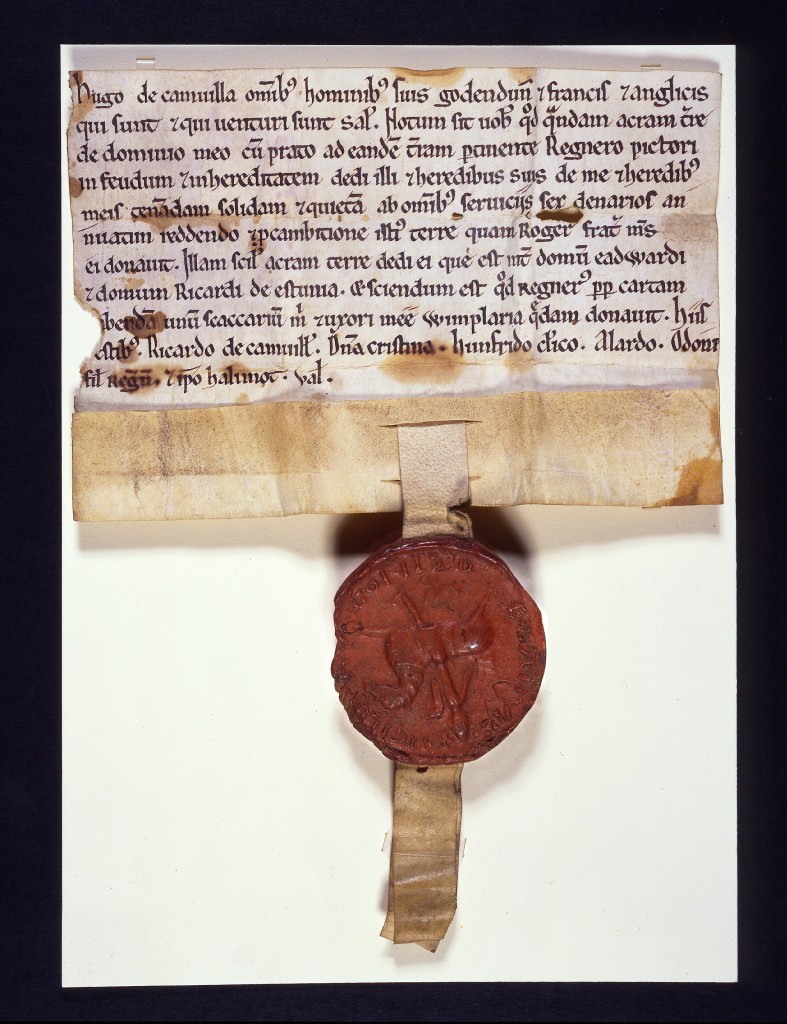 This is one of the College's very oldest deeds (reference Brackley B186). It dates from c. 1150, and relates to land near Brackley in Northamptonshire. It records a grant made by one Hugo de Camvill of some land to Regner the Painter and his wife. The payment includes some veils made to Regner's wife – the word "wimplaria" can be seen in the third line from the bottom. The deed bears Hugh's splendid seal, depicting a Norman knight on his horse.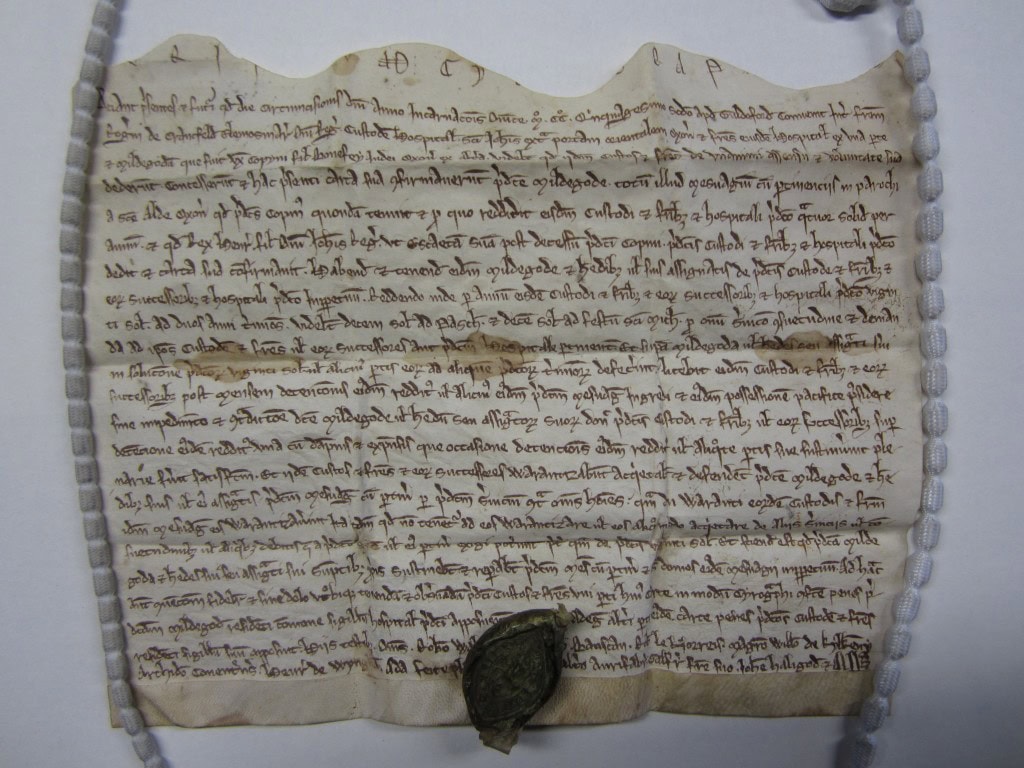 This deed (reference St. Aldates 34), which dates from 1253, a century later, relates to land in St. Aldates owned by the Hospital of St. John, an institution which Waynflete had closed down, and which stood on the site of the modern College. Its interest lies in the fact that the Hospital was leasing some land to a Jewess called Mildegod, and that the deed bears Mildegod's seal. It is one of the few glimpses in the Magdalen deeds collection into the life of the Jewish community of medieval Oxford.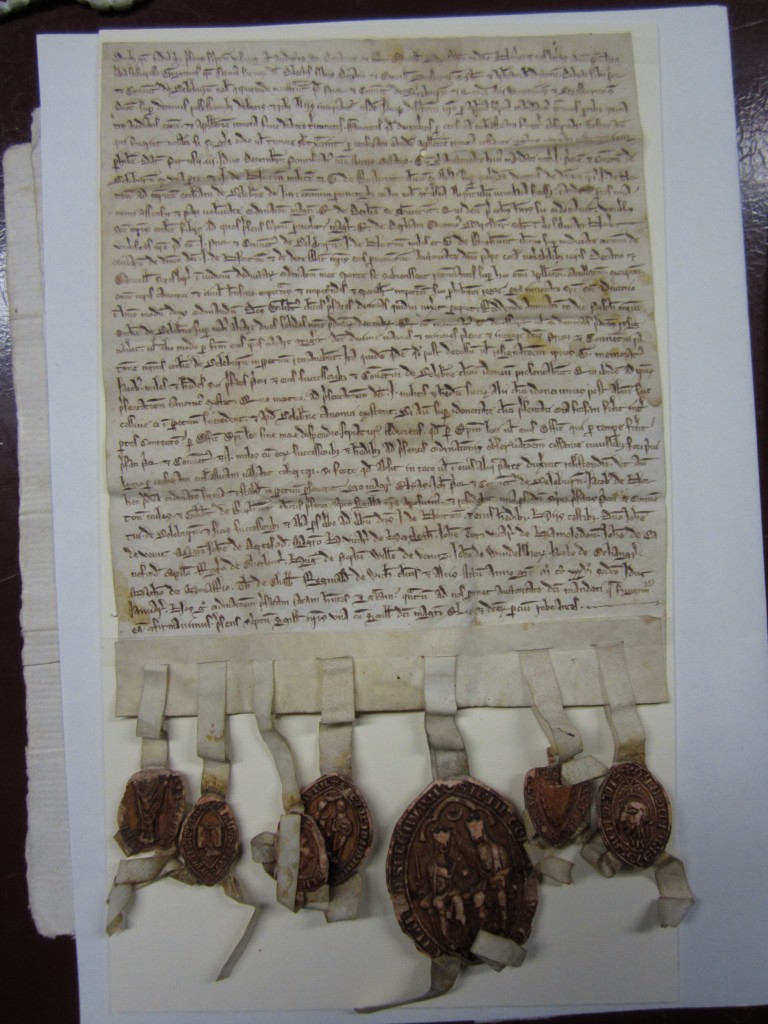 This deed (reference Basing 44) dates from 1236, and is remarkable for the quantity of its seals, and their good condition. It is a confirmation to Selborne Priory in Hampshire (another institution which was closed down by Waynflete to help fund his College) of its rights to tithes in tjhe parish Basing. Of these seven seals, the largest one, fifth from the left, is the seal of Selborne Priory, and that seal fourth from the left, slightly obscured, is that of the Prior of Selborne.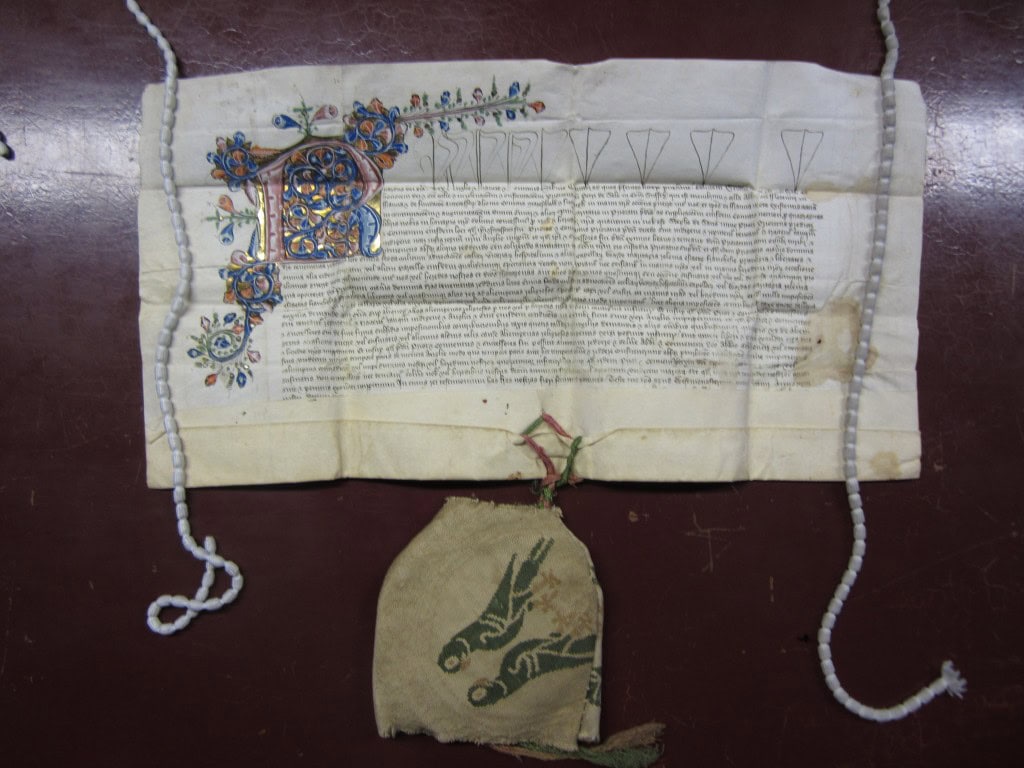 Most of Magdalen's title deeds are written in black and white. This deed (reference Sele 62), however, is unusual in having this splendidly illuminated initial letter. Dating from 1396, it is a grant from King Richard II to Sele Priory in Sussex (a third institution closed down by Waynflete). The deed bears Richard's Great Seal, still in the elegant thick silk bag which was specially made to protect it.
To mark the 800th anniversary of Magna Carta, the Magna Carta Project aims, among other things, to bring together all known charters dating from the reign of King John. This includes one of our deeds,concerning land in Hampshire which came to us in the fifteenth century. A full digital version of the charter, including a transcription and a translation, can be found here.
More information on Magdalen's medieval deeds, and the conservation project that has been completed to house and stabilise them, can be found here.