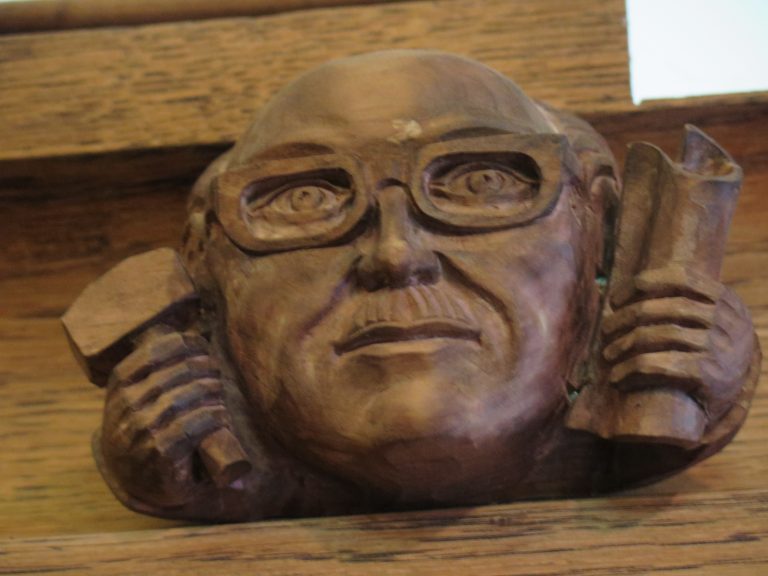 Throughout Oxford you will see many elaborate and decorative stone carvings known as grotesques. These can be both human and animal in form with a mythical, frightening or comical theme. Under President Richard Mayhew (1480-1507) Magdalen College carried out a number of works expanding the President's Lodgings and erecting new buildings along the High Street. The Great Tower was built and the south side of the Cloisters was completed. In 1508/09 the Cloisters was decorated with freestanding grotesques or 'hieroglyphics' (Ferdinand, pp. 21-22). The earliest explanation of the symbolism of each hieroglyphic is suggested by William Reeks who was a Fellow of Magdalen College from 1671-75. He wrote about the hieroglyphics in an essay entitled 'Oedipus Magdalenensis' (Magdalen College Archives, MC:F4/MS1/1) and, although his description of the hieroglyphics' meanings are purely his own interpretation, they have generally been considered correct and followed since (Lock, Brockliss, Darwall-Smith, Skinner and Ferdinand, p. 66).
Outside the Old Library are these four hieroglyphics representing 'Scholarium officia', or the scholastic offices/professions. It is possible that they represented the subjects in the library books on the other side of adjacent windows. The image on the left is of a schoolmaster on a seat with rods in his right hand symbolising learning and science. On the right is a doctor or physician, representing medicine.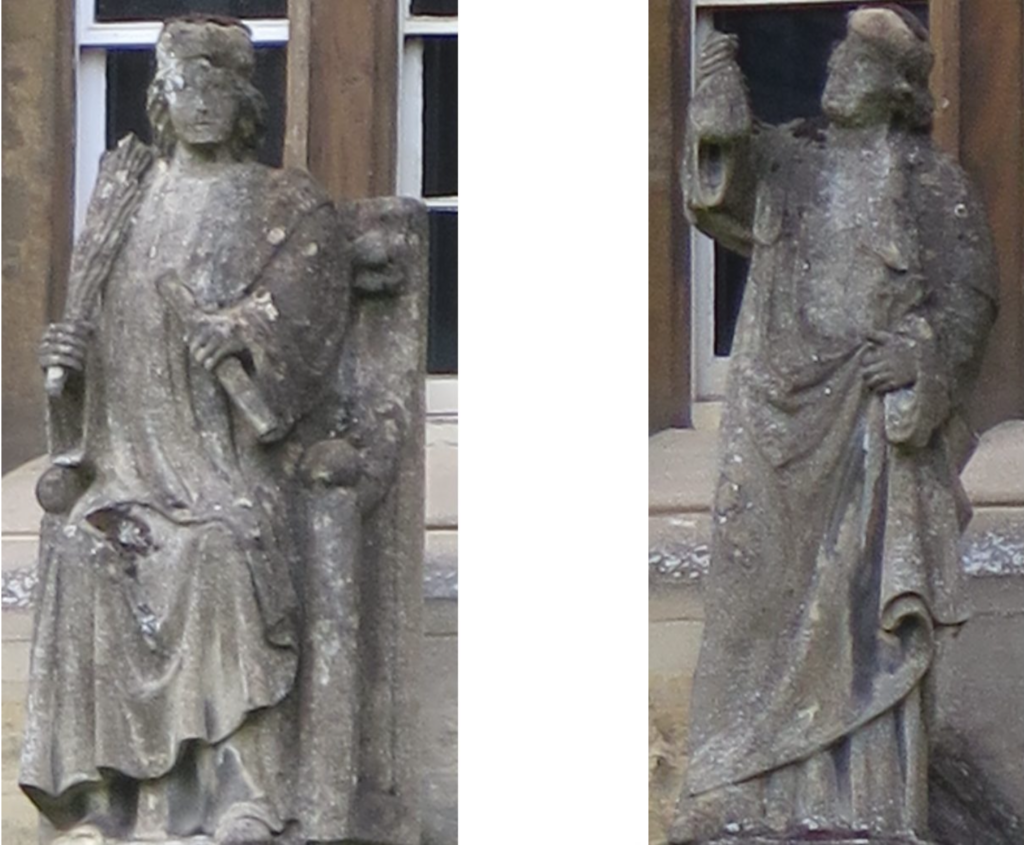 Next, the image on the left (below) shows a lawyer who is talking seriously with his client ('serio cum Cliente colloquendem') and on the right is a divine. Reeks believed that the divine is a representation of Moses holding the stone tablets from the Mount Sinai. Interestingly Moses has horns but this is not unusual as he was described as having horns in the Latin Vulgate translation of the Bible. It is thought that this is a mistranslation as the word 'keren' in Hebrew can mean 'grew horns' or 'radiated light'.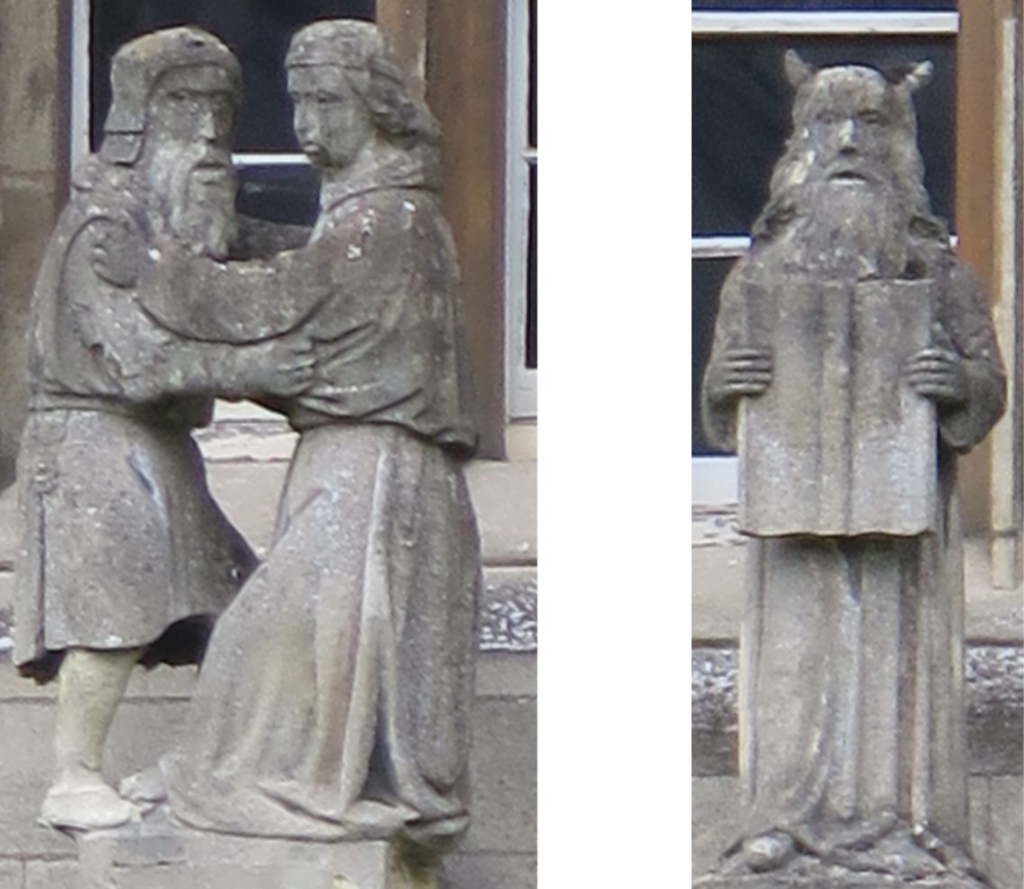 There are also some interesting modern wooden carvings inside the Old Library. To celebrate the Old Library's renovation in 1992, three missing carvings on the bookcases were replaced with carvings of three long-standing members of the College support staff. In the first image, holding keys, is Mike Strutt (1932-2000). He was a Lodge Boy at Magdalen from 1946-1950. He then worked in the RAF, joined Thames Valley Police rising to the rank of Sergeant and was involved with Operation Julie, an anti-drugs operation in the 1970s. He returned to Magdalen as Head Porter (1976-1997)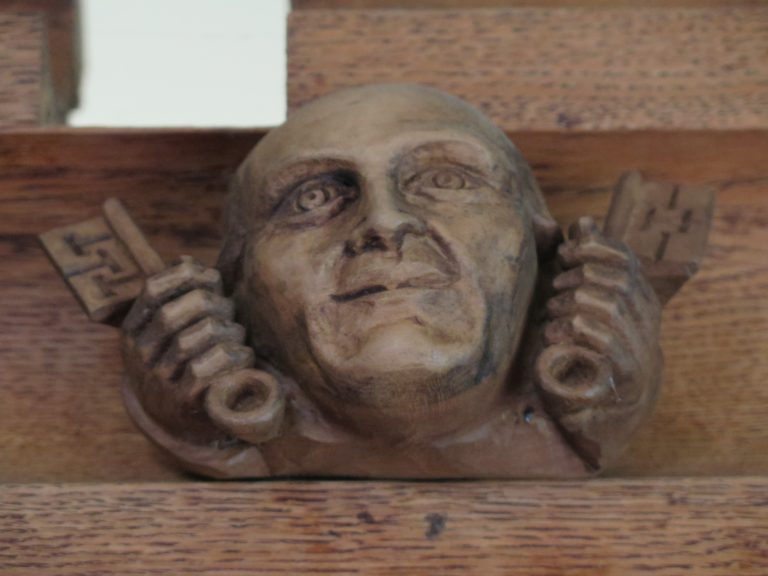 The carving of Alan Mount (1929-2006) is holding mason's tools. Alan trained as a stonemason and became master stonemason at St Paul's Cathedral (1973-1978). He was then Magdalen's Clerk of Works from 1978-1994 and oversaw repairs to a number of Magdalen's major buildings, including the Old Library. In 1996 he was awarded an MBE for services to conservation.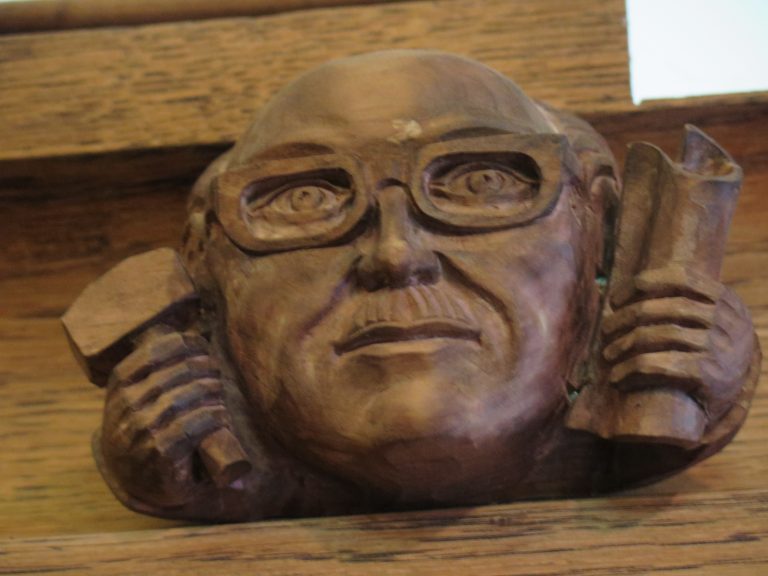 And finally, there is Jasper Scovil who is holding two books. Born in 1932, Jasper studied history at Merton College from 1951-1954. He worked in the RAF and for the British Council Books Department. He entered the world of librarianship becoming Deputy Librarian at the Oxford History Faculty Library (1964-1970) and then Magdalen College's Deputy Librarian (1971-1992).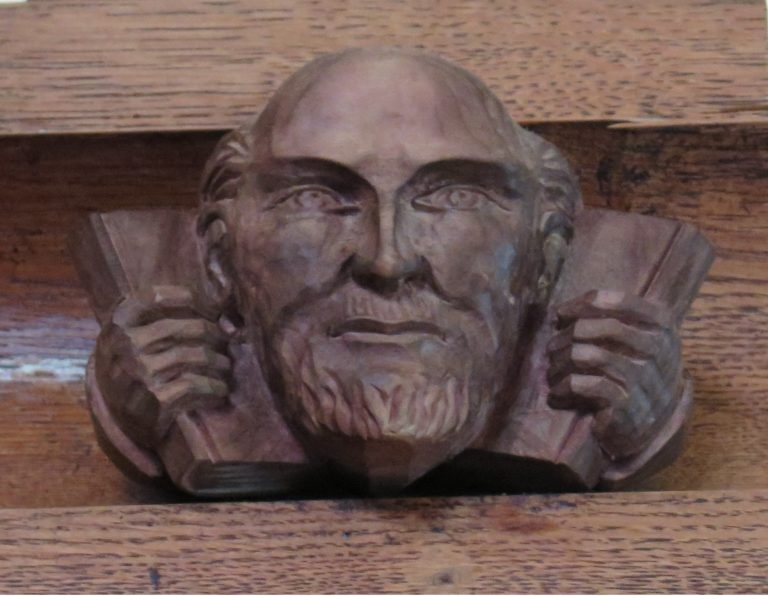 The craftsmen who created these three delightful wooden carvings is John Bye, sculpter and woodcarver from North Hinksey in Oxford; he has carried out other work for the college too. He has also created organ cases, memorials, carvings for churches, and carved pieces for most of the Oxford colleges and at St George's Hall at Windsor Castle after the great fire in 1997 (Roberts and Sheppard, pp. 190-191).
Further Reading
L.W.B. Brockliss (ed.), Magdalen College Oxford: A History (2008)
Christine Ferdinand, Magdalen College Oxford: A Brief History and Guide (2015)
David Roberts and Richard Sheppard (eds.), Hidden Magdalen (2008)