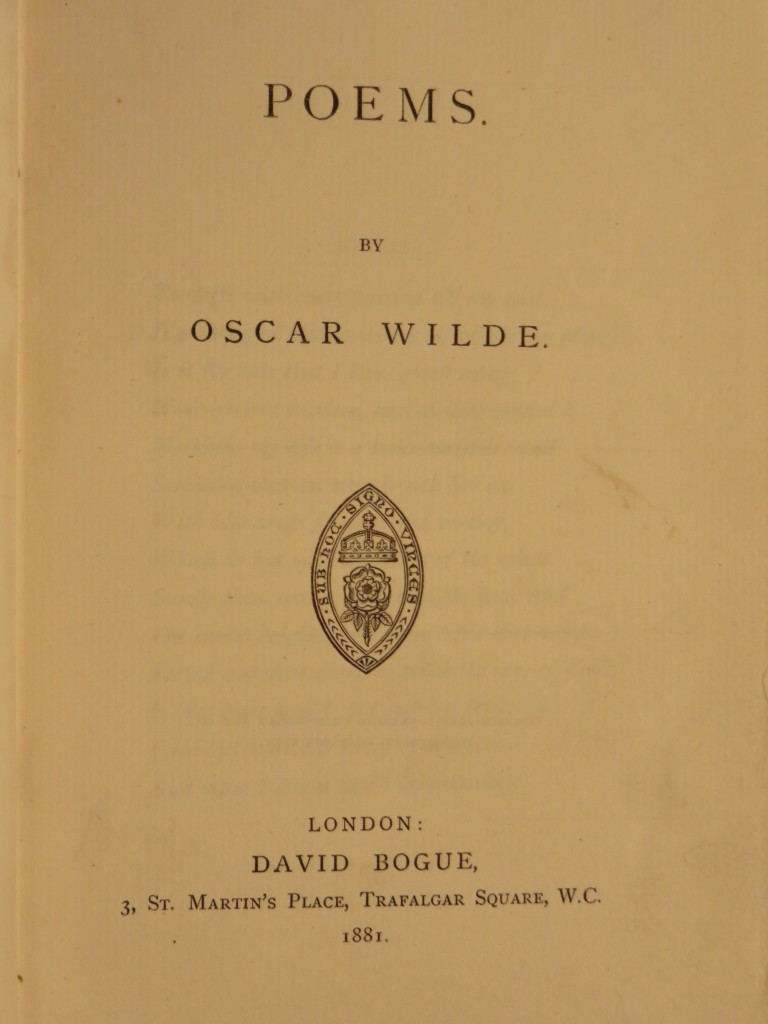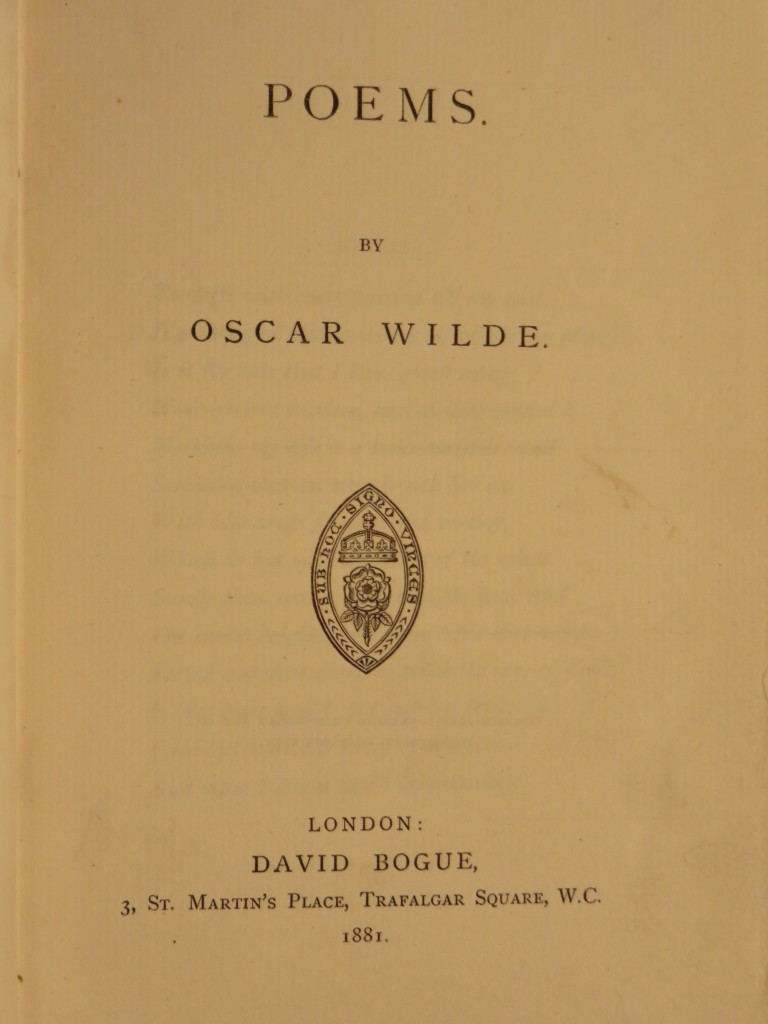 Oscar Wilde's first published verse appeared in periodicals such as the Dublin University Magazine and Kottabos, a magazine founded by Robert Yelverton Tyrrell (1844–1914), a classicist and one of Wilde's mentors at Trinity College, Dublin. The name Kottabos is derived from a Greek drinking game in which players attempted to hit a target by flicking the dregs of their wine at it. The magazine Kottabos was more soberly described by its editor as 'a miscellany of Greek and Latin verse, and of English pieces'.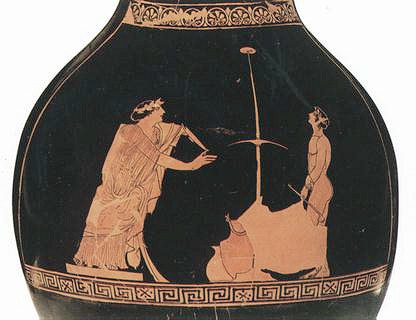 'A Chorus of Cloud Maidens', Wilde's earliest published poem, appeared in the Dublin University Magazine in November 1875, signed Oscar O'F. Wills Wilde, Magdalen College. Soon after—in Trinity Term 1876—'The Rose of Love' was published in Kottabos. Magdalen purchased copies of both magazines at a Sotheby's sale in 2004. At least some of them had been the property of Christopher Sclater Millard (1872–1927), Wilde's first bibliographer (under the pseudonym Stuart Mason).
In May 1881, Wilde wrote to the publisher David Bogue (d. 1897) to say that he was 'anxious to publish a volume of poems immediately, and should like to enter into a treaty with your house about it. … Possibly my name requires no introduction' (The Collected Letters of Oscar Wilde, ed. Merlin Holland and Rupert Hart-Davis, 110). The selected poems were printed on handmade Dutch paper and published over Bogue's imprint at the end of the following month with the straightforward title Poems. It was advertised for sale in The Athenaeum 2 July 1881.
Many of the poems had already appeared in print, but some were new to this volume. Wilde also seized the opportunity to amend some of his previously published verse. Among the poems collected here is Wilde's 'Magdalen Walks', which had first appeared in the Irish Monthly in April 1878 and was revised for Poems. Oscar Browning called it 'a sweetly musical tribute to the author's college' (The Academy 30 July 1881). Wilde told Violet Hunt that his favourite poem in this collection was 'The Burden of Itys'; second favourite was 'The Garden of Eros' (Collected Letters, 114). Apparently Wilde also claimed that 'Charmides', the longest in the volume, was his favourite (Mason, Bibliography of Oscar Wilde, 305).
Wilde's first published book initially had a lukewarm critical reception, some reviewers finding his poems derivative or too sensuous. More favourable reviews were written by his brother, and by Oscar Browning, who had been specifically recruited for the job. Wilde had asked him to review his Poems, because 'books so often fall into stupid and illiterate hands that I am anxious to be really criticized: ignorant praise or ignorant blame is so insulting' (Collected Letters, 111).
The Poems has an unusual bibliographical history. Seven hundred fifty copies were printed on commission for David Bogue in June 1881, but only 250 copies were designated as the first edition. This 'edition' was bound in vellum by Matthew Bell, and had a gold-stamped design of small prunus blossoms on the upper and lower covers as well as on the spine. After those were sold, the publisher had a new title page printed for the next 250 copies and reissued them, calling them second edition. The binding was slightly different too, with a design of larger flowers. The last 250 copies became the third edition (Bibliography, 282–3).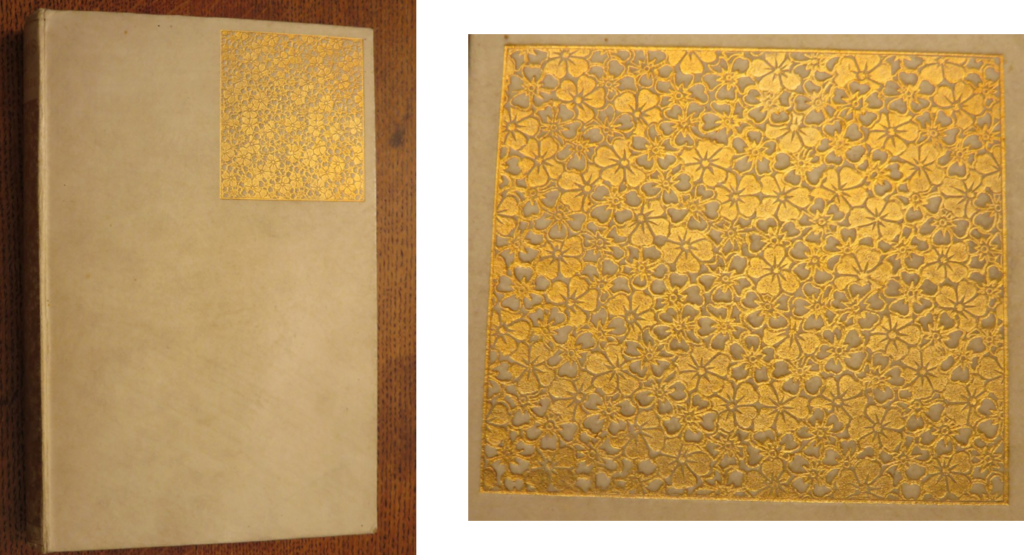 The Magdalen copy is thoroughly first edition, with only the author's name,   title, and imprint on the title page; there is no edition statement. The golden flowers on the cover are of the correct tiny size. Copies of this edition must have accompanied Wilde on his American lecture tour in 1882, for this copy is signed on the half-title 'Oscar Wilde, | Jany. 82' | Philadelphia—' According to an inscription on the first flyleaf, it was then presented to 'E.B.C. | With the love | of G.W.C | 1882'.*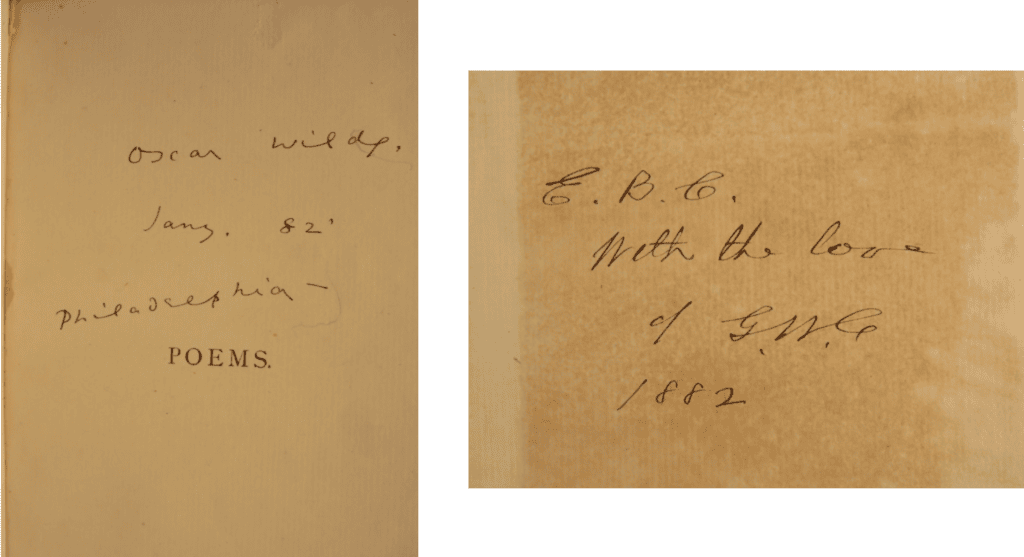 Wilde lectured twice in Philadelphia, first on the English Renaissance 17 January 1882, at the Horticultural Hall, and later, 10 May, on the decorative arts at the YMCA's Association Hall. It is possible that G.W.C. attended the January lecture and bought the book then.
This volume is a recent acquisition, purchased through a gift given by his sisters in memory of George Scott (C. 1953–6). Their generosity has also allowed us to fill other gaps in our rare books collection, including the Oscar Wilde section. We have been able to purchase first editions of Lord Arthur Savile's Crime and Other Stories (1891), Salomé, Drame en Un Acte (1893), and The Ballad of Reading Gaol (1898). We have acquired a 1902 privately printed copy of Wilde's unsuccessful first play, Vera, or the Nihilists, as well as Echoes from Kottabos (1906), which reprints his verse from that magazine.
*E.B.C. and G.W.C. have been identified as Emma B. Childs and her husband George William Childs (1829-1894), the publisher and philanthropist, who entertained Wilde at their home in Philadelphia 18 January 1882 (information supplied by Mark Samuels Lasner and J.D. Murphy).