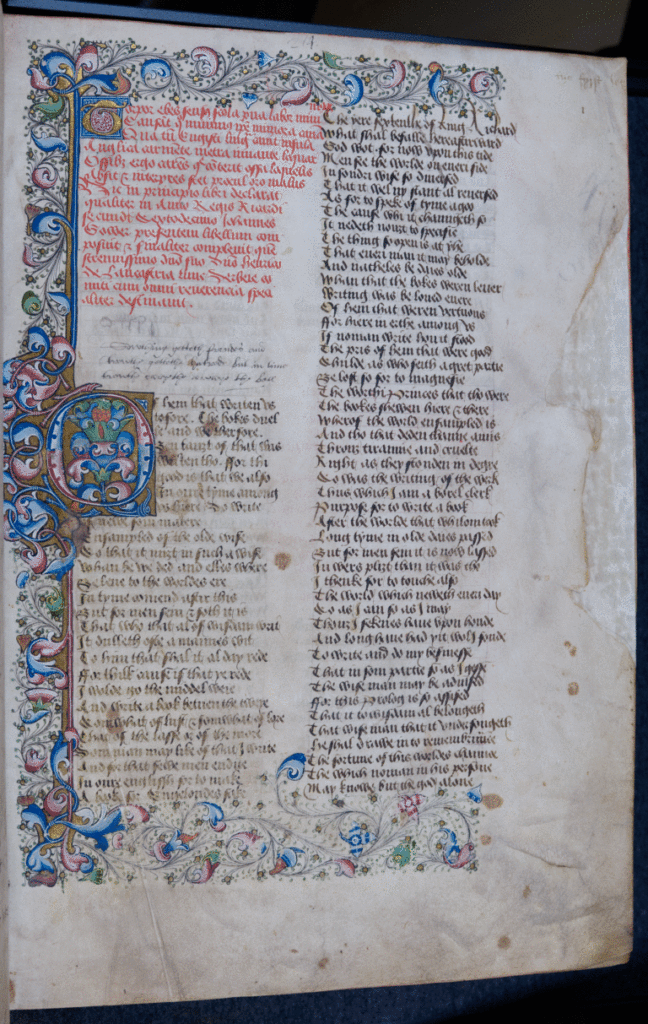 Author: John Gower
Publication Date: c.1470
Shelfmark: MS Lat. 213
This month's Illuminating Magdalen article highlights a true gem in Magdalen's manuscript collection, MS Lat. 213. This beautiful book of John Gower's Confessio Amantis is interesting in terms of both its content, language, and provenance. It is not only emblematic of an emerging Middle-English literature, but also shows how just one physical volume can have an intriguing personal history.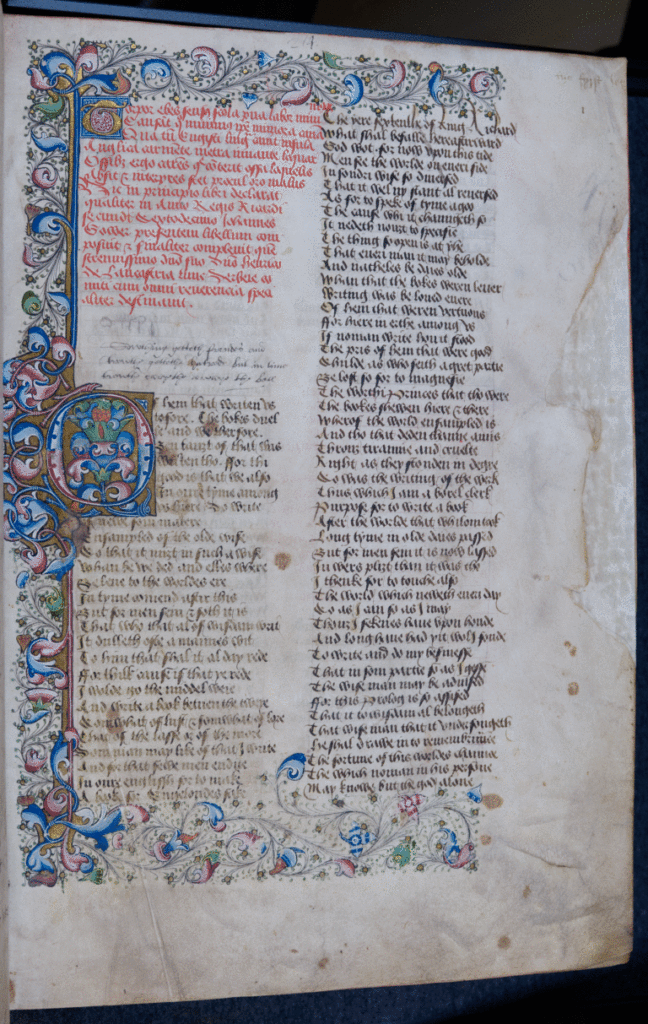 To begin from a literary perspective, MS Lat. 213 is a fine example of one of the crown jewels of Middle-English literature. The Confessio Amantis, begun by the author in 1386, is a significant 33,000 line poem composed at the request of Richard II. The text uses the confession made by an ageing lover to a chaplain as a frame story for a collection of shorter narrative poems that explore many varied themes. As Mehl (2001) writes, this book is 'a treatise on love and the passions of lovers, with examples taken from various historical chronicles, as well as the writings of…philosophers' (p.62).
Gower might focus on the universally popular themes of love and passion, but the confession of the title reveals its true literary purpose. As Mehl (2001) reveals, Gower 'was chiefly interested in moral questions…and he saw himself as a poet with a clearly didactic mission' (p.62). This objective can be seen in the text itself, where Gower writes:
Bot for men sein, and soth it is,
That who that al of wisdom wit
It dulleth ofte a manes wit
To him that schal it aldai rede,
For thilke cause, if that ye rede
I wolde fo the middle weie
And wryte a bok between the tweie
Somewhat of lust, somewhat of lore…
Gower's 'middel weie' is important and a key feature of the text. With it, he is attempting to use popular themes and unpretentious language to teach a moral lesson to his readers. Magdalen's own C.S. Lewis sums this up perfectly, writing that there is a 'sweetness and freshness' in the verse and praising 'its memorable precision and weight' (Lewis, 1936: p.201).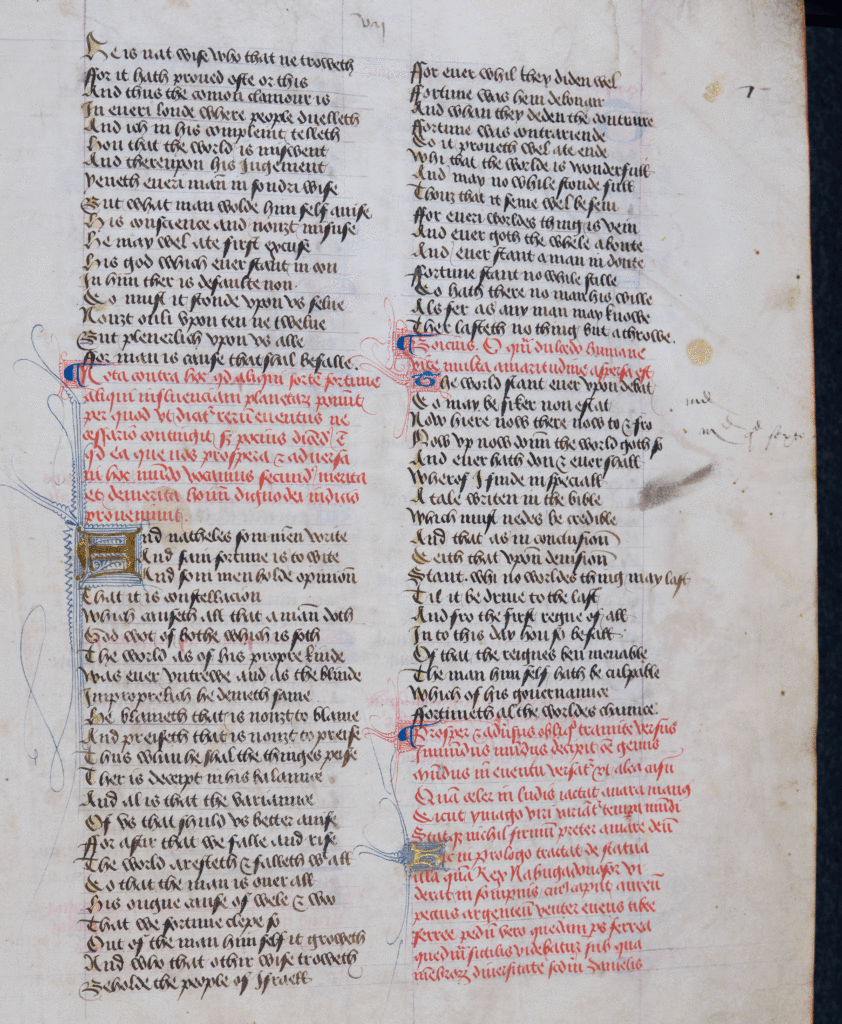 This short passage from the prologue, however, is not only important from a literary perspective. The very fact that it, and other parts of the text, was written in English is important. Before the Confessio Amantis, Gower had written purely in Anglo-Norman French and Latin. Although parts of the Confessio remain in Latin, this decision to write parts in English cannot be underestimated. Indeed, Gower himself commented on this choice, writing in the prologue that 'fewe men endite / in oure englissh, I thence make / a bok for Engelonds sake.' This switch from Latin to English reflects a wider flourishing of English identity in this period, with Gower echoing his contemporary Chaucer in his new found celebration of the English language. As Watt (2009) emphasises, after the Confessio Amantis, Gower began to be 'associated with the formation of an English identity and…the distinctive English literary tradition' (p.153).
It is clear, therefore, that the text contained in MS Lat 213 is important from both a literary and linguistic perspective. These two points alone would make the book a valuable part of Magdalen's Old Library collection. As all lovers of book history are aware, though, books and especially manuscripts have their own unique story to tell that is completely separate to the actual text it contains. Ms Lat 213 is no exception.
Dating from around 1470, the Magdalen copy is bound and ruled in purple ink, written in bastard secretary. This date of 1470 is significant, as it means that the manuscript was produced just 7 years before the arrival of the printing press in England under William Caxton. Early printers, therefore, would have definitely had access to it. Indeed, Macaulay argued that the Magdalen manuscript formed one portion of Caxton's copy text for his first printed edition of the Confessio Amantis in 1483 (Macaulay, clxiii). The Magdalen copy, therefore, can claim a place in the history of early printing in England.
When turning the pages of MS Lat 213, it is easy to see why this volume would have been chosen as a copy text. Even today, its 377 pages are still mostly intact and striking to the eye. The text itself is striking, with intricate illuminations catching and holding the reader's attention. Likewise, there are many beautiful illustrations. Perhaps the most endearing are the two fine pen and ochre dragons on pages 53b and 64 (pictured below). These illustrations bring the text to life and must have captivated readers for centuries.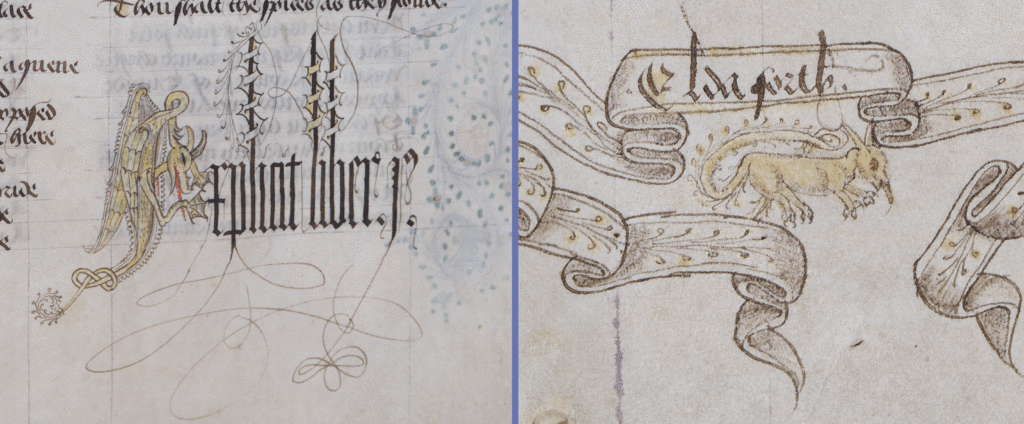 The provenance of MS Lat 213 is uncertain, with the pastedowns and flyleaves covered with pentrials. Some early markings point to an 'Alexander Saint Iohn', which may connect the book with the St John family. This wealthy family owned an extensive list of Middle English books on Oxford. Afterwards, it appears that the book made its way to Wales as several names written inside the front cover, such as Ienows ap owis and Houell, suggest Welsh ownership. By the seventeenth century, an inscription reveals that the manuscript had definitely returned to Oxford. Marchadin Hunnis, a demy in 1606 at Magdalen, definitely owned the volume, writing 'Marchadene Hunnys me possidet' in the rear pastedown.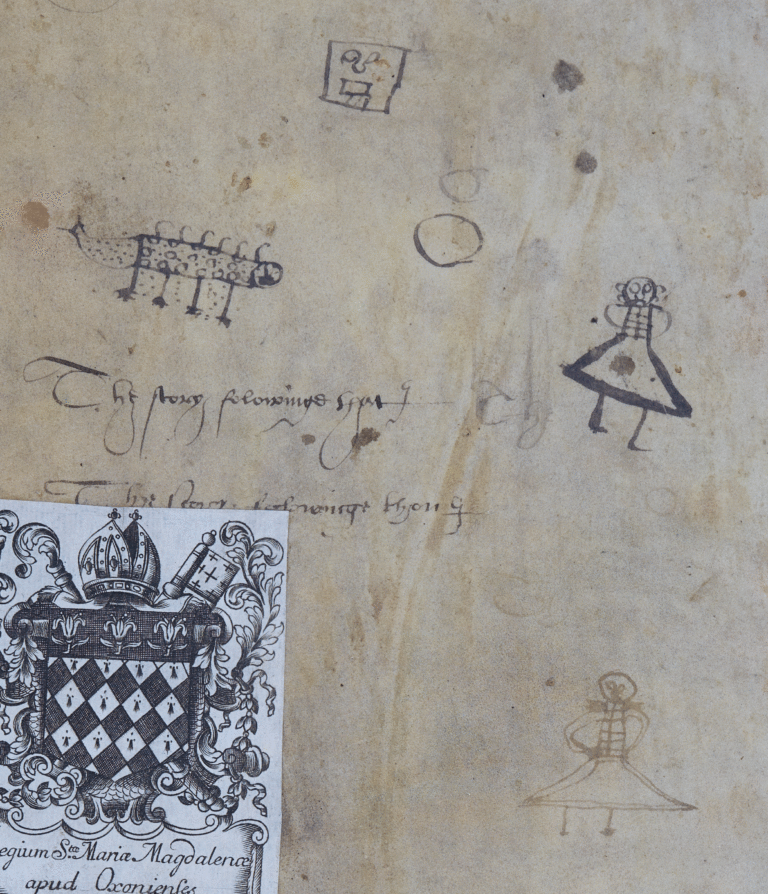 It is thought that the manuscript has remained in Oxford ever since, but this is not the end of its story. Interestingly, Marchadin Hunnis served as usher of Magdalen College School after finishing his studies (from 1610-11). This period may explain some intriguing marginalia written inside the front cover. It appears that children spent some time doodling and practising their writing inside the book at some point over the centuries. These doodles depict fantastical monsters and schoolchildren (pictured above). As Marchadin Hunnis was dismissed from Magdalen College School for incompetence in 1611, they could very well be the bored scribblings of 17th century school children with a less than perfect teacher!
This article has highlighted a book that is clearly an important part of the college's collection. It is not only interesting from a literary and linguistic perspective, but reveals a varied history that gives us an insight of life in the Oxford of the past. Even today, it still regularly inspires visitors from across the world. Due to its beauty and accessibility, it is regularly shown to visiting primary school students during library outreach sessions when they visit the Old Library. The 17th century schoolchildren that originally doodled in the volume would no doubt approve of this!
Written by William Shire, Assistant Librarian, Magdalen College
References and Further Reading:
Gower, J., & Macaulay, G. (1900). The English Works of John Gower. London : Published for the Early English Text Society by K. Paul, Trench, Trübner.
Lewis, C.S. (1936). The Allegory of Love: a study in medieval tradition. Oxford: Oxford University Press.
Mehl, D. (2001). English Literature in the Age of Chaucer. Harlow: Longman.
Watt, D. (2009). John Gower. In L. Scanlon (Ed.), The Cambridge Companion to Medieval English Literature 1100–1500 (Cambridge Companions to Literature, pp. 153-164). Cambridge: Cambridge University Press.