This month's Treasure of the Month looks at provenance, which will also be the subject of this term's Library and Archives exhibition. Provenance is the chronology of ownership or location of a historical object and for rare books it can be established by simple autograph inscriptions or marginalia, bookplates, inserted items such as letters, armorial stamps, or elaborate customised bindings. This article will look at armorial stamps and personalised bindings from the Magdalen College collection.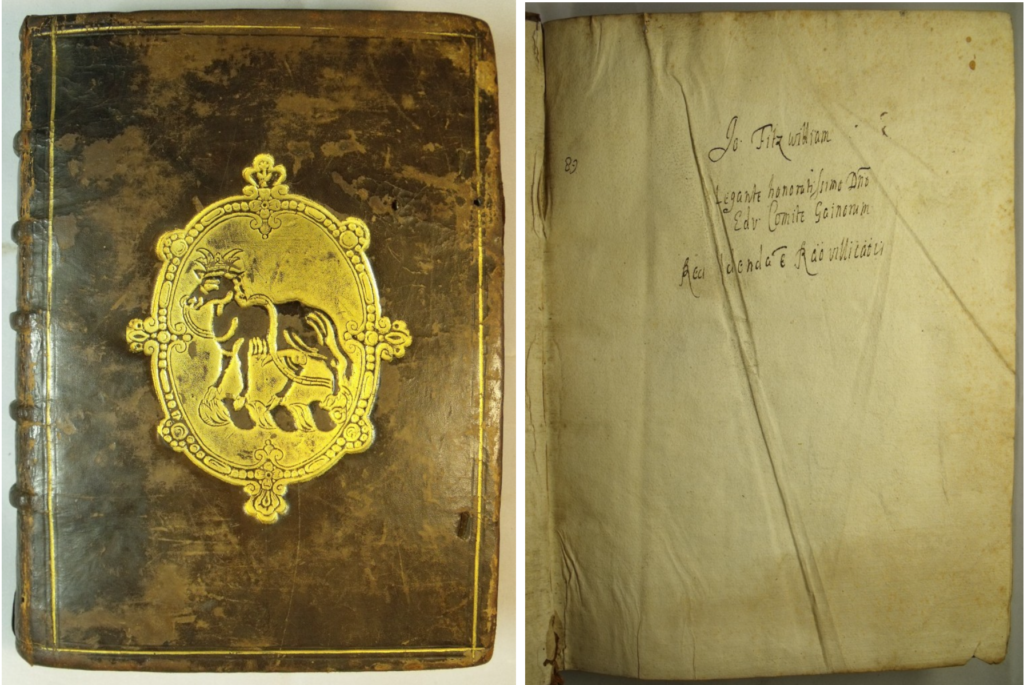 This is an armorial binding of Sir John Rivers (1579?–1651?) 1st Baronet of Chafford in Kent. The baronetcy was created for him on 19 July 1621. He was a grandson of Sir John Rivers, Lord Mayor of London between 1573 and 1574. The binding is dark brown calf leather with the armorial device in gold. According to the British Armorial Bindings database, the crest shows a 'bull statant ducally crowned collared chained and ringed'.
The book is part of the collection bequeathed by John Fitzwilliam (D.1656, F. 1661–70, d.1699). At his death, Fitzwilliam bequeathed £500 as well as the bulk of his personal library to Magdalen. The library's Donors' Book (Magdalen MS 777) records the individual titles of the books he left, which number at approximately 840. Fitzwilliam inscribed most of these volumes with his name and either one or two mottoes. It has therefore been possible to use the Donors' book to ascertain which titles of the original bequest are still housed in the Old Library, and then, with the aid of Fitzwilliam's inscriptions, to determine which of these volumes were owned by him.
The upper flyleaf of the book bears the inscription: Jo. Fitz-William. Legante honorissimo Dno Edv. Comite Gainoru[m]. Reddenda e[st] ra[ti]o villica[ti]onis.
This book bears the arms of Henry Frederick, Prince of Wales on both boards. Henry Frederick (1594–1612) was the elder son of King James I and was widely considered to be a bright, promising heir. Sadly this was not to be as he predeceased his father when he died of typhoid fever, aged only eighteen.
Henry Frederick spent several days at Magdalen College in 1605 when he accompanied his father on a royal visit to Oxford. During that visit his father allowed him to matriculate into the University from Magdalen, indicating the King's high regard for the College. There is no evidence to suggest that Prince Henry ever returned to Magdalen to study.
Magdalen College Library purchased this psalter thanks to the Scott-Wesley bequest, generously made by Mrs Kay Wesley in memory of her brother George Scott (C. 1953–6).
The book is bound in golden-brown leather. It has gold-tooled double-fillet borders with floral and leafy stamps around the centre-piece arms of Henry Frederick, Prince of Wales. It also has the remains of blue silk ties.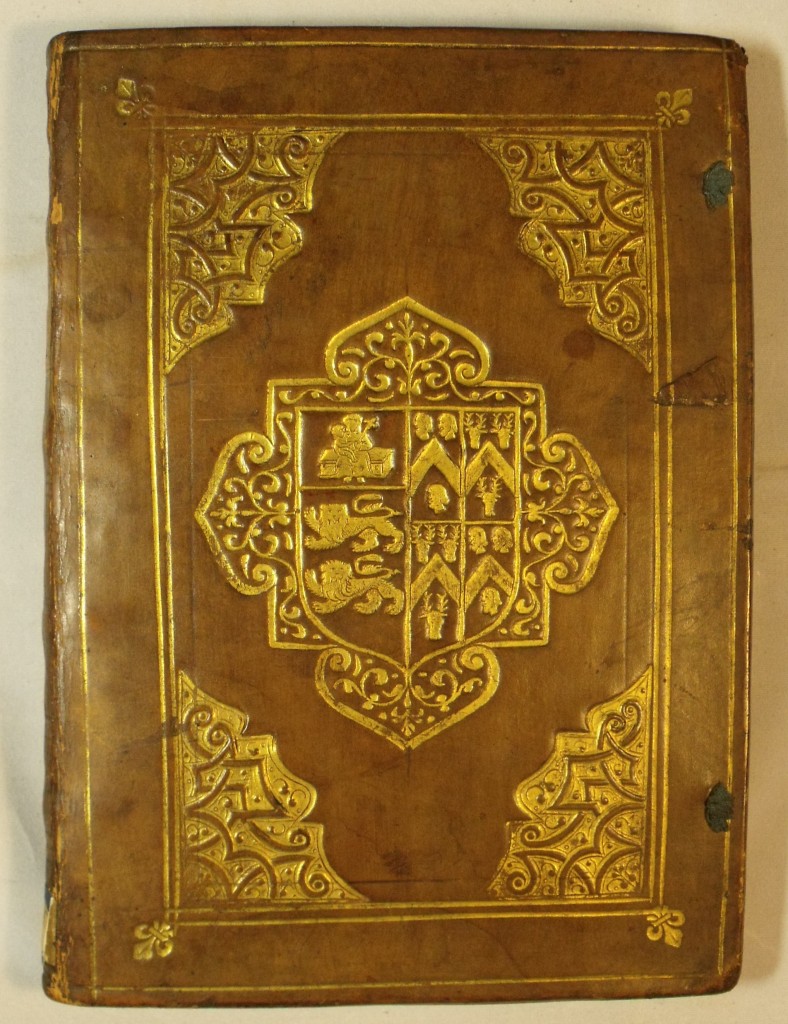 This volume bears the striking armorial stamp of John Williams (1582–1650). John Williams was a Welsh clergyman and political adviser to King James I. He was Bishop of Lincoln 1621–1641, Lord Chancellor 1621–1625, and Archbishop of York 1641–1650. He was the last bishop to serve as Lord Chancellor.
It is a cornerpiece binding with arms in gold on both covers. Also evident are the remains of blue silk ties. Unfortunately, we do not have any information about how we acquired this book.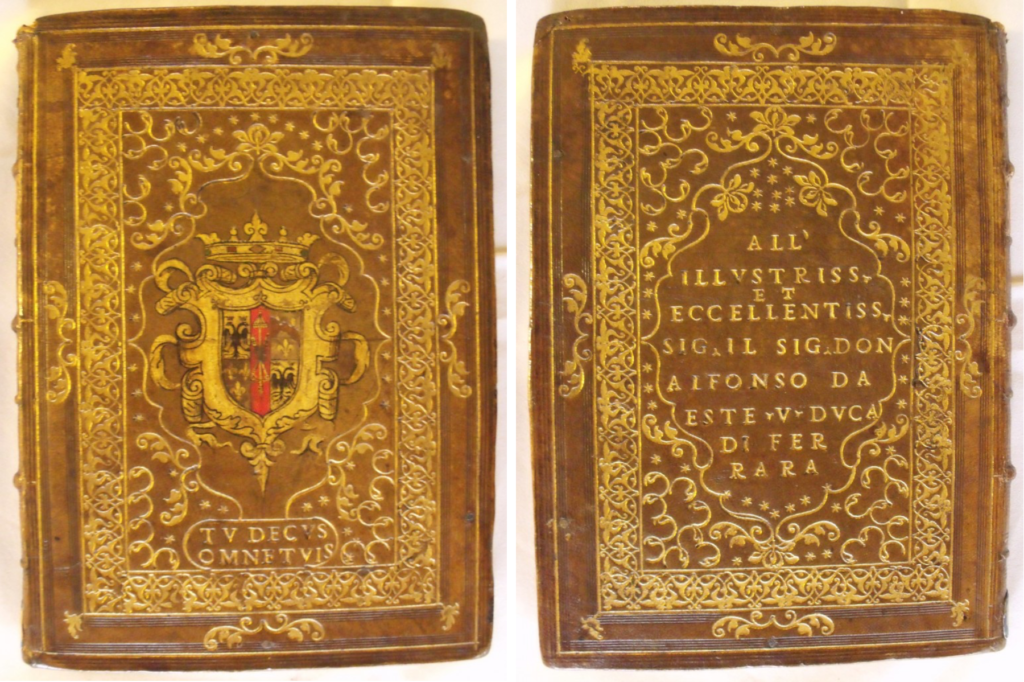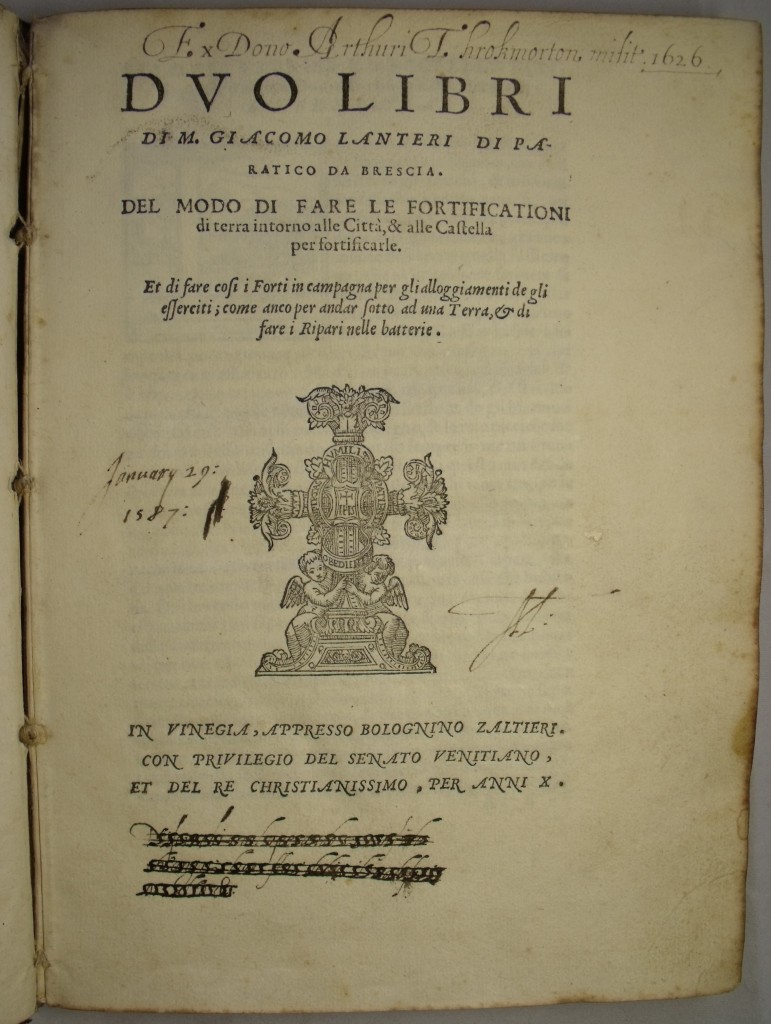 This is a 16th-century Italian binding which is typically Venetian. It is a presentation copy sent by the author to Alfonso II d'Este (1535–97), Duke of Ferrara to whom the book is dedicated. The upper board of the binding bears the Duke's arms, painted and gilded with the tooled inscription 'TV DECVS OMNE TVIS'. The lower board has the dedication lettered 'ALL' ILLVSTRISS. ET ECCELLENTISS. SIG. IL. SIG. DON ALFONSO DA ESTE. V. DVCA DI FERRARA.
During the Renaissance, the House of Este was well known for its patronage of the arts, and Alfonso II raised the glory of Ferrara to its highest point. The binding is olive green morocco tooled in gold and blind and has traces of four ties. Paint was often used when there was no metal stamp of the owner's arms. The book was acquired in 1587 (during Duke Alfonso's lifetime!) by English courtier and politician Sir Arthur Throckmorton (1557–1626) and presented to the College by him in 1626. Throckmorton, who matriculated from Magdalen in 1571, was one of Magdalen College Library's major 17 th-century benefactors, bequeathing about 230 continental manuscripts and books. His ownership marks can be seen on the titlepage.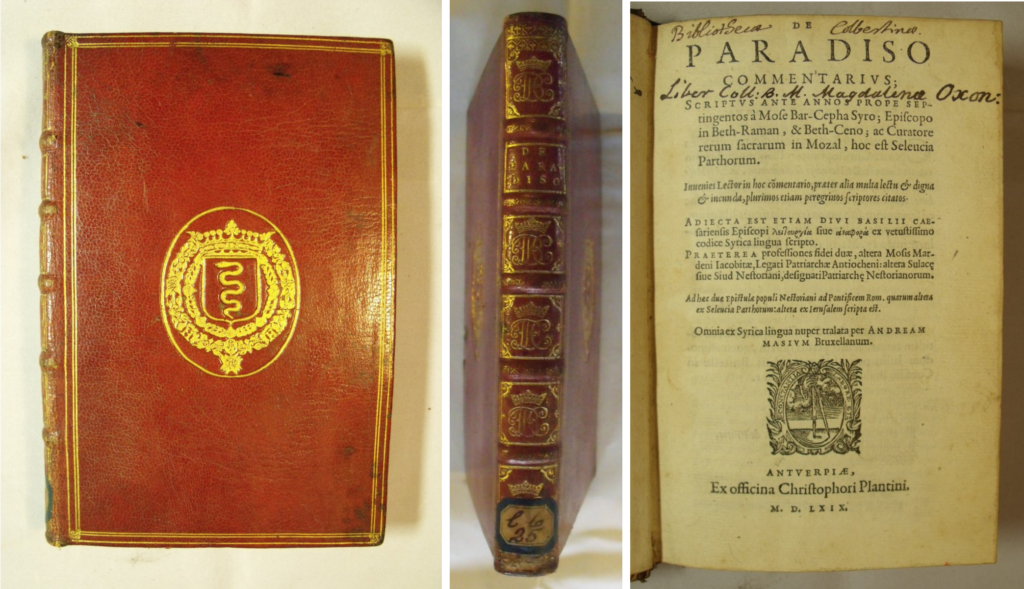 This book belonged to French statesman Jean Baptiste Colbert (1619–1683). Colbert was Louis XIV's principal minister, renowned for his expertise in financial affairs as well as being a great patron of the arts and literature and an avid book collector. Jean-Baptiste Colbert was also director of the French Royal Library (Bibliotheque du Roi) from 1661–1683.
The book is bound in a striking 17th-century red morocco armorial binding, showing a version of Colbert's arms stamped in gold on the upper and lower boards. There is further evidence of Colbert's ownership of this book from an inscription that reads "Bibliotheca Colbertina" on the title page and his monogram 'JBC' is stamped on the spine. The Colbert Library was sold in Paris in 1728 but we do not have any information about how it reached Magdalen.
If you are interested in armorial bindings, the magnificent British Armorial Bindings database can be found at https://armorial.library.utoronto.ca/.