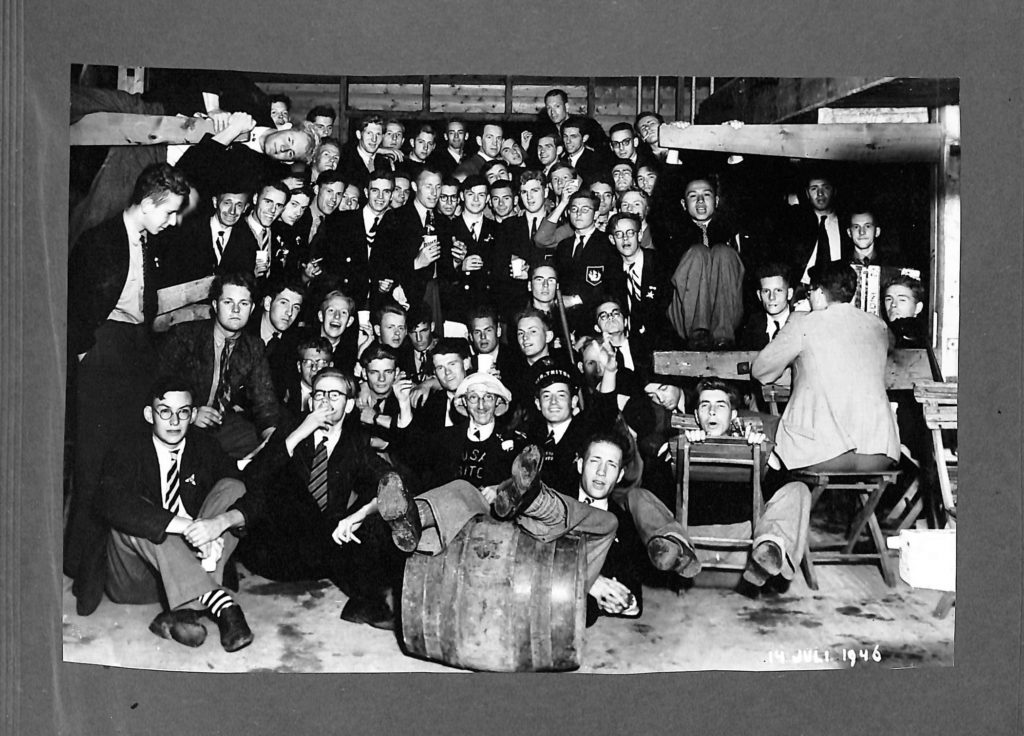 There is an adage among professional archivists which says that an archive is only as good as the items it receives. At first glance, this might seem like a rather mundane observation, bordering on the blindingly obvious. After all, an archive comprised of items thrown together at random and conserved in substandard conditions is unlikely to appeal to many, except to those who might wish to intervene and bring about improvements.
But the saying is slightly more nuanced than at first appears. This is because, while it is possible for an archive to grow organically, forming as a matter of happenstance, the majority are deliberately created with a specific purpose in mind. This is the case for Magdalen's own Archives, provision for which was made from the outset by William Waynflete, who, in his statutes of 1480, insisted on 'the safekeeping of the [college's] evidences, muniments, and writings in the highest room of the tower annexed to the Chapel', with the records today contained in this space (now known as the Muniment Tower) representing the foundational collection of the college's historic papers.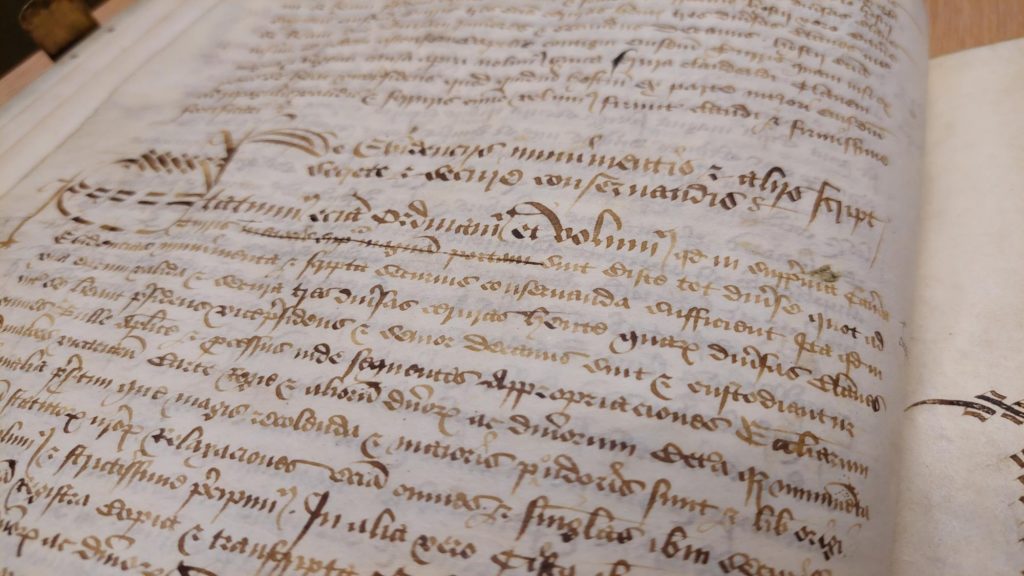 Making such provision is only one part of the process, however. Much more important is the system by which existing documents are not only conserved but subsequent accessions also identified and received. It is this process to which the adage noted at the outset alludes, for, without it, an archive will either house only part of what it is designed to receive or will sometimes receive nothing at all.
As far as Magdalen itself is concerned, the college's institutional records (committee papers, accounts, administrative documents, student files, etc., etc.) typically arrive in the Archives as a matter of routine, even if improvements can always be made to the system by which this happens.
Such official records form only one part of the Archives, however. Just as important are the private papers (letters, diaries, photographs, newsletters, etc.) created by our members during their time at Magdalen. In many ways, these informal records are far more engaging than their official counterparts, for while having a complete run of accounts from the college's foundation is extremely important, such things do not really capture what it is actually like to be a student here.
It was this stumbling block that the students responsible for curating our latest Old Library exhibition often came up against. With a remit to illuminate the experiences of people of colour within Magdalen's history, the student curators discovered that while we had official documents recording that a particular person was here, there was often little beyond such administrative records to give any real sense of things on a personal level, leaving the stories they wanted to tell frustratingly one-dimensional in nature.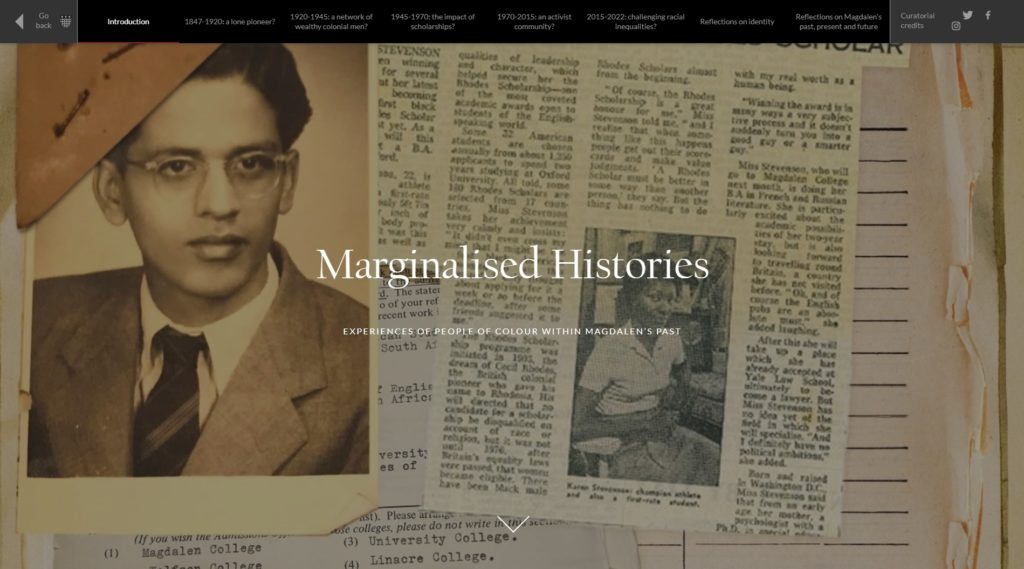 Such 'gaps' in the Archives exist because there is no formal (i.e., automatic) way for these more personal records to be captured by them. Instead, a student who, for example, takes photographs of their time at Magdalen will typically take these photos away with them when they leave, often holding on to them for the rest of their lives. What holds true for photos is also the case for letters, diaries, printed ephemera, etc., as well as for many of the records of the college's clubs and societies, which are all student-run (with the students responsible for them either assuming that any records will somehow automatically be preserved in the Archives, or – quite understandably – not thinking about archival posterity at all).
It is for this reason that college archivists are always delighted when former members (or their relatives) get in touch to offer items in their possession. I received just such an offer earlier in Trinity term, when the niece of the late Kenneth Everard (C 1944-45; E 1945-48; Senior Mackinnon Scholar 1950-51) contacted me in relation to materials she had discovered at her uncle's home.
Kenneth Everard, who went on to work for ICI in its Plastics Division, had been a keen rower during his time at Magdalen, and had not only kept a near full set of Eights and Torpids cards from 1939 and 1945-1953 (with results duly filled in), but had also compiled personal photo albums showing the Magdalen crew in action in Oxford and further afield.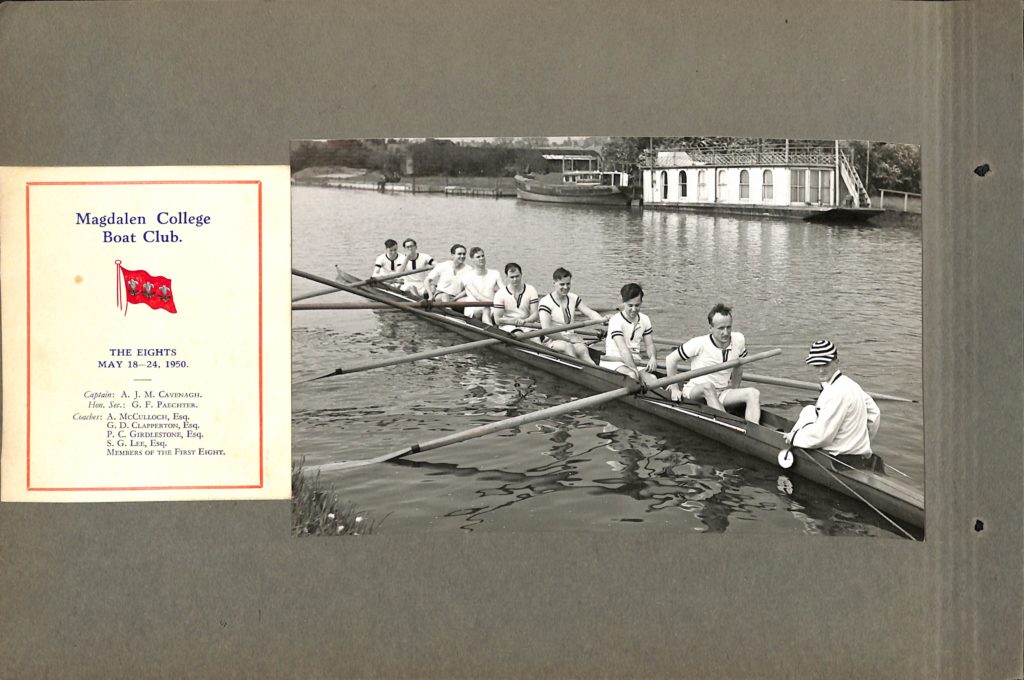 Such items (along with a letter sent home in March 1947 and a 1950 Commemoration Ball dance card) were special in and of themselves, but two things in the collection really stood out.
The first was a four-page, double-sided, typescript account of a trip made by the Magdalen 1st VIII to Belgian and Holland in July 1946. Kenneth Everard's niece had initially thought we might not be interested in this item, assuming (as many donors do) that we would already have a copy of it. Nothing could have been further from the truth, however, with the College Record not even containing a perfunctory mention of this trip.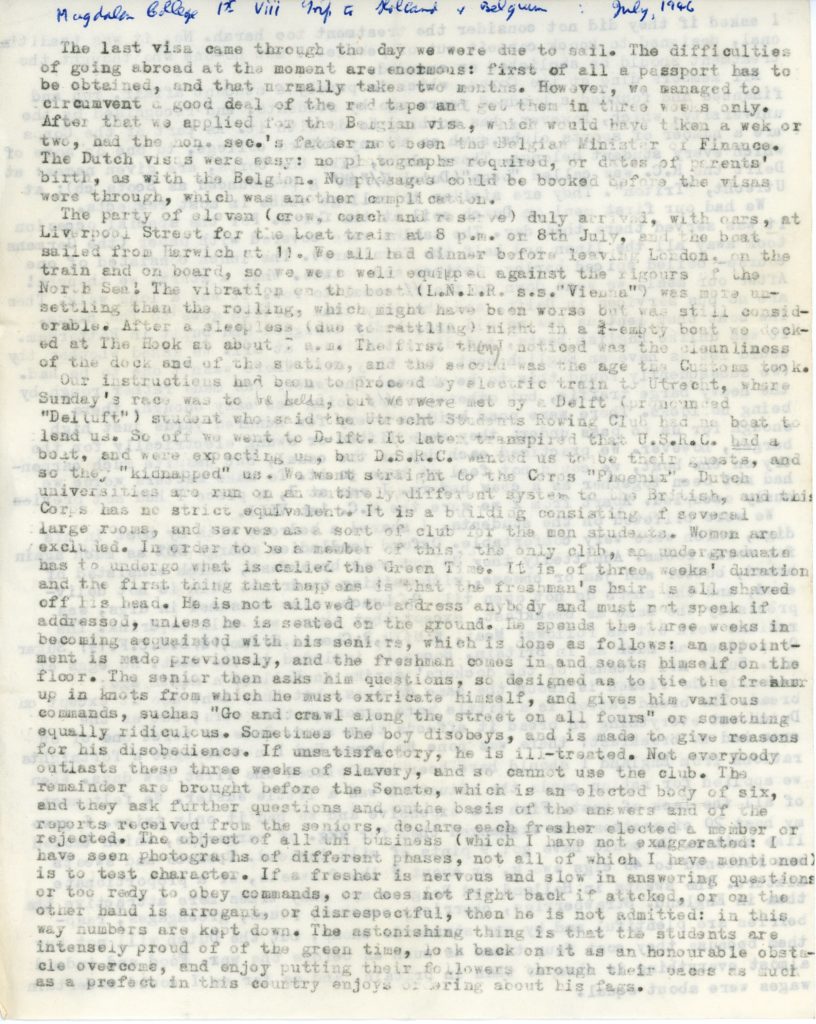 Such silence struck me as remarkable, given that Kenneth and his fellow crew members had chosen to visit mainland Europe to compete in a sporting activity that would have been unimaginable just 12 months earlier. Making the trip in 1946 was still no cakewalk, and Kenneth recounts the various difficulties he and the crew had to overcome, with entry to Belgium only being expedited thanks to the fact that one crew member's father was the Belgian Minister for Finance!
Despite such initial problems, and other understandable difficulties, the report nevertheless shows how quickly much of everyday life had returned to the Low Countries despite the ravages of war, with one of the photographs in the aforementioned albums showing young adults enjoying themselves much as they would have done before 1939. Simply put, having such a personal account of this trip, which Kenneth Everard himself said he 'wo[u]ld not have missed for worlds', is worth its weight in archival gold, capturing in detail an episode of Magdalen history that might otherwise have been lost.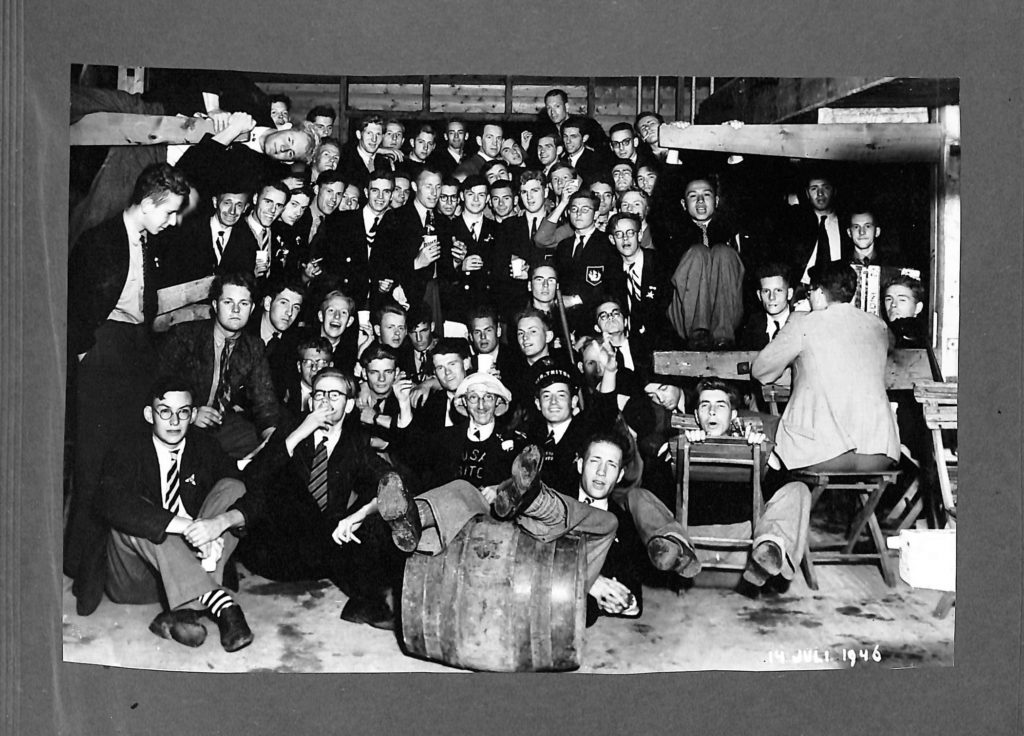 The same is also true for the second set of items in the donation that caught my eye. Like many of his contemporaries, Kenneth Everard spent part of his time living out of college, in particular at 159 Iffley Road. The landlady of that property, Mrs Richardson (known affectionately to her wards as 'Mrs R'), was quite clearly one-of-a-kind, for when she celebrated her 100th birthday, in April 1981, Kenneth Everard attended a celebratory lunch held at Magdalen in her honour, which had been organised by Bill Jarvis (C 1959-62). Unlike the rowing trip, this event is mentioned in the College Record. The editors, however, had to content themselves with republishing a story of the lunch published in the Oxford Times, whereas the Everard collection contains both the original invitation card and the photo taken of Mrs R with just some of her former tenants on the day itself.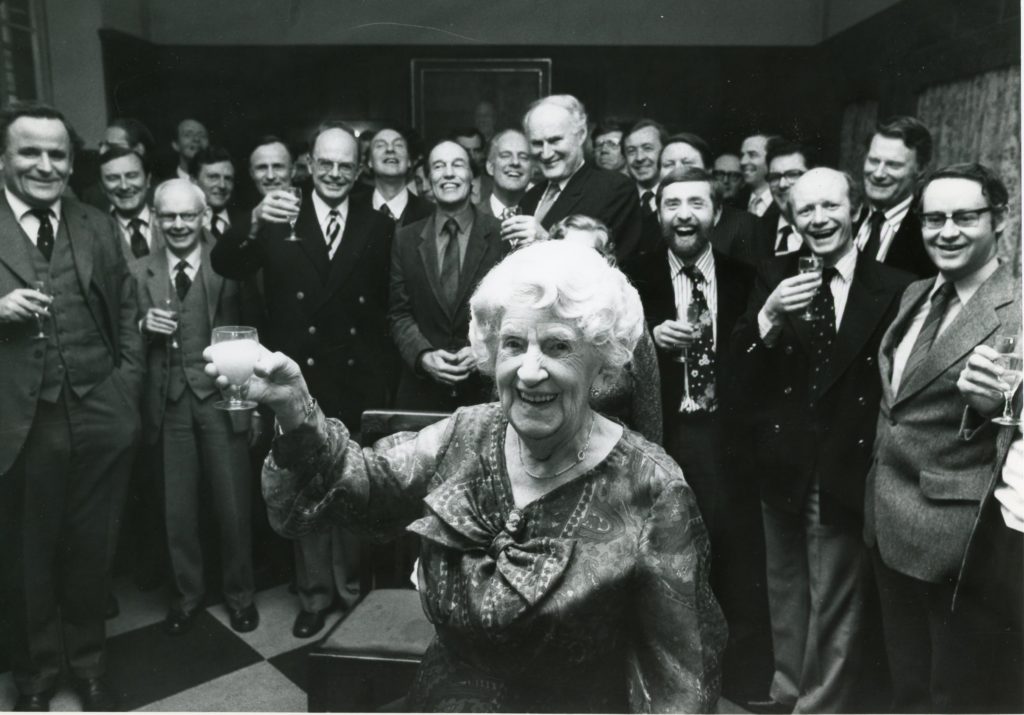 What is more, when Mrs R finally passed away at the remarkable age of 109, Kenneth Everard took it upon himself to organise a memorial service in her honour, which was held at college on 30 June 1990. This more solemn occasion does not appear to have caught the attention of that year's College Record editors, such that Kenneth Everard's papers, which include a list of attendees (and, therefore, of former tenants), stand as a unique record to the final chapter (and lasting influence) of the life of an extended member of the Magdalen family whose story it would be almost impossible to properly contextualise from the 'official' records alone.
And, with that in mind, it only remains for me to say that I would be delighted to hear from any old members (or their relatives) who think they may have something to donate to the college Archives. As I hope the above illustrates, there is always a very good chance that what you have is of greater archival value than you might imagine, and that, by donating it to the college, you will help make the Magdalen Archives (and the stories they help tell) even richer than they already are.
Written by Dr Richard Allen, College Archivist, Magdalen College.