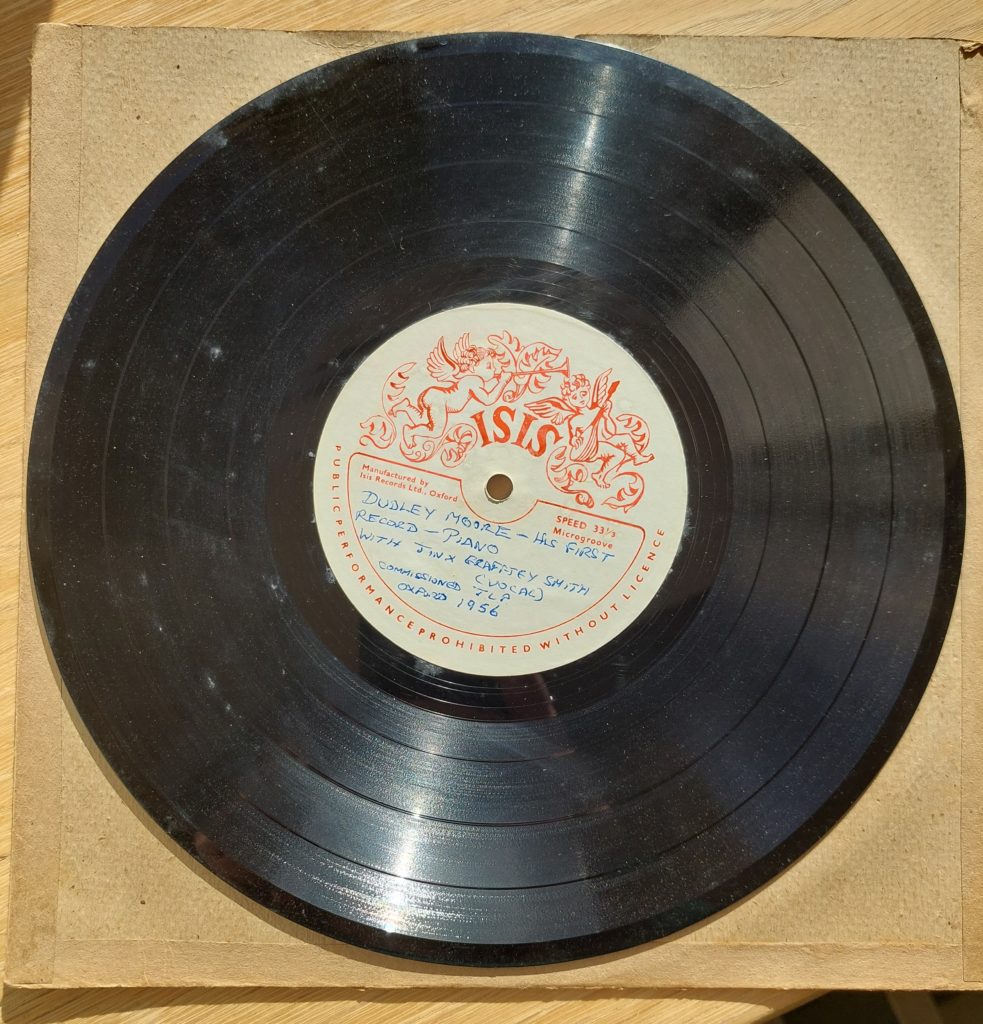 Accessions into an archive can sometimes behave a bit like the proverbial London bus. You don't see something of a particular type for ages, only for four of them to show up at once.
Just such a dynamic played out during my first weeks at Magdalen last term, when I welcomed into the Archives not one but three different deposits relating to Dudley Moore (1935–2002). Arguably one of our best known alumni of the 20th century, Moore was a supremely talented musician who went on to become a leading figure in the British satire boom of the 1960s and, eventually, an Oscar-nominated Hollywood actor.
Appointed as Organ Scholar in 1954, Dudley Moore came to Magdalen from the County High School in Dagenham, Essex, where he had grown up on a council estate. His Oxford application reference states that he had initially shown a strong interest in reading Mathematics at university, but it was towards the Arts, and in particular towards music, that he gravitated, having fallen under the tutelage of Peter T. Cork (1926–2012), a popular and influential local teacher. His time at Oxford was spent under the similarly influential Bernard Rose (1916–1996), one of the giants of English choral music in the post-war era, whose papers today form part of the Magdalen Archives, and, while Moore excelled at all things musical, his extracurricular activities ranged well beyond. Indeed, it was while at Oxford that Moore cut his teeth in various new arenas, among them jazz and composition, in particular for stage performances.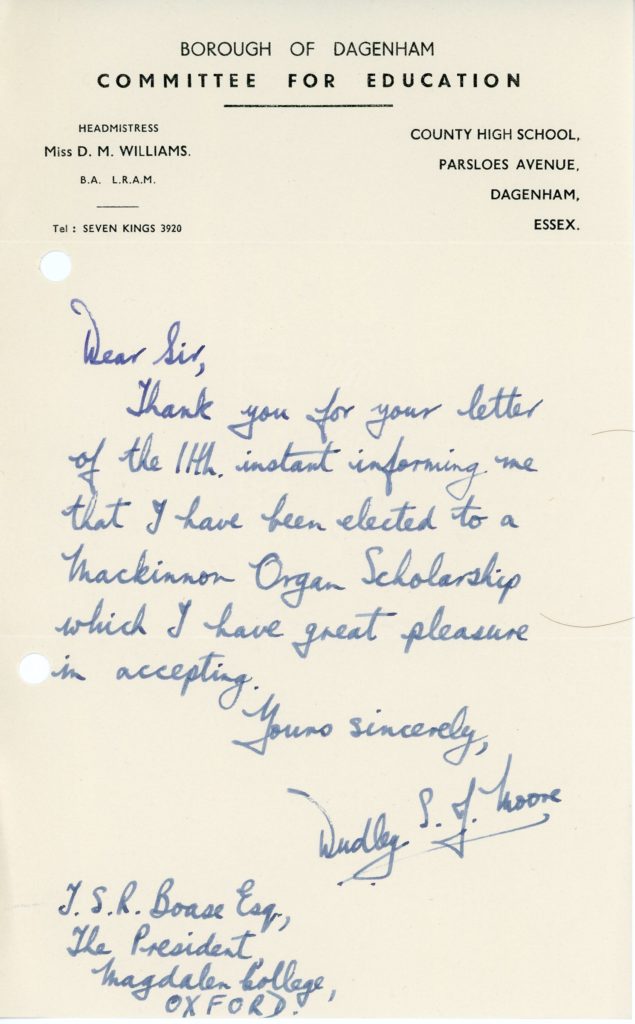 It was in relation to the latter that the first of my three Moore accessions arrived in the Archives. Just before going on maternity leave, the College Librarian, Dr Lucy Gwynn, gave me a quick tour of my new digs. Upon entering the main offices at Holywell Ford, she pointed to a cardboard box, explaining that it contained original musical scores by Dudley Moore. The college had recently acquired these from one of Moore's Oxford contemporaries, to whom they had been sent shortly before Moore's death in 2002. Comprised of a song entitled "Jack's Alright" and a round called "Four Crooks Song", they were composed for a revue staged in 1959 by a mutual friend at St Thomas' Hospital, London. These may not be Moore's first compositions but they are certainly among the earliest, and it is wonderful that they should now have a permanent home at the institution in which he honed this particular skill.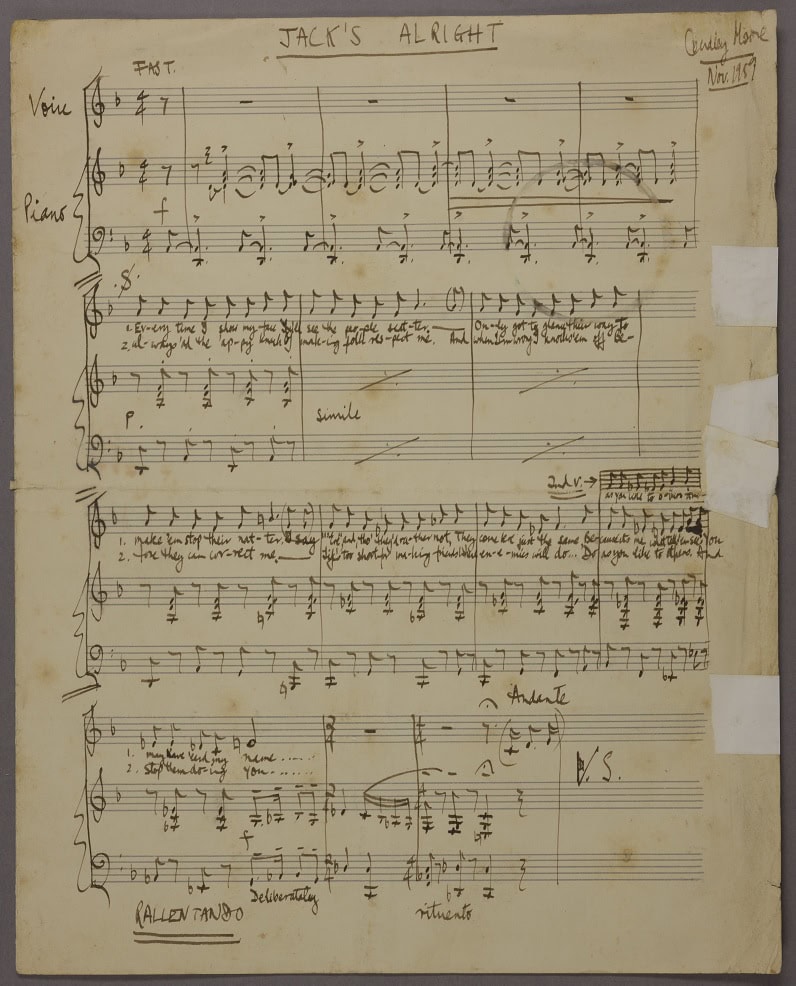 But what of Moore's musical time at Magdalen? Given his subsequent and relatively rapid post-Oxford rise to fame, you might assume that the Archives would contain various items relating to his accomplishments.
In one sense, this is true. His extensive student file records his academic progress under Bernard Rose, as well as the permissions he sought to take part in various extracurricular activities, including a performance of Antony and Cleopatra held in Trinity term 1956. The catalogue also shows that the Archives are home to some programmes for performances in which Moore took part, a number of which were organised by the Magdalen College Music Society, which had itself been founded only six years prior to his arrival in Oxford.
And yet, while important, these documents give you no sense of the sounds that defined Moore's musical life while at college. Recordings from this period are incredibly rare, such that the Archives have only a handful of vinyl records (or other media) with musical performances held at Magdalen before the 1960s.
It is this fact that made my second and third Moore-related accessions so special. Both arrived from completely unrelated quarters, but both concerned recordings of musical performances either featuring or performed by Dudley Moore.
The most significant was quite literally handed to me by Professor John Nightingale (Fellow and Tutor in History) as I attended my first college dinner at the end of my first week. As I came into the SCR, John explained that he had with him a bag containing vinyl records belonging to Jeremy Leigh-Pemberton (C 1954–57), a contemporary of Moore's at Magdalen, to whom he had been talking about depositing the records in the Archives.
To say these records are important is an understatement. Thanks to Jeremy's generosity, the Archives can now lay claim not only to recordings of early Music Society performances held in December 1956 and March 1957, the latter of which we know Moore took part in, but also two recordings of his jazz performances, both of which were laid down during his time at Magdalen. The earliest of these dates from 1956. It was made at the Isis Recording Studios at 15 Broad Street, and features Moore on piano and John 'Jinx' Grafftey-Smith (C 1955–58) on vocals. As for its importance, the handwritten label says it all: 'Dudley Moore – His First Record'.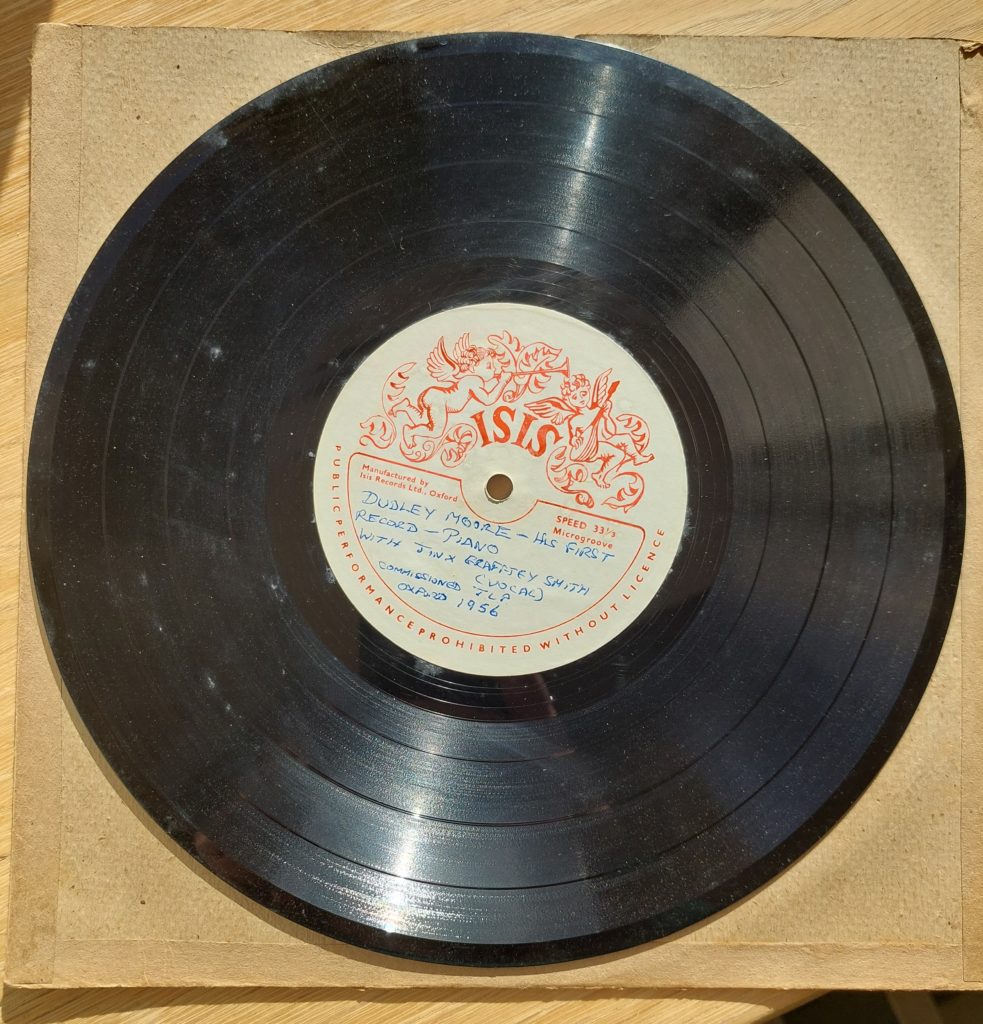 No sooner had I accessioned these items into the Archives than I was approached by a vinyl record collector as to a Magdalen item he had discovered among a recent bulk purchase. This turned out to be a 75rpm recording of a Music Society concert held in the Chapel on 4 December 1957. The conductor is listed as David Lloyd-Jones (b. 1934) and the leader of the orchestra as (you've guessed it) Dudley Moore, who had returned to Oxford after graduation and was then staying (so his student file shows) at 25 Staverton Road (perhaps a contender for a blue plaque, if it doesn't already have one). As for the music, it included the first ever performance in England of the Haydn Mass "Rorate Cœil Desuper", which had only then been just rediscovered by H.C. Robbins Landon (1926–2009) in the archives of Göttweig Abbey.
As for what these recordings sound like, the technicians at the Oxford Duplication Centre have been able to play and convert the records to digital files, meaning that they can be listened to now and in the future.
So, kick back, relax, and enjoy a bit of Haydn (and some Palestrina), first heard in the Chapel almost 65 years ago. And, if you happen to have any similar items that you'd like to deposit in the Archives (Moore-related, or otherwise), please do get in touch!
Written by Dr Richard Allen, College Archivist, Magdalen College.