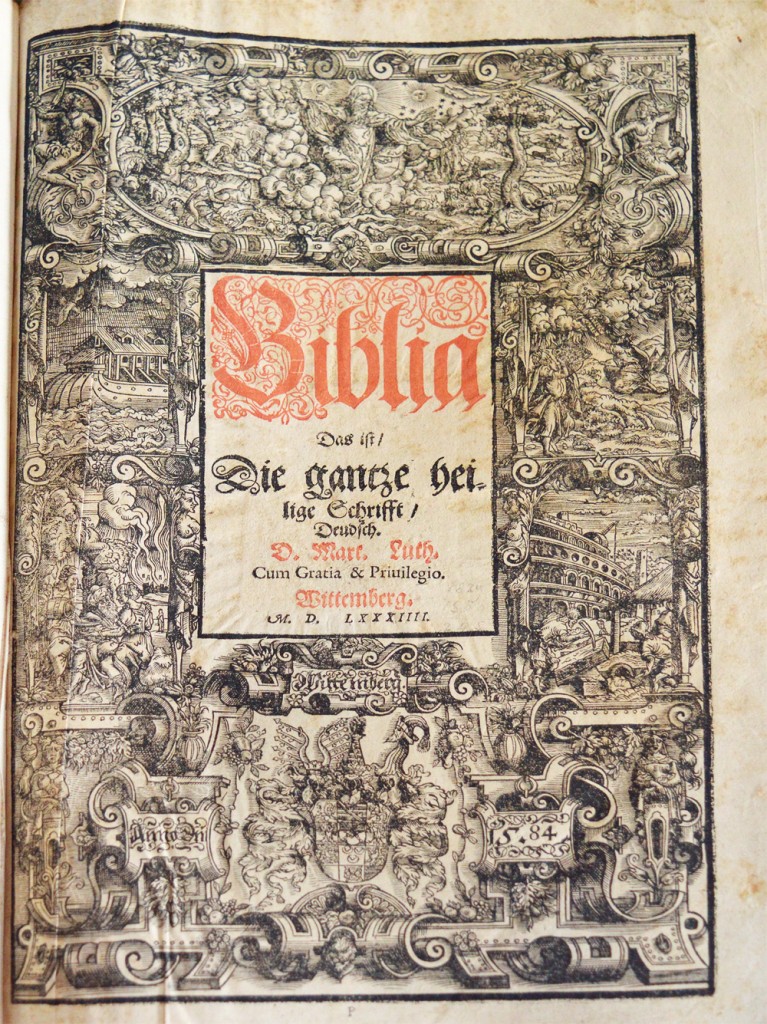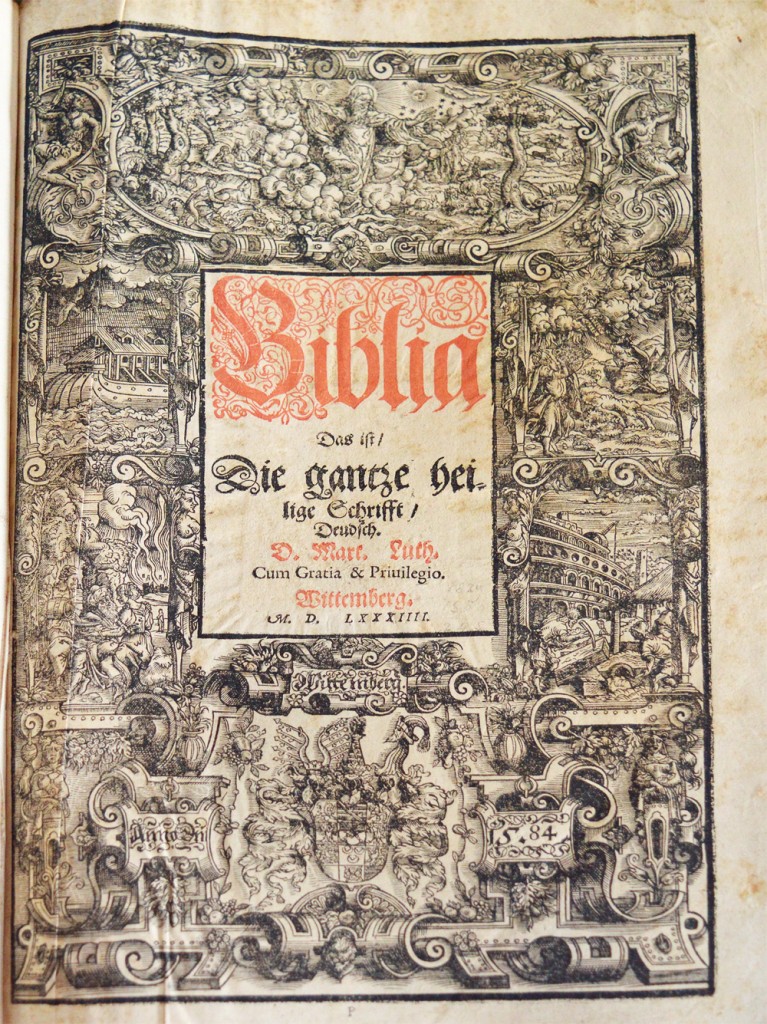 John Harding (c.1562–1610) was the only Magdalen member of the Oxford team that translated parts of the Old Testament for the new Bible commissioned by King James in 1604. By then Harding had served as Magdalen's Vice-President (1589), Bursar (1594, 1596), and Proctor (1589), and had been appointed to the University's Regius Professorship of Hebrew (1581), a post that he resigned in 1598, but took up again in 1604.
Harding seems to have had a controversial time at Magdalen. Macray writes that the Senior Bursar was punished in 1593 for claiming that Harding would soon be confined for insanity; a few years later President Bond (1540–1608) is recorded as saying that Harding was 'wonted to vaunt more of his own worth than any wise men in Oxford do esteem him'; in 1597, his Doctor of Divinity degree 'was refused by a majority of the seniors [Fellows], with whom he was very unpopular, and whom he professed to despise' (Register of the Members of St. Mary Magdalen College, Oxford, 3.72).
Nevertheless Harding played an important rôle in producing the King James Bible, officially heading up the Oxford team that was translating the Old Testament prophets from Isaiah to Malachi. The new Bible was created by committee, six of them: two each in Oxford, Cambridge, and Westminster, which were given different parts of the Bible to translate. It was hoped that evidence would be discovered that placed the translators in Magdalen's library, but nothing to support that theory has been found. It seems that Harding's team in fact met in the lodgings of John Rainolds (1549–1607), then President of Corpus Christi College, probably because Rainolds helped initiate the project and was nearly immobilized by gout. It is unclear where the team worked after Rainolds's death in 1607. The King James Bible was published in 1611, a year after Harding's death.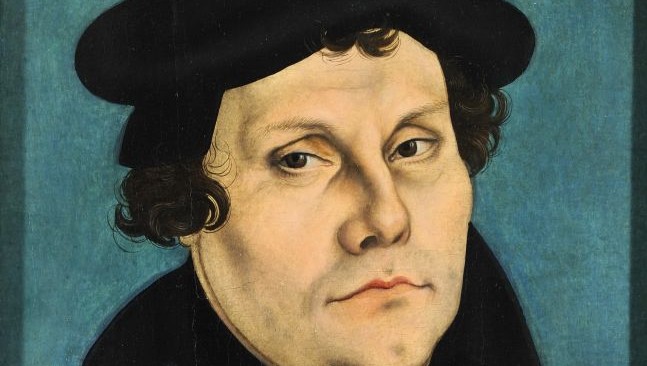 Harding bequeathed a number of books to the College when he died, including this 1584 edition of the Bible translated into German by Martin Luther (right), which he might well have consulted during his translating work. Luther was well equipped for the job. He had studied jurisprudence at the University of Erfurt, receiving his master's degree in January 1505. For various reasons he joined an Augustinian monastery less than a year later and was ordained in 1507. He was appointed lecturer on the Bible at the University of Wittenberg in 1513. Five years later he posted his controversial Theseson the castle door in Wittemberg. Like Wycliffe, he came to believe that the Bible was the only source of faith.
A number of German translations of the Bible had already been printed, but none of them were of the standards to which Luther aspired, so he, with the help of Philipp Melancthon (1497–1650) another German reformer, and others, translated the New Testament from Erasmus's Greek version—rather than the Roman Catholic Latin—into German in a matter of months. Luther's masterful translation was published in 1522 and was an immediate success: "it struck the popular taste and charmed the national ear," and a second edition was issued within months of the first. His complete Bible, including both Old and New Testaments, took considerably longer to achieve, and was first published in 1534, after twelve years of hard work. Luther's Bible became the primary source for other northern European translations. It probably had as much influence in Germany as the King James Bible did in England.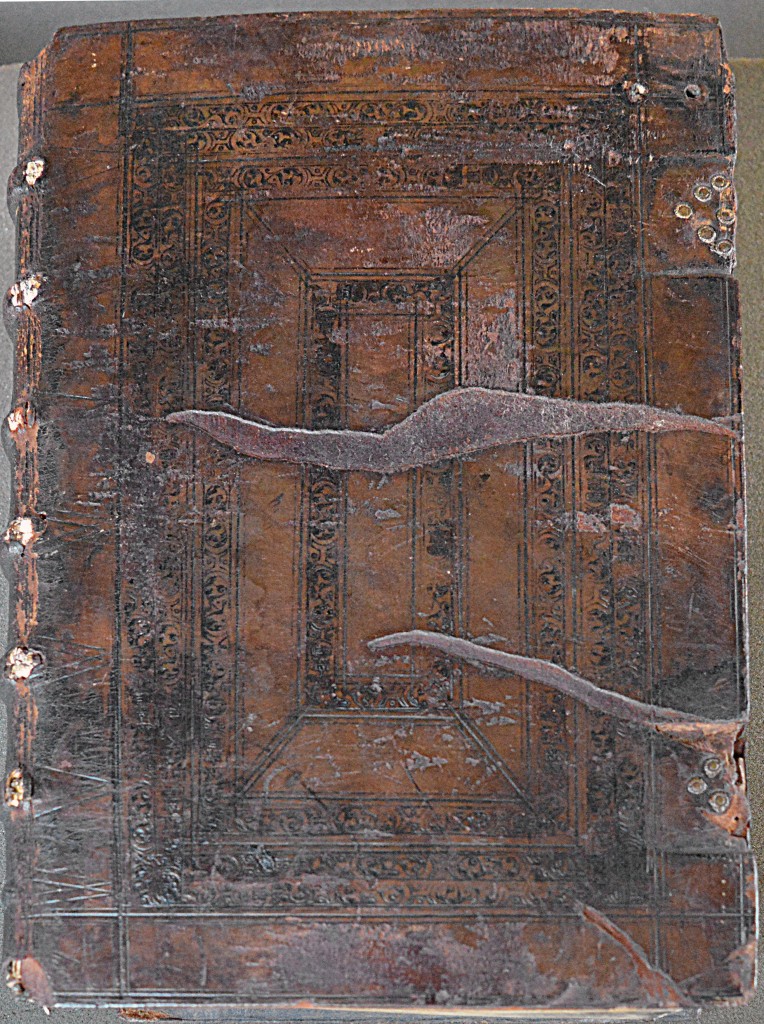 This volume was published in Württemberg in 1584. We do not know if it was purchased on the continent or from an English bookseller with continental connections; perhaps it was bought by Harding himself. Although it was produced in Germany, it was bound in Oxford between c.1590 and 1610, in brown calfskin over heavy oak boards—the leather has been damaged, revealing some of wood. Other damage has exposed more of the book's physical structure, including the raised cord sewing supports in the spine. The binder used a roll for the blind-tooled decoration, which David Pearson has identified as Ker Roll XXII (Pearson, Oxford Bookbinding 1500–1640, 71). The book would have had clasps—the brass studs that kept them in place are still visible. So are two holes on the top right of the upper board. These were left by the staples for the book chain, when the book was chained in the College library.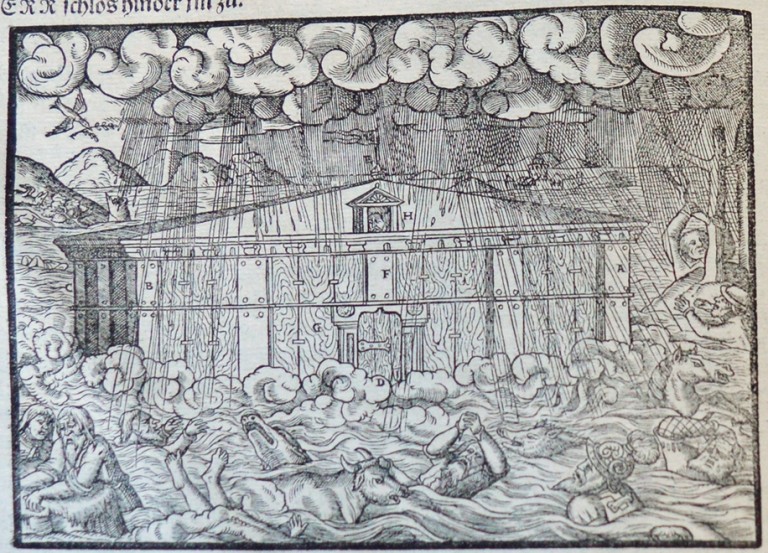 The title page, printed in red and black, has a wide, elaborate woodcut border by the engraver Hans Brosamer (b. c.1506) (see above). Woodcut illustrations are scattered throughout the text, and certainly helped to popularize this new Protestant Bible. In some copies, the woodcuts have been handcoloured, making them even more striking. Here we have a lively picture of Noah peeping out from his ark, watching his neighbours and their livestock drown, at the same time as the dove with the olive branch hoves into view. It is one of more than a hundred woodcuts by Johann Teufel and others, woodcuts that were re-used from edition to edition.
Biblia: das ist, die gantze Heilige Schrifft, Deudsch. D. Mart. Luth. (Wittemberg: Gedruckt durch Hans Kraffts Erben, M. D. LXXXIIII). Magd.b.7.6