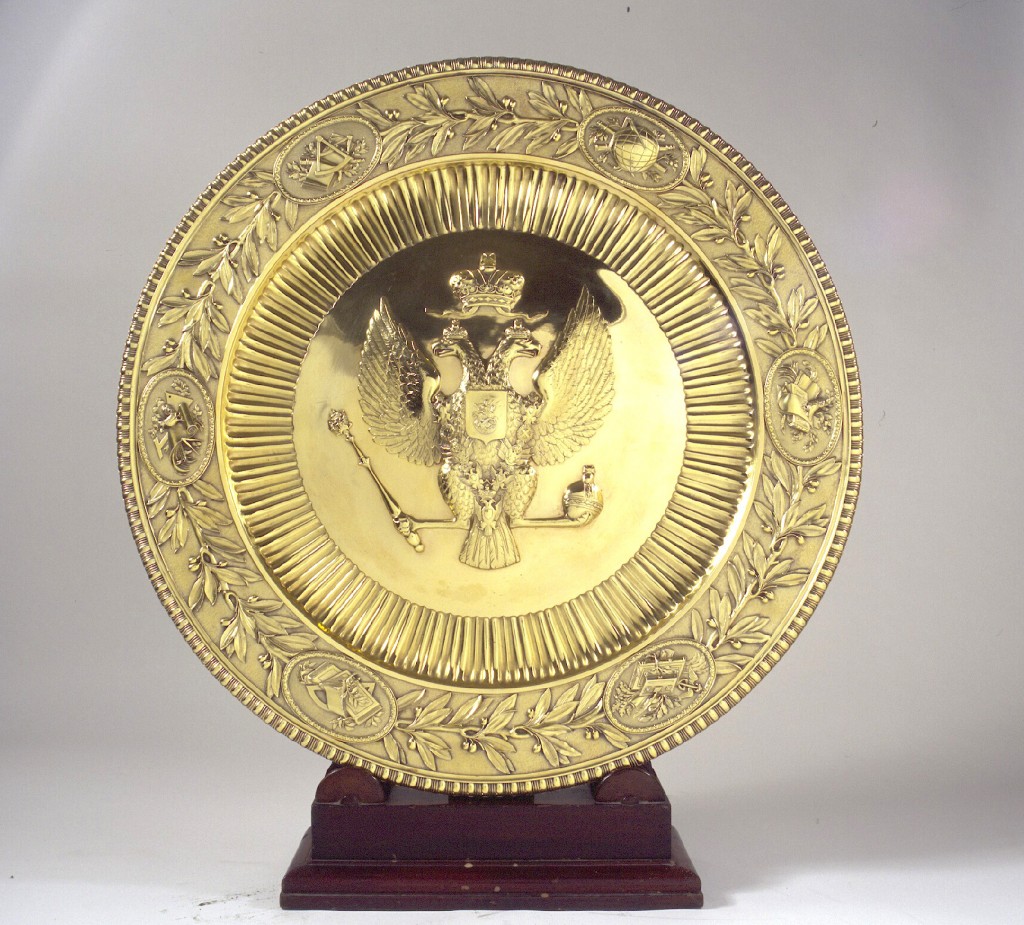 In this month's Illuminating Magdalen article, the physical and online worlds collide! To celebrate the re-opening of the Longwall Library to members of the college after the pandemic forced our closure in March, the library has installed a new exhibition entitled Illuminating Magdalen in the foyer. In a similar way to this blog series, the exhibition uses priceless artefacts held in our collections to highlight the college's unique history. As the Longwall Library will at first only be open to college members, this post extends the exhibition's reach further.
Read on to discover more about the college's 500 years of history. Through this range of objects, you'll be able to glimpse into Magdalen's pre-historic past, gain an insight into college life in the 18th century, and view the tangible legacy of some of Magdalen's most important alumni and guests, most notably C S Lewis, Tsar Alexander II and Prince Chichibu, the younger brother of Emperor Hirohito.
The Magdalen Mammoth Teeth (240,000 years ago):
The first objects to look at are not only the oldest items to feature in this exhibition, but are also the oldest items that the college owns!
Long before Oxford even existed, the site that it now occupies would have been a safe riverside valley site. Such a site would have been perfect for a number of prehistoric creatures, but we now know that it became the home of one of the most majestic creatures in Ice Age Britain: the Woolly Mammoth.
In 1922, construction workers were doing some repair work in the deer park. During the work, one noticed what looked like ivory and immediately alerted the Fellows, including R. T. Gunther, Tutor in Natural Sciences at the time (see Green, 2019).
He realised that the workers had stumbled across a nearly intact mammoth skeleton (Mammuthuis primigenius). Although much of the skeleton was unfortunately destroyed in the excavation process, several teeth have survived today. Below, you can see a few of them: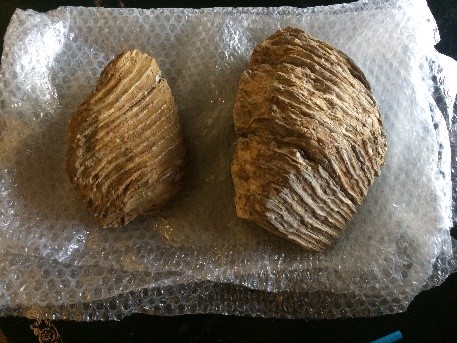 Recent studies on these teeth revealed that they date from the second inter-glacial period, around 240,000 years ago. They give us a fascinating glimpse into Magdalen's deep prehistory and biodiversity. More information about the flora and fauna of the college can be found in the dedicated online exhibition here.
The Bursar's Pistol and Blunderbuss (18th Century):
Below, you can see two firearms that have belonged to the college since the 18th century. The smaller gun to the front is a pistol and the one stored behind is a blunderbuss. The guns' exact purpose is not now known. It has been suggested, however, that college employees would have used them for protection when travelling on college business (Young, 2008: p.82). As the college owned land all across the country, the Bursar or other designated rent collectors for the college would have required such protection when travelling with not insignificant amounts of money.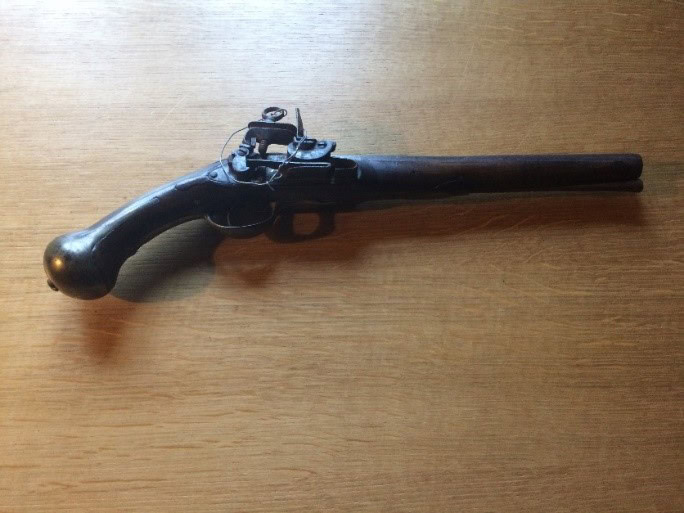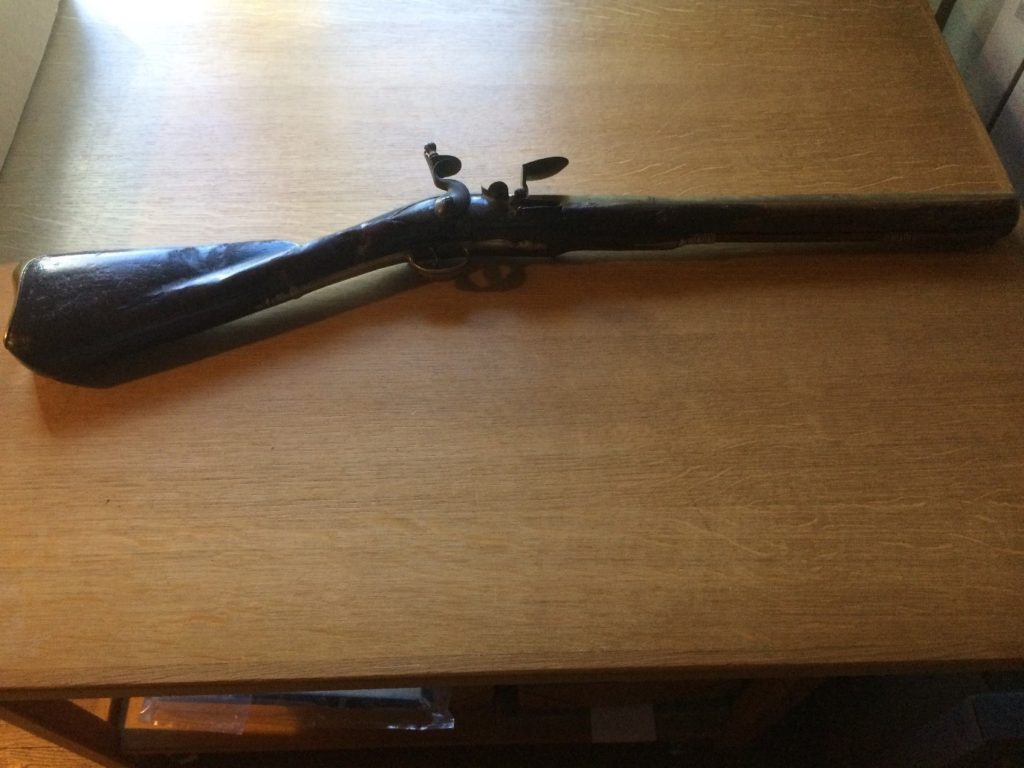 In the 18th century, highwaymen were a particular threat, with some unlucky travellers losing sums of £100 or more. The greatest threat in England was on Hounslow Heath in London, where the main road from the capital to Windsor and the West Country ran. The problem, however, was far from limited to this area and affected Oxfordshire as well. Indeed, the three brothers Harry, Tom, and Dick Dudson operated near to Oxford and became infamous as the "Burford Highwaymen". Protection, therefore, was definitely required!
If you look closely at the pistol, you can just make out an engraved escutcheon bearing the Magdalen crest behind the firing mechanism. These objects are without a doubt both beautiful and deadly. It is not known whether they were ever fired in anger, but their existence proves that Oxfordshire used to be a much more dangerous place than it is today.
Replica Book Chain:
Below, you can see a replica of a Magdalen book chain. This object gives a fascinating insight into the history of the college's Old Library and the way that its books were organized.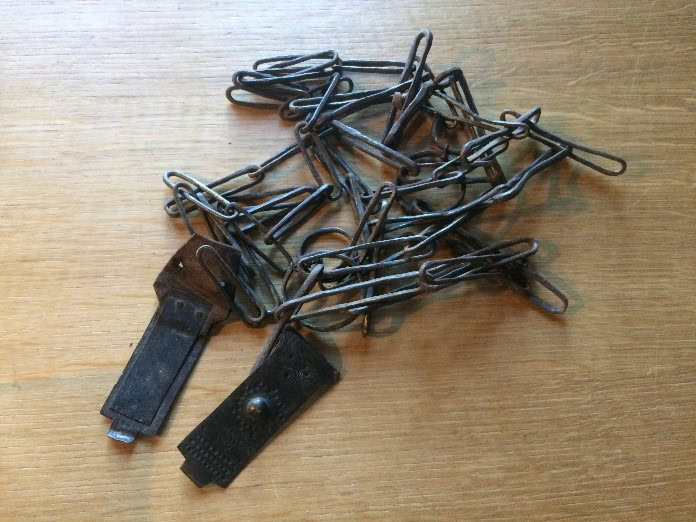 Due to their huge value, it was common for all books in the middle-ages to be chained to prevent theft. Magdalen was no different in this regard, and its books were first chained to lecterns. As the volume of books in the college increased, however, after 1610 books 'were shelved with the fore-edge (not the spine) of the book showing, and chained from the top edge of the front cover to metal bars running along the shelves' (Ferdinand, 2014). This method meant that more books could be kept in the library, but as a consequence ensured that books were stored completely differently to the traditional way today!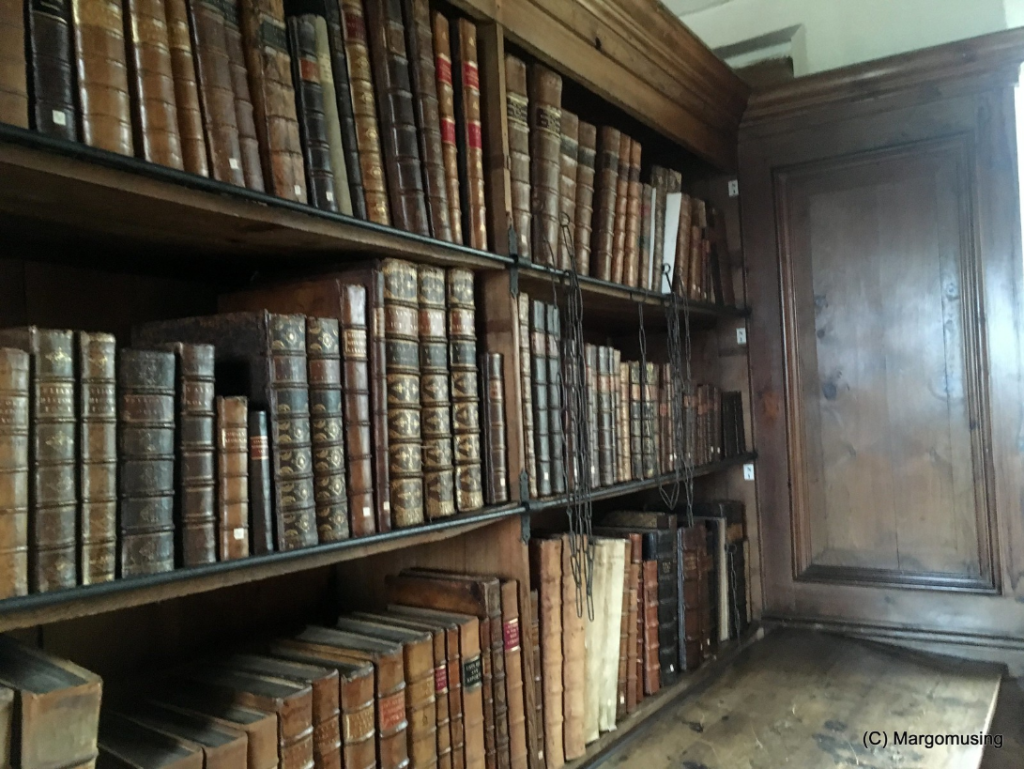 The college was so fond of this method of securing its books that the system remained in place until 1799 (Ferdinand, 2014). This decision made Magdalen the last Oxford college to unchain its books, but the practice is still in place elsewhere. To give an idea of a book chain in use, the photo above shows books chained in Wells Cathedral Library. Unlike at Magdalen, these books have been chained with the spine facing outwards.
President Routh's Petrified Wig (1854):
The next object is a wig that once belonged to President Martin Routh (1755-1854). Routh is one of Magdalen's most well-known figures and dedicated his entire working life to the college. First joining the college in 1771 as a demy, he stayed at Magdalen for an incredible eighty-three years, becoming a fellow in 1775 and then President in 1791, a position he held until his death (Darwall-Smith, 2008a: p.267).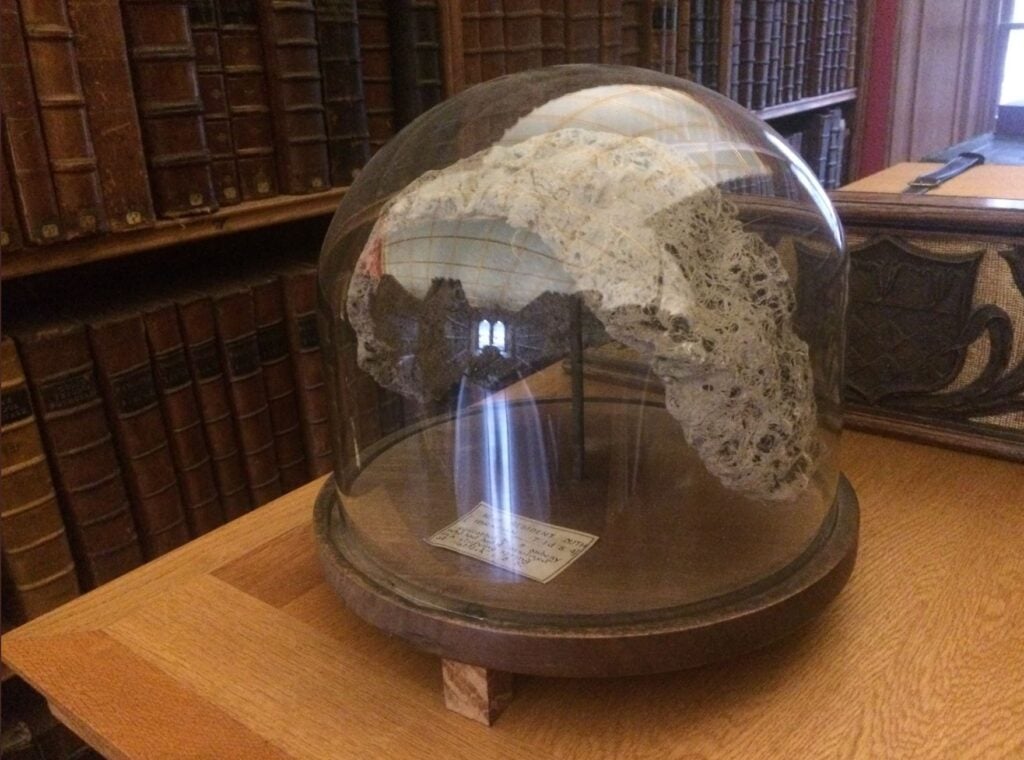 Due to his many years of service, it is perhaps not surprising that he gained quite a reputation in college. He had always been respected for his academic work, but the fact that he retained his mental faculties right until his death meant that he began to be seen as an important link to the past. Indeed, many of his contemporaries were keen to gain an audience with the President in his final years (Darwall-Smith, 2008b: p.60). These audiences were always held in the Presidential Lodgings and visitors were greeted by Routh wearing a wig and knee-breeches, even though they had not been in fashion for many years.
Routh was a traditionalist not only in terms of his dress, however. He was a staunch defender of the sometimes incongruous traditions at Oxford, vehemently resisting a Parliamentary Commission of 1850 to investigate reforming the university. As a result of this, the scientist Charles Daubeny – one of the most progressive fellows in the college at the time – dipped one of Routh's famous wigs into a high-mineral stream near Matlock after his death. With this act, Daubeny petrified his friend's wig (Darwall-Smith, 2008b, p.61). Ever since, the wig has remained on display in the Old Library to highlight, and perhaps also to warn against, Routh's refusal to accept change at his beloved college.
President Routh's Dish (1820-21):
President Routh legacy is also clear in our next object. Dating from 1820-21, this beautiful dish is the largest object in our exhibition and one of the largest in the college's collection.
The dish was made to commemorate an extraordinary meeting in the college. In June 1814, Tsar Alexander I and King Frederick William III of Prussia were invited by the Prince Regent to tour England, as a way of celebrating the defeat of Napoleon in that year. As part of this tour, the royal group travelled to Oxford, where they were given a guided tour of Magdalen College by the then President, Martin Routh. As a gift to mark their visit, Routh presented a copy of his latest work, the Reliquae Sacrae to his royal visitors.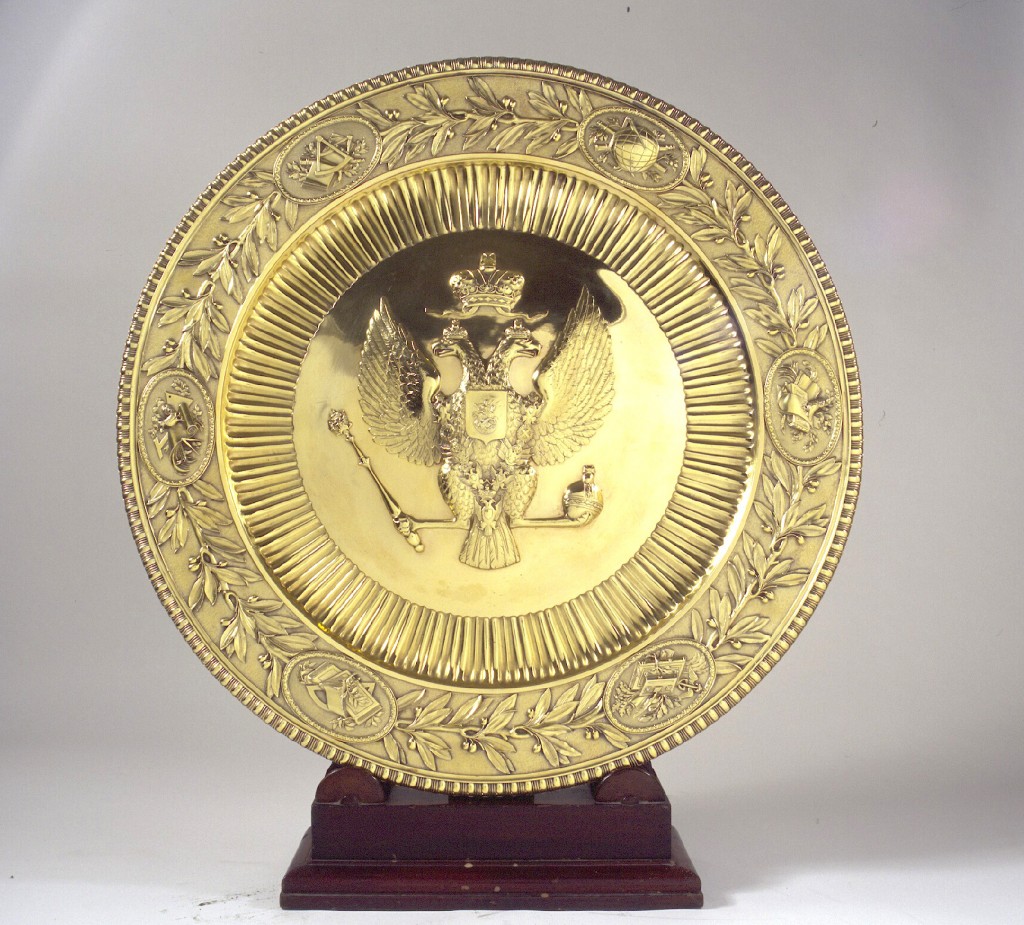 In return, Tsar Alexander gave the President this beautiful silver dish. The Russian two-headed imperial eagle in the centre clearly denotes its provenance. Its hallmark, however, reveals that it was not made in Russia, but rather by the London silversmith Philip Rundell.
Although the dish was a personal gift to President Routh, shortly before his death he gave it to the college, as its inscription (Darwall-Smith and Roberts, 2008) reveals:
"UT IMPERATORIO DONO SIT SEMPER HONOS COMMISSUM FIDEI EST MAGDALENENSIUM SALVUM CONSERVANDUM A RAPACIBUS ET FURIBUS TUTUM"
(So that an imperial gift may be honoured in perpetuity, it was given into the trust of the members of Magdalen to be preserved safe and sound from robbers and thieves.)
As such, this beautiful object has remained in college ever since as a tribute to a truly remarkable royal visit.
Prince Chichibu's Sake Frame (1926):
The beautiful object below is a sake frame, donated to Magdalen by HIH Prince Chichibu (1902-53), one of Magdalen's most famous alumni. Prince Chichibu, the younger brother of Emperor Hirohito, matriculated at Magdalen in Michaelmas Term 1926. His arrival was considered to be a great achievement for President Warren. To reflect the Prince's status, he was given the rooms formerly occupied by the Prince of Wales in 1912.Due to tensions between Britain and Japan, Prince Chichibu only stayed at Magdalen for a term. Indeed, it was rumoured that the Imperial Palace was anxious about exposing him too much to Western values. Despite his short time at Magdalen, however, the Prince became a life-long Anglophile. To express his gratitude to the college and to mark his time in Britain, Prince Chichibu donated this sake frame to the college after leaving. The frame is designed to be used in the san-san-kudo wedding ceremony. In this ceremony, the bridge and groom drink sacred sake from a set of cups like this one. It is meant to be symbolic of the union of two people and is part of the Shinto religion.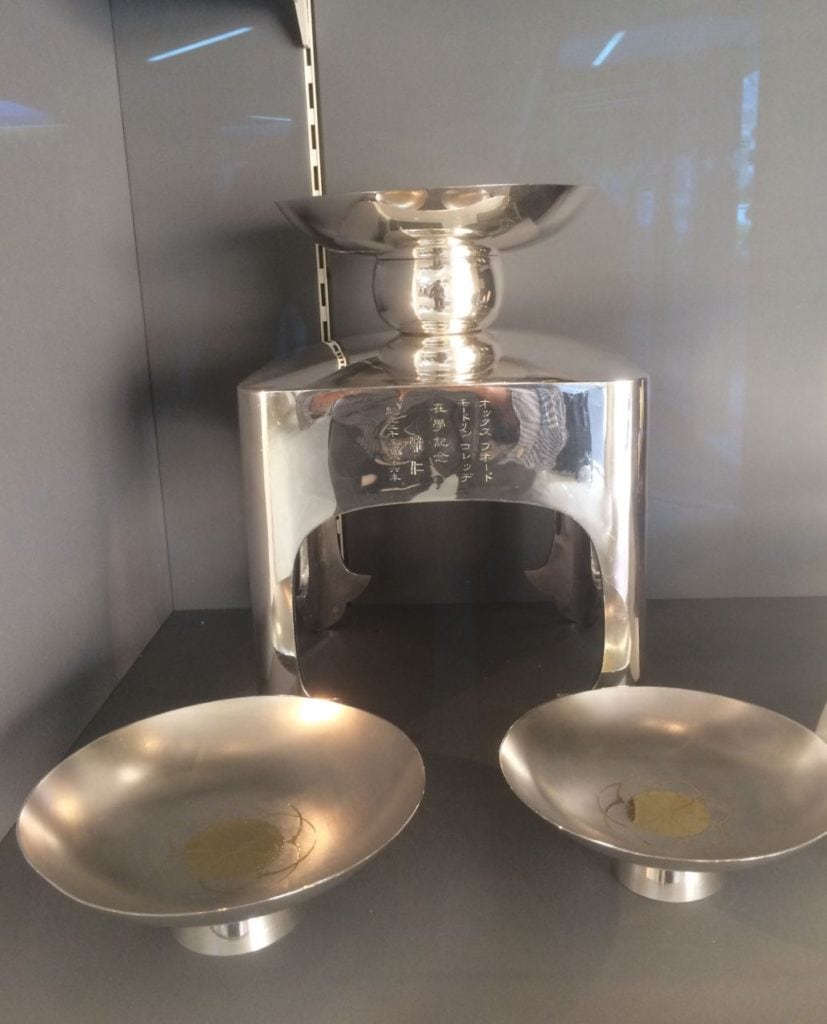 This beautiful frame includes a Japanese inscription on the back. In English, it reads 'Oxford, Magdalen College | In memory of studying at your college | Yasuhito | Year 2586 Kigen calendar" (Roberts, 2008, 148-149). The frame has been kept in the college ever since, as a symbol of friendship between Japan and the United Kingdom.
Replica of Robert Robinson's Nobel Medal for Chemistry (1947):
Below, you can see an object that celebrates one of Magdalen's proudest academic achievements, namely the award of a Nobel Prize. This bronze replica medal was presented to the college by Sir Robert Robinson in 1947, who was at the time the Waynflete Professor of Chemistry at Oxford.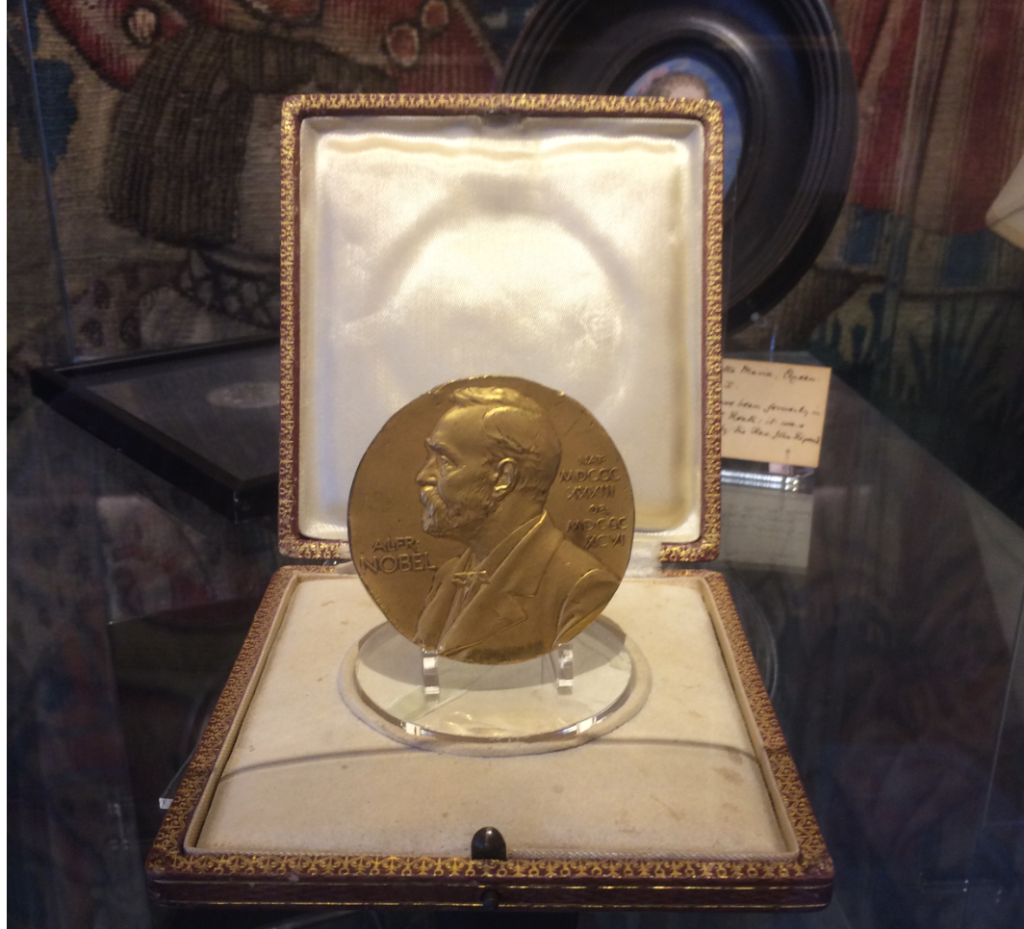 Robinson had won the prestigious prize for his work on alkaloids. These compounds have striking spectacular physiological effects. Perhaps the best known of these substances are quinine, cocaine, atropine, and morphine.
All of these compounds are made up of very complex molecules. Today, their chemical make-up can be ascertained with the aid of powerful computers, but this was not the case in Robinson's day. Instead, each molecule had to be laboriously worked on to understand its properties and the entire process involved great skill. As a proper understanding of these molecules is necessary to unlock the full medical potential of many of these alkaloids, Robinson was awarded the Nobel Prize to mark this scientific achievement.
On one side, the medal displays Alfred Nobel together with his dates of birth. On the other side, the goddess of nature is depicted holding a cornucopia (Denning, 2008: pp.70-71). It commemorates one of ten Nobel prizes awarded to individuals associated with Magdalen.
Chronicles of Narnia First Editions (1950-1956):
One of Magdalen's most famous academics has to be C. S. Lewis, who was Fellow in English Literature from 1925 until 1954. Whilst at Magdalen, he had a successful academic career, publishing texts such as The Allegory of Love (1936) on courtly love in Middle-Age literature and The Case for Christianity (1942) after re-discovering his Christian faith.
C.S. Lewis is, however, perhaps most famous for writing the Chronicles of Narnia books. Set in the fictional realm of Narnia – a fantasy world of perpetual winter, talking lions, and mythical beasts – these books have captivated the imaginations of generations of children. Since their first publication from 1950-1956, they have been translated into 47 languages and have sold over 100 million copies.
Magdalen College Library owns a rare First Edition set of these famous texts, published by Geoffrey Bles. Although by far not the oldest texts in the library's collection, they are still beautiful in their own right. All of these texts contain a set of intricate and famous illustrations drawn by the illustrator Pauline Baynes. C.S. Lewis admitted himself that his drawing skills were far from perfect, so commissioned the pen and ink drawings by Baynes to highlight the world that he had created. Below, you can see one of these wonderful illustrations in The Lion, the Witch and the Wardrobe.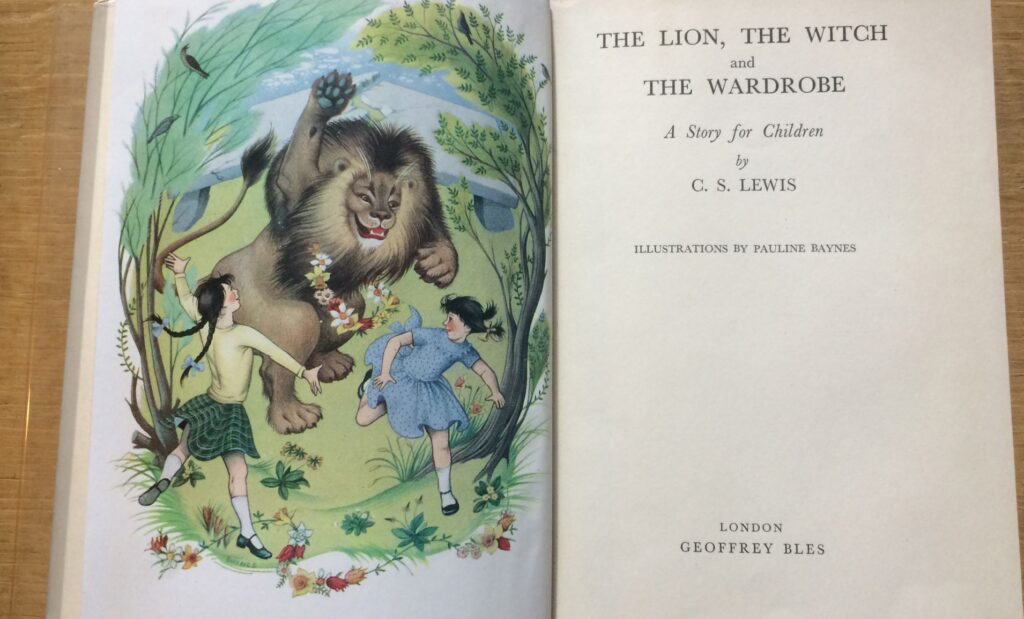 Although C.S. Lewis based many of the dramatic landscapes of Narnia on the mountains of his native Ireland, it is clear that both his life in Oxford and Magdalen College influenced these texts. To begin with, the first chapter of the Lion, the Witch and the Wardrobe closely reflects Lewis' life. At the start of the Second World War, three evacuees from London came to live with Lewis in his home just outside of Oxford. This event clearly had an effect on Lewis, as it bears remarkable similarities to Peter, Susan, Edmund, and Lucy's similar evacuation at the start of the book to the country house of an old professor. Likewise, the famous lamp-post that Lucy discovers when she first enters Narnia is remarkably similar to a lamp-post located in Radcliffe Square, a short walk from Lewis' rooms in Magdalen.
These texts are a reminder of Magdalen and Oxford's rich literary heritage. They emphasise how C.S. Lewis not only excelled in his chosen academic fields, but has also entertained countless of generations of children, sparking a lifelong love of reading for many.
Written by William Shire, Assistant Librarian, Magdalen College.
Acknowledgements:
All exhibitions require the support of many people and this one is no exception. We are grateful to the following for their support in its planning:
Mark Blandford-Baker, Home Bursar
Anne Chesher, Deputy Librarian
Professor Katharine Grevling, Vice-President
Rachel Mehtar, Fellows' Administrator
Professor John Nightingale, Tutorial, Library, and Chattels Fellow
William Shire, Assistant Librarian and Exhibition Curator
Nikki Tomkins, Conservator, Oxford Conservation Consortium
Much of the text of this exhibition has been based on the excellent Hidden Magdalen book, compiled by David Roberts and Richard Sheppard. Copies of this fascinating text can be bought in the College Shop in the Cloisters.
We hope you have enjoyed reading this exhibition and are looking forward to welcoming visitors to the Longwall Library as soon as it is safe to do so!
References:
Darwall-Smith, R. (2008a). The Monks of Magdalen, 1688-1854 in L. W. B. Brockliss (Ed.), Magdalen College Oxford: A History. (Oxford: Magdalen College), pp. 253-386.
Darwall-Smith, R. (2008b). President Routh in D. Roberts and R. Sheppard (Ed.), Hidden Magdalen. (Oxford: Magdalen College), pp. 60-61.
Darwall-Smith, R. and D. Roberts (2008). Dr Routh's Dish in D. Roberts and R. Sheppard (Ed.), Hidden Magdalen. (Oxford: Magdalen College), pp. 60-61.
Denning, B. (2008). Portrait of Robert Robinson. In D. Roberts and R. Sheppard (Ed.), Hidden Magdalen. (Oxford: Magdalen College), pp. 70-71.
Ferdinand, C. (2014). Magdalen College Library in the Fifteenth Century (Oxford: Magdalen College).
Green, D. (2019). The Flora & Fauna of Magdalen College, Oxford [Online exhibition]. https://florafauna.magd.ox.ac.uk/
Roberts, D. (2008). San-san-kudo: Prince Chichibu's Sake Frame. In D. Roberts and R. Sheppard (Ed.), Hidden Magdalen. (Oxford: Magdalen College), pp. 148-149.
Young, C. (2008). The Bursar's Guns in D. Roberts and R. Sheppard (Ed.), Hidden Magdalen. (Oxford: Magdalen College), p. 82.