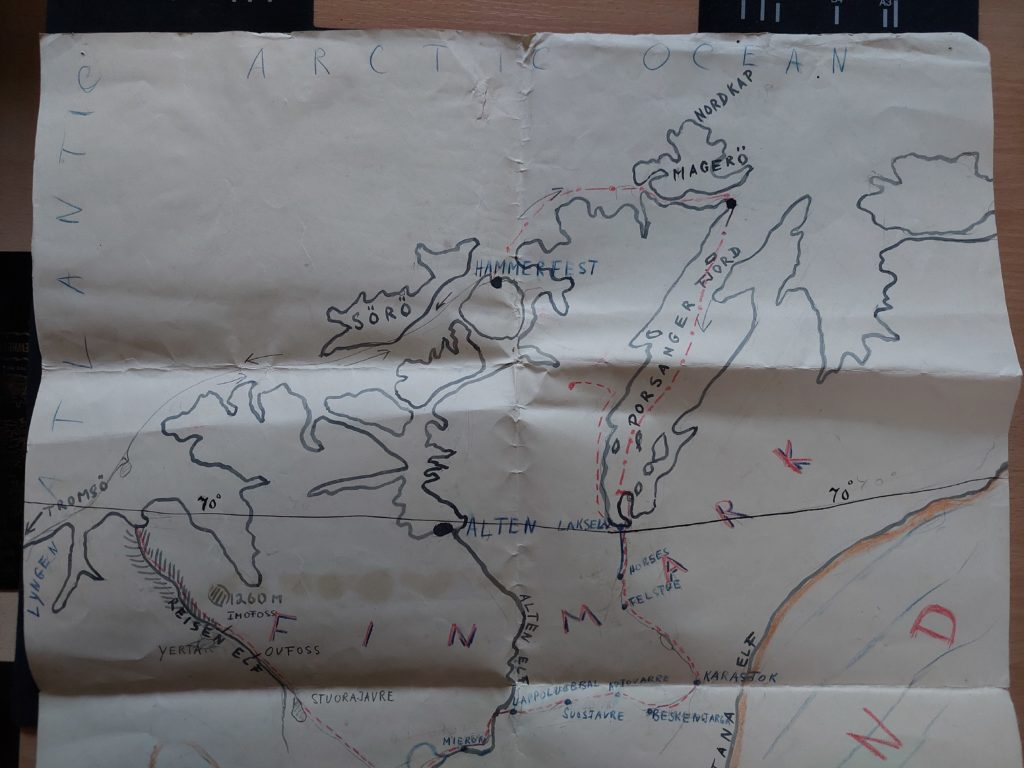 As in the rest of the UK, the weather has turned rather chilly of late in Oxford. Happily, it is nice and toasty in the Archives office, but we recently received a collection of material here with a decidedly wintry feel, one whose arctic theme is enough to make you shiver even with the central heating on!
This collection, compiled by former Magdalen student John Mansfield Weatherby (C 1928–31), and donated to the Archives by his daughter, Joanna, is also one that perfectly illustrates the importance of personal and private papers to Magdalen's historical records. Indeed, the event around which the collection revolves, namely an expedition to Norwegian Lapland (Finnmark), organised by John Weatherby while a student in 1930, is something about which almost no information exists at Magdalen itself, save for the fact that we know the college contributed £20 to its undertaking.
The whole expedition, which Weatherby organised under the aegis of the Oxford University Exploration Club (OUEC), founded just three years earlier, was initially projected to cost £375, of which his father, Edward Mansfield Weatherby (1872–1956), contributed the largest single amount (£75). The eventual total was a whopping £570 (over £29,000 in today's money).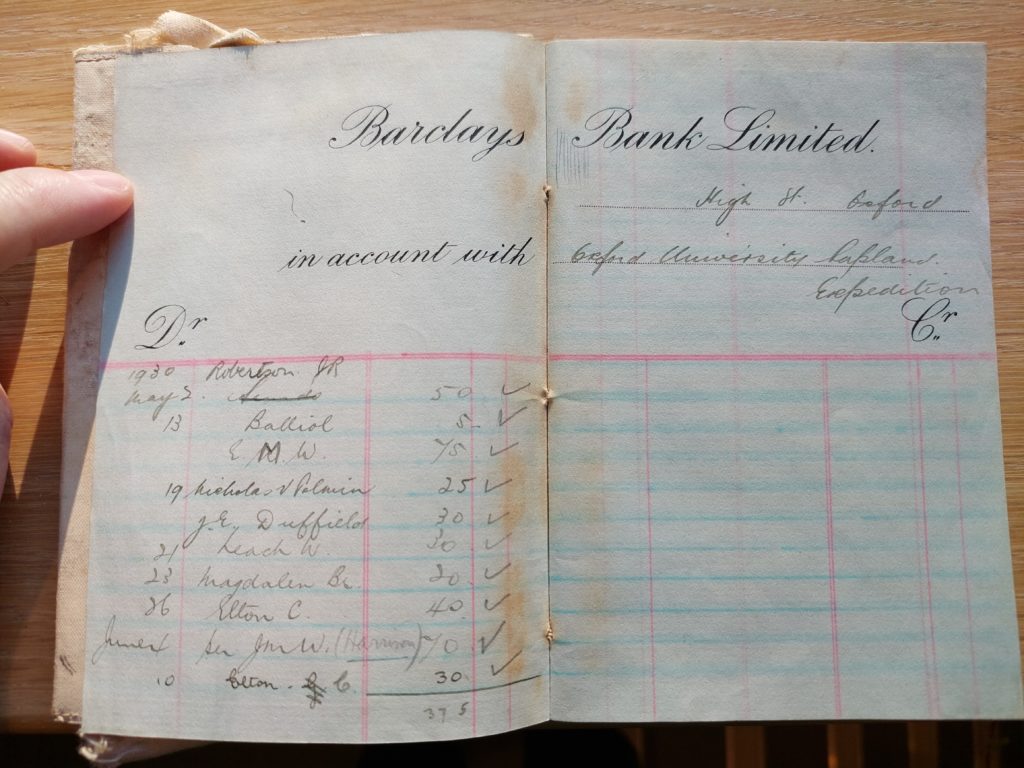 Far from being an overly expensive jolly, however, the expedition set out with serious scientific aims, specifically within what was then the evolving field of ecology. Indeed, one of the expedition members was Charles Elton (1900–91), now commonly credited as being 'the father of animal ecology', who had previously been on Arctic expeditions in 1923 and 1924. As for the route, the expedition planned to walk from the head of Porsanger Fjord (Porsangerfjorden) and then down the Reisen Valley to the west coast at Sørkjosen, carrying out biological surveys along the way. Elton's report, published two years later with John Weatherby's consent in The Geographical Journal, confirms that these aims were largely achieved, but otherwise gives an understandably academic account of events.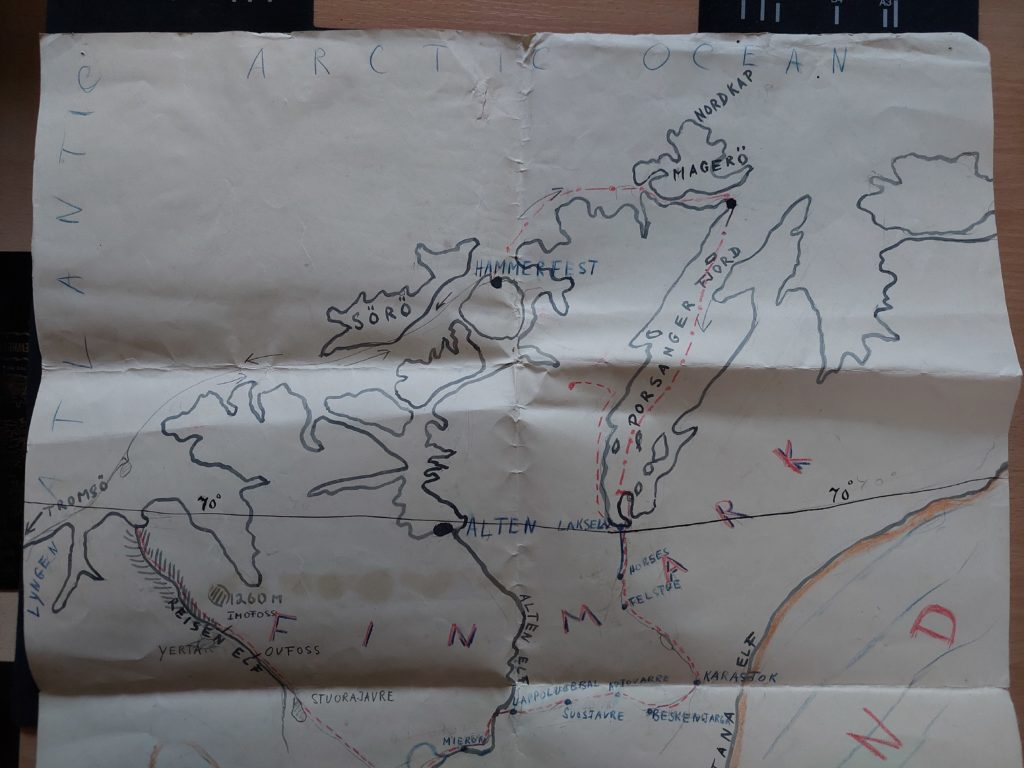 Fortunately, the records created by John Weatherby, which are now in the Magdalen Archives, add considerably more flavour. These include a large collection of both bound and loose photographs, administrative materials such as an account book and expedition proposal, correspondence and postcards, guides and maps, and the notes for a talk Weatherby gave upon his return.
They also include Weatherby's extensive handwritten diary (and a typescript copy of it), which not only offers vivid descriptions of the landscape and the expedition's adventures within it, but also sketches of the indigenous people and samples of local flora. It also captures some of the tensions within the group, absent from Elton's published report, which on occasion bubbled to the surface as journeys took longer than expected and provisions began to run low.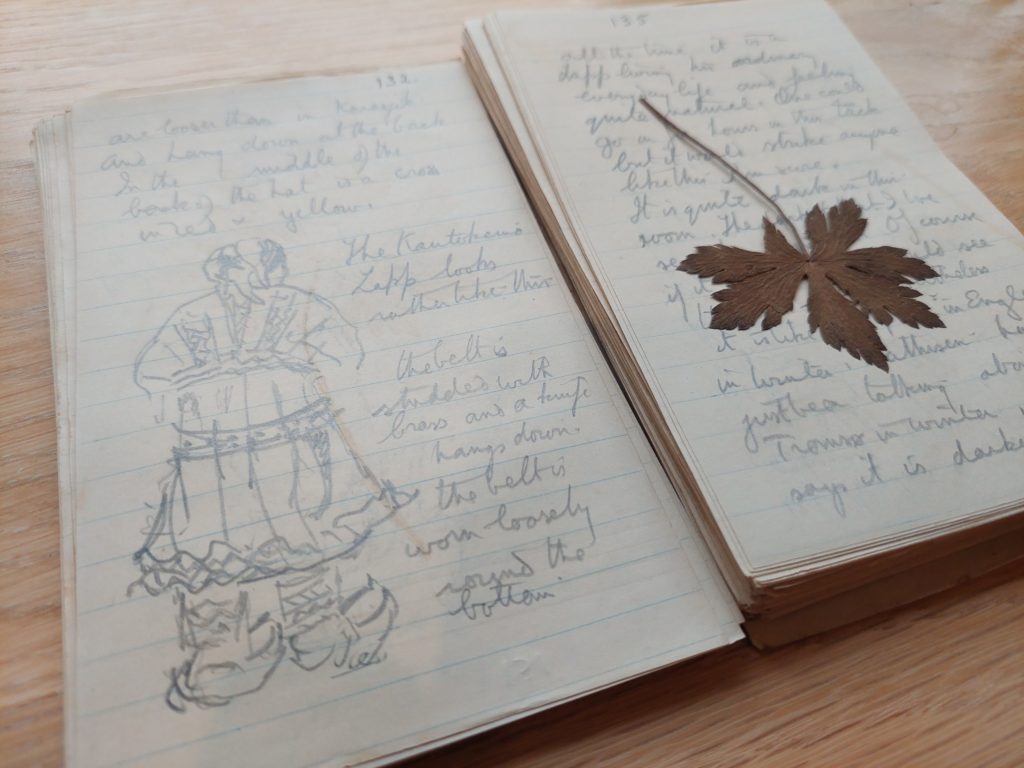 Similarly, the collection sheds fascinating light on the people and places the expedition encountered along its route almost a century ago. Weatherby's drawings show a keen artistic eye (he later became a painter, and lectured in Art), while a recent reader to consult the collection, who hails from the very region visited by the expedition, remarked upon how well Weatherby had captured in his descriptions the landscape that very few people from outside the subarctic world would then (and also now) have ever seen.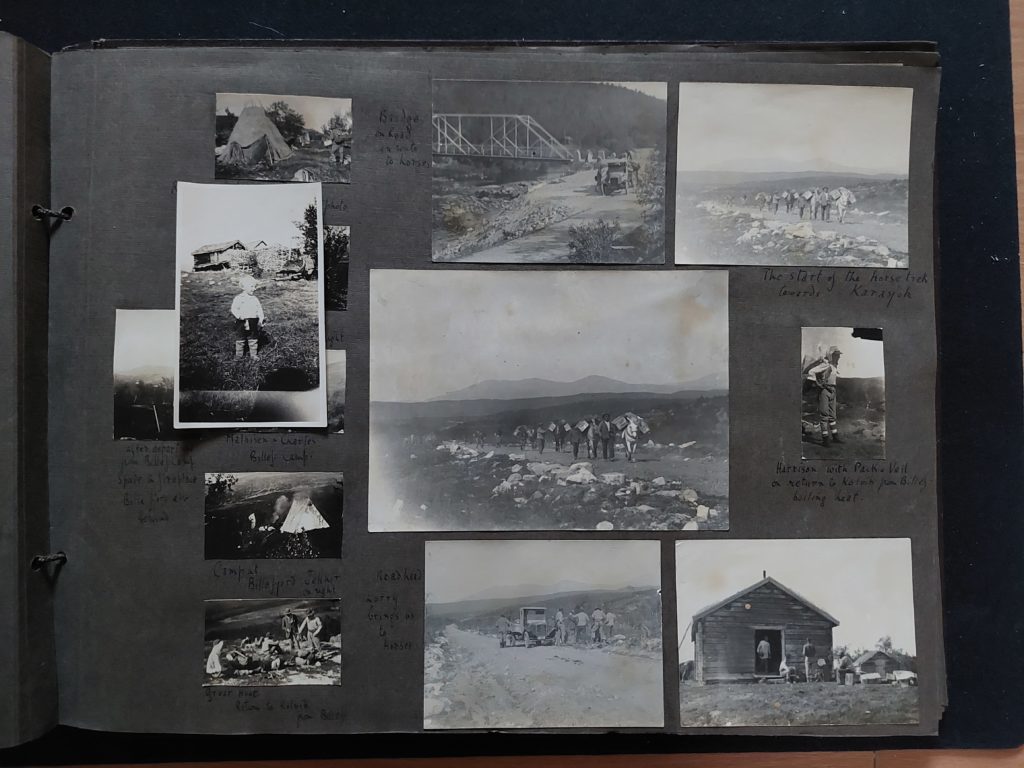 There are also the insights the collection allows into the early career of Charles Elton, one of Britain's foremost ecologists. He had himself graduated from Oxford only eight years prior, having published his first (and landmark) book, Animal Ecology, in 1927. Elton's papers, which include his own diaries and photographs from his Arctic expeditions, are today housed at the Bodleian, and can now be brought into conversation with Weatherby's accounts. These also capture the techniques used by the team's scientific members at a time when the discipline itself was developing, some of which would today raise eyebrows.
First and foremost, however, this collection stands as a testament to what must have been a defining event of John Weatherby's time at Magdalen, otherwise unrecorded in the college archives, and to the remarkable achievements of this particular young student. The extent of Weatherby's youth is starkly captured by his diary entry for his first full day leading the expedition (also his birthday), when he noted simply that, 'Last night with the midnight sun shining, I realised I was 20 years old.' Like many before and since, his time at Magdalen was shaped by far more than tutorials, essays, and exams, with his experiences in Norwegian Lapland no doubt proving as formative as those enjoyed just off Longwall Street.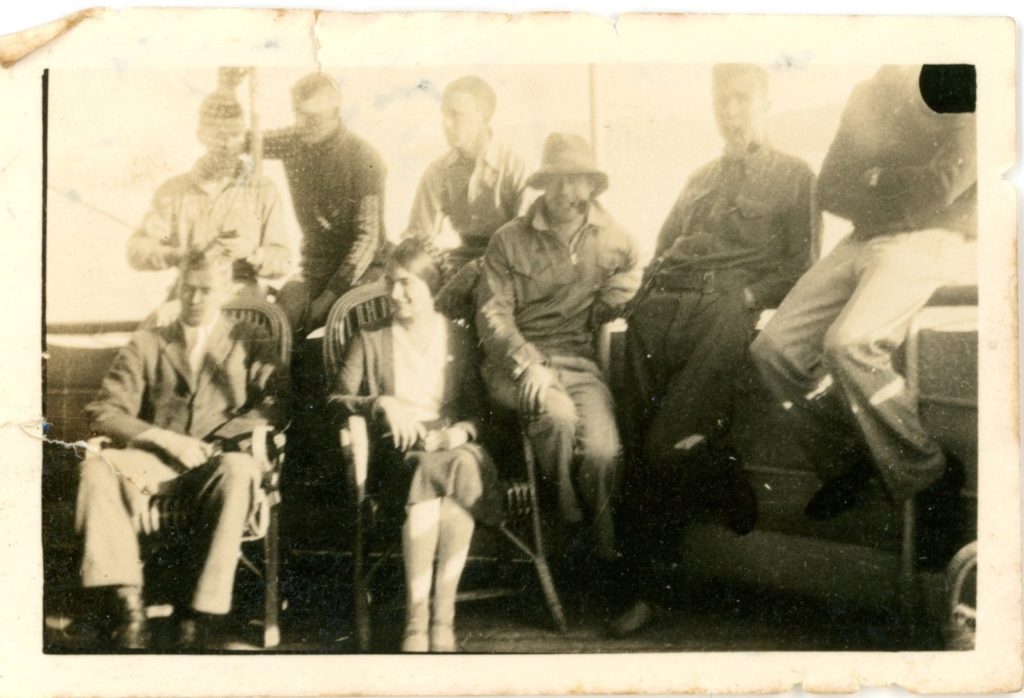 As such, it is fantastic that the Weatherby papers should now have a permanent home at Magdalen. And, if you'd like to make your own mini-expedition to come and consult them (or anything else in our collections) in our always temperate reading room, you need only get in touch and ask!
Written by Dr Richard Allen, College Archivist, Magdalen College.