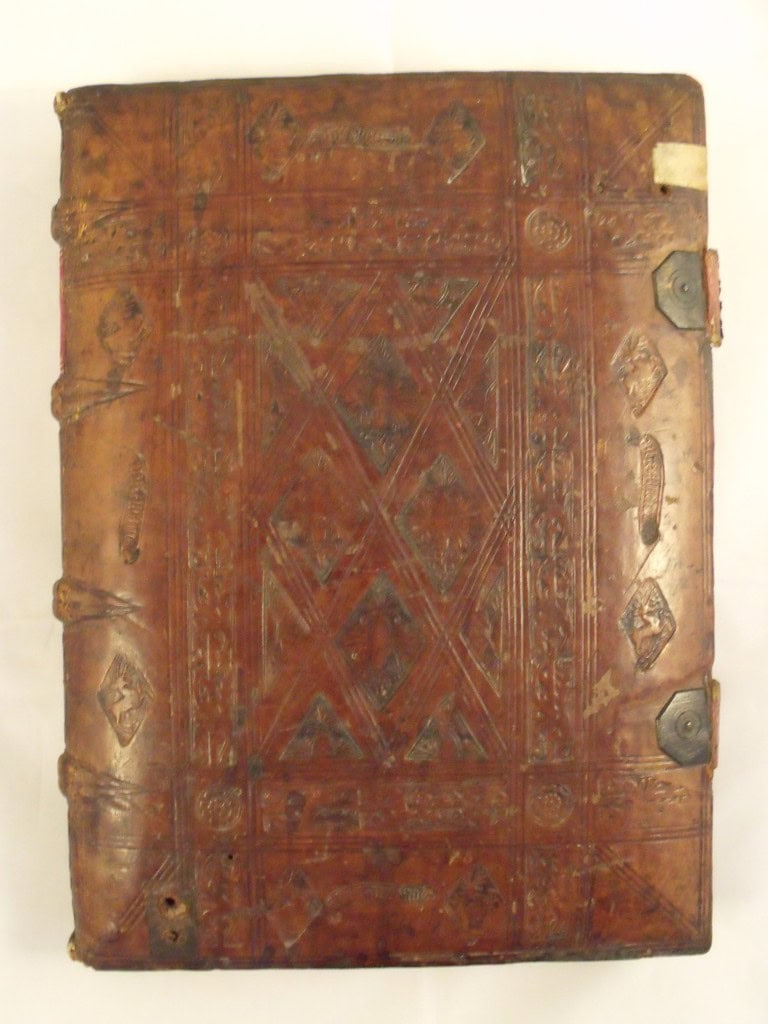 Magdalen's Old Library contains a wealth of examples of fine and historic bindings. Prior to the mechanisation of book production, binding was a handcrafted process and all bindings are unique artefacts. Not merely a means of holding a text together, bindings can provide valuable insight into book production, the book trade and how books were used and valued by their owners.
An exhibition celebrating the wide variety of bindings in Magdalen's collection is planned to be held in Hilary Term 2015 and this month's Treasure of the Month features one example of an early binding in the collection.
Magdalen MS 58 is a manuscript of Peter Lombard's 12th century work Libri Quatuor Sententiarum, or The Four Books of Sentences. Lombard (ca. 1096-1164) was a theologian and Bishop of Paris and his work became the standard textbook of theology. It is a compilation of sententiae or authoritative statements on biblical passages and became the most frequently commented upon work of Christian literature, except for the Bible itself, and it influenced all major medieval thinkers.
The binding which encases MS 58 is an example of an early Oxford binding dating from the fifteenth century. Oxford, along with Cambridge and London, became a major centre of bookbinding during the second half of the fifteenth century and Magdalen's Old Library collection contains many Oxford bindings.
It is an example of a fine blind-stamped leather binding, which suggests that this book was valued (unfortunately we do not have information about the provenance of this manuscript). It is brown calfskin leather over rounded bevelled wooden boards. Calfskin was the type of leather most commonly used for bindings from the fifteenth to nineteenth centuries, chosen on account of its availability, durability, suitability for impressed decoration and its aesthetically pleasing, fine-grained appearance. It was most typically dyed a shade of brown.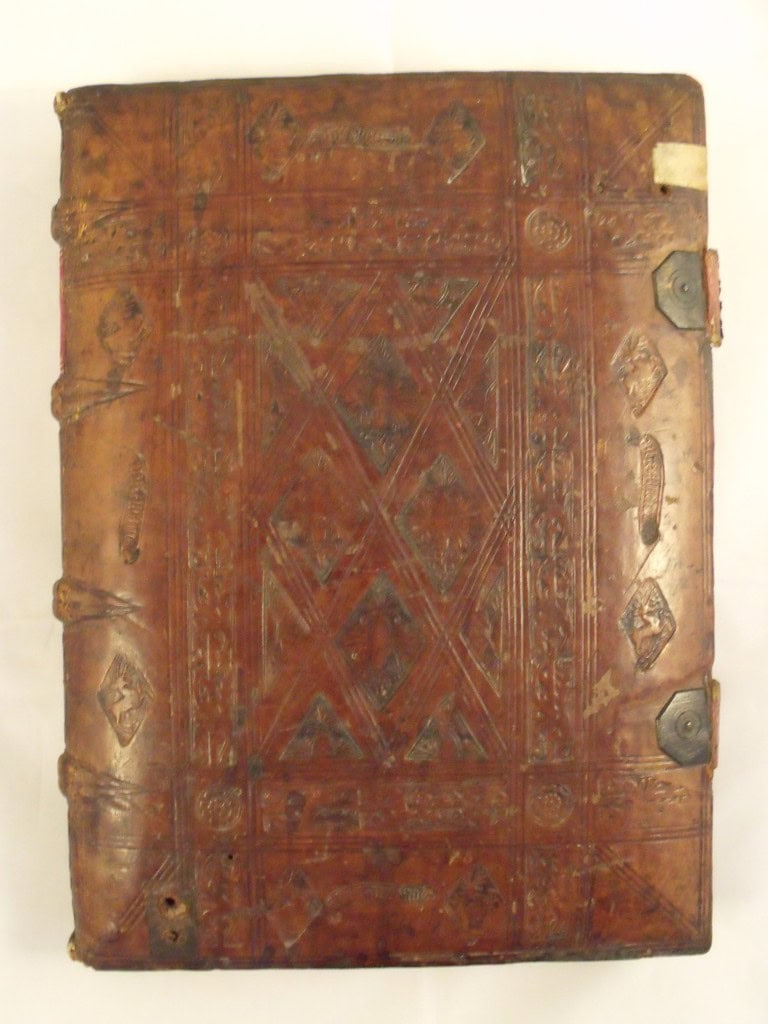 The boards are made of wood, which provided very sturdy protection and durability as was the custom in the fifteenth and early-sixteenth century before this tradition changed to pasteboard as an alternative to wood.
Chaining books by means of metal chain staples on the edges of the boards was common practice in libraries to prevent theft and nail holes and evidence of scarring from a chain staple can be seen on this board.
One particular feature of early bindings is the use of manuscript pastedowns (leaves of other, earlier manuscripts recycled to line the boards or to reinforce spines) and can be seen here. In this case, the flyleaves are also earlier manuscripts.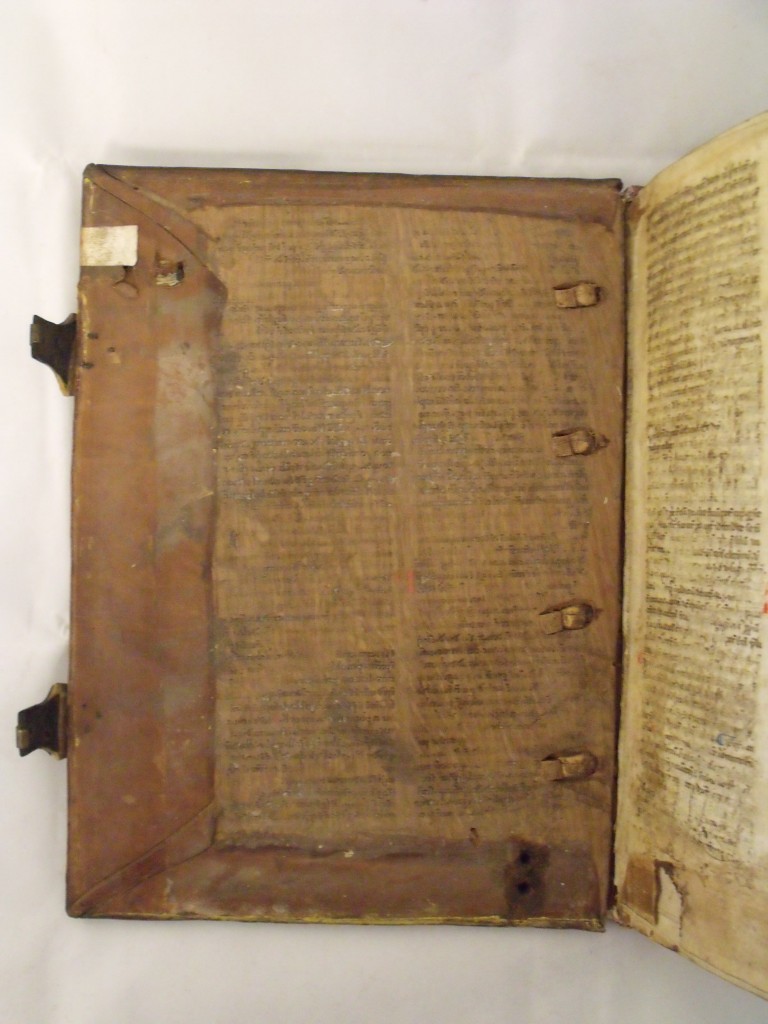 The decoration of the boards is the most striking feature of an historic binding. In early times books were not stood up on shelves in the way they are today. Rolls (metal wheels with patterns enabling continuous lines of decoration) were introduced in the sixteenth-century. Prior to this, stamps depicting animals, plants or geometric designs were employed as a means of decorating the boards and it would have been very time-consuming to create such a binding design as this. The stamps used on this binding enabled Oldham (1952) to identify it as work of the 'Greyhound Binder', active in Oxford in the 1490s and so-called because of his use of a triangular greyhound stamp.
According to Oldham, this binding is one of only ten known examples of the work of the 'Greyhound Binder' . When only two examples of his work were known it was assumed that this binder was based in London but the appearance of eight other examples of his work, including Magdalen's binding, led Oldham to attribute him to Oxford rather than London as six of the examples are in Oxford libraries and the majority cover manuscripts rather than printed books adding weight to the theory of an Oxford-based binder, since manuscripts are unlikely to have been moved very far from their institution. Our example has at least five stamps belonging to the 'Greyhound Binder' (but, unfortunately, not the greyhound stamp).
The binding features a diaper design which was the main style of decorating boards from the late 1470s, not only in Oxford but throughout the country. The diaper design features lozenge-shaped compartments, filled with small stamps within a framework and it creates a striking impact.
It has intact leather straps, with the metal plates to fix them to the upper board and metal hooks, and also the metal clasps are intact on the lower board. Securing with straps was a common feature to keep early books firmly shut as vellum has a tendency to react to humidity by swelling.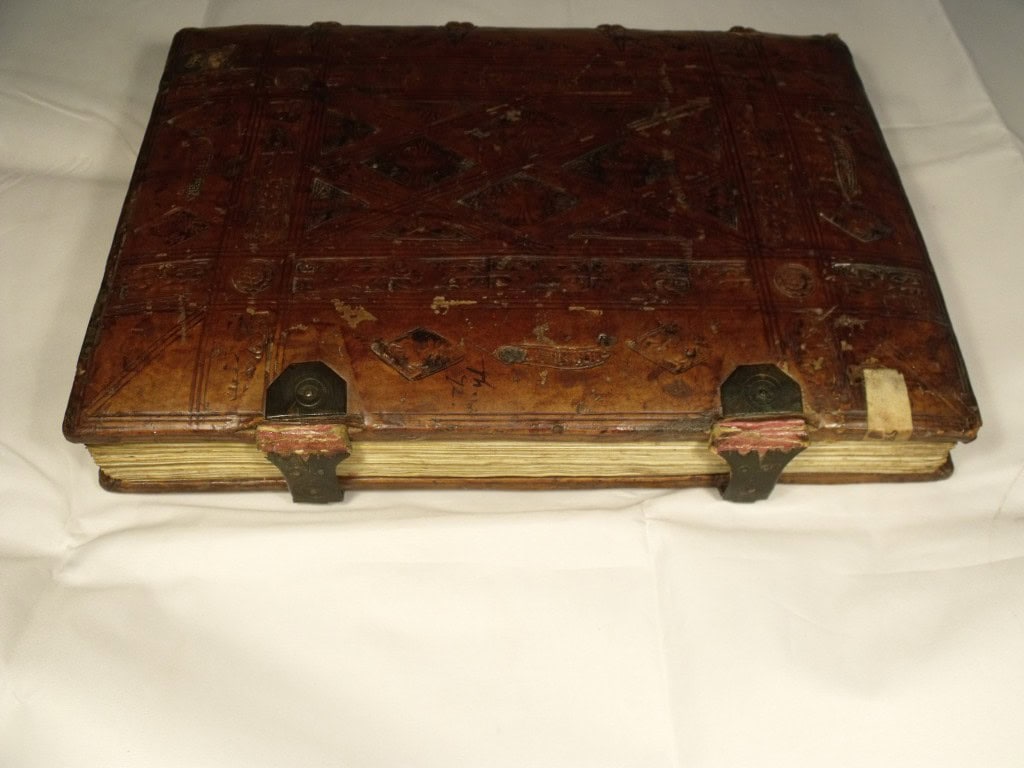 According to Oldham (1952), one peculiarity of the Greyhound binder was the use of pink leather thongs for the clasps, not common with calf bindings as well as pink plaited headbands which were a rarity in England. Often the pink surface of the thongs has worn off over the years but in our binding it is still clearly visible.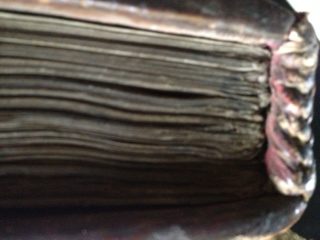 References
Oldham, J.B. 1952. English blind-stamped bindings. Cambridge: Cambridge University Press.