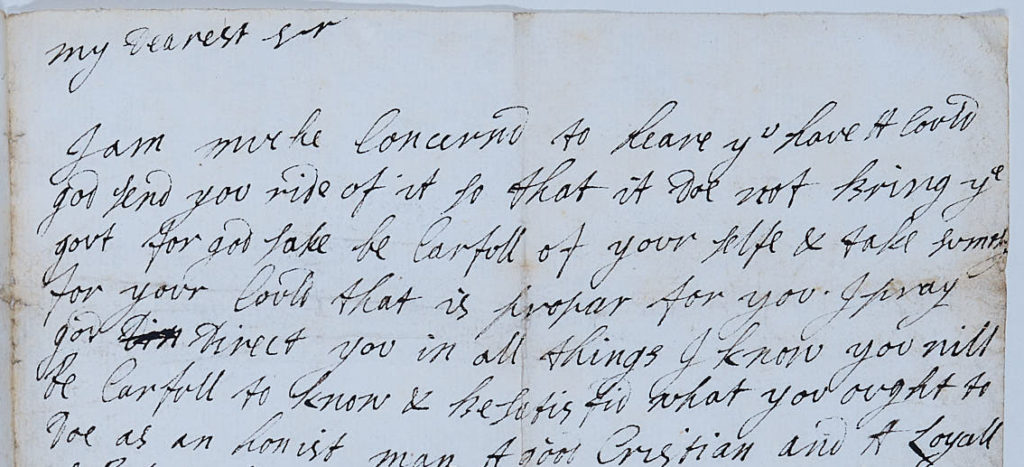 Enduringly popular in England since the 12th century, political prophecies were verse or prose texts that commented obliquely on current affairs. They affected a spurious antiquity, posing as the admonitory utterances of some real or legendary authority (like Thomas Becket or Merlin), supposedly hidden or buried for centuries and only now discovered in some abandoned grave or ruined wall, just as the events they 'predicted' were unfolding.
Traditionally favouring the manuscript medium, prophecies exploded into print in the Civil War and Interregnum (1642-1660), when old examples were repurposed, and new ones coined, as propaganda for both the royalist and parliamentarian causes. Into the late 17th century and beyond, prophecies continued to appear from time to time in manuscript or print, usually at moments of high political tension.
My own research has focused on the uses of political prophecy in early Stuart England. Upon joining Magdalen last year, I therefore couldn't resist typing 'prophecy' into the search bar of our archival catalogue! Thus it was that I found a manuscript prophecy from 1680, titled Shemang Englond, in collection P287: the correspondence of the Bagots, a Staffordshire gentry family.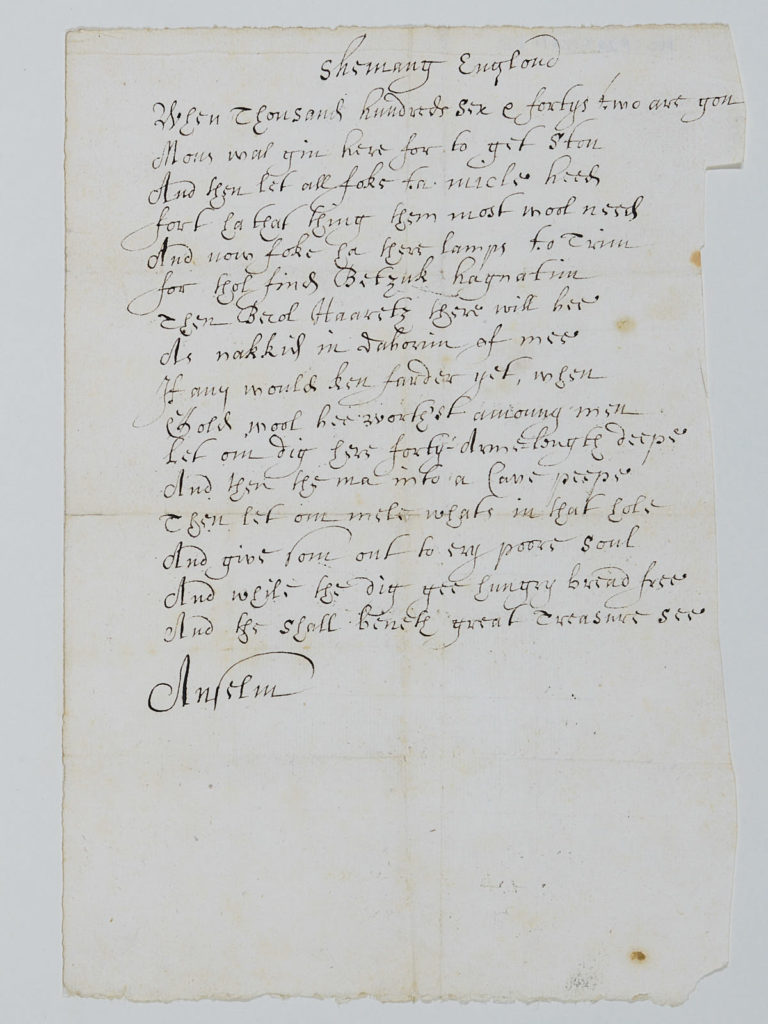 The Bagot family correspondence was gifted to Magdalen in 1946 by one A.B. Burney, about whom we regrettably know nothing. Three featured correspondents had been Magdalen men, all matriculating around the same time (1719/20): George Legge, Viscount Lewisham (c 1703–1732); Heneage Legge (d 1759); and Sir Walter Wagstaffe Bagot (1702–1768), whose paternal grandparents were Jane Bagot (née Salusbury) and Walter Bagot, 3rd Baronet, MP for Staffordshire.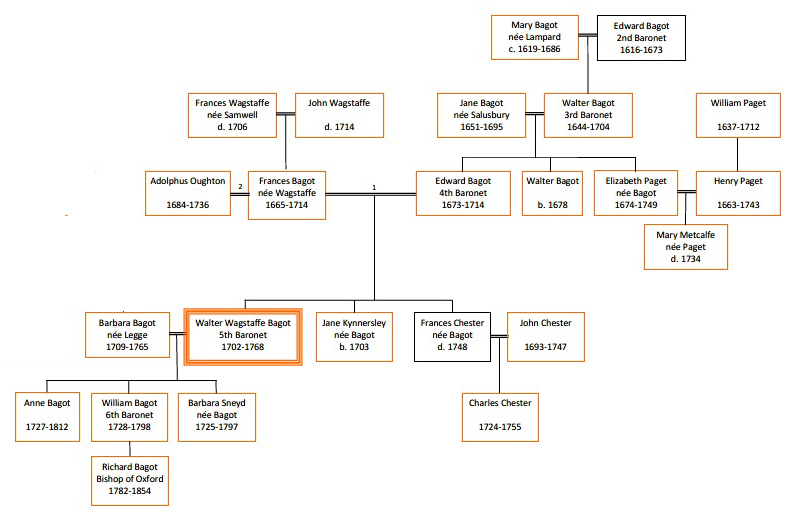 On 6 November 1680, Jane Bagot wrote from Staffordshire to her husband, Sir Walter, in London, wishing him a speedy recovery from a cold, lest it should 'bring the gout', an affliction to which he was prone. Sir Walter was to appear that December as a witness at the treason trial of William Howard, 1st Viscount Stafford, who was ultimately executed for his alleged role in the 'Popish Plot'. Advising Sir Walter to conduct himself as 'a good Cristian and a loyal subject', perhaps Jane Bagot alludes to his coming day in court. She concludes by mentioning two enclosed papers of news, sent by a Master Rods from the Staffordshire moorlands.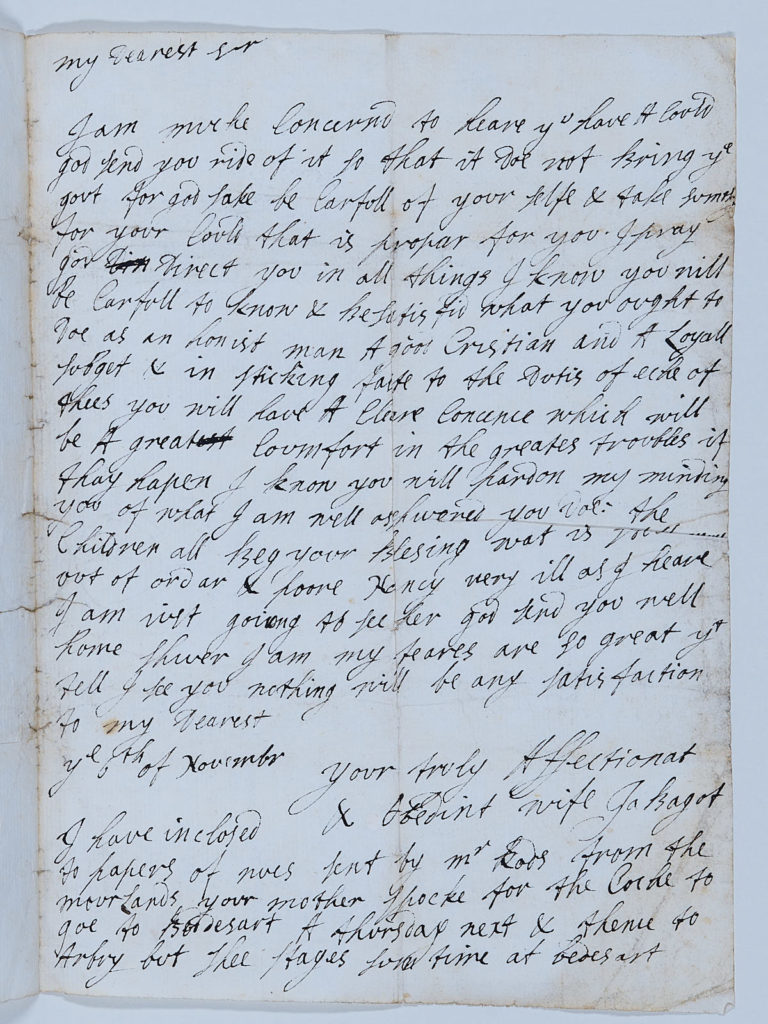 The first enclosure, dated 1 November 1680, is a purported 'true relation' of the discovery of an ancient, long-buried prophecy near Leek in Staffordshire during recent quarrying work; the second is the prophecy itself, Shemang Englond, attributed to 'Anselm' (see Fig 1).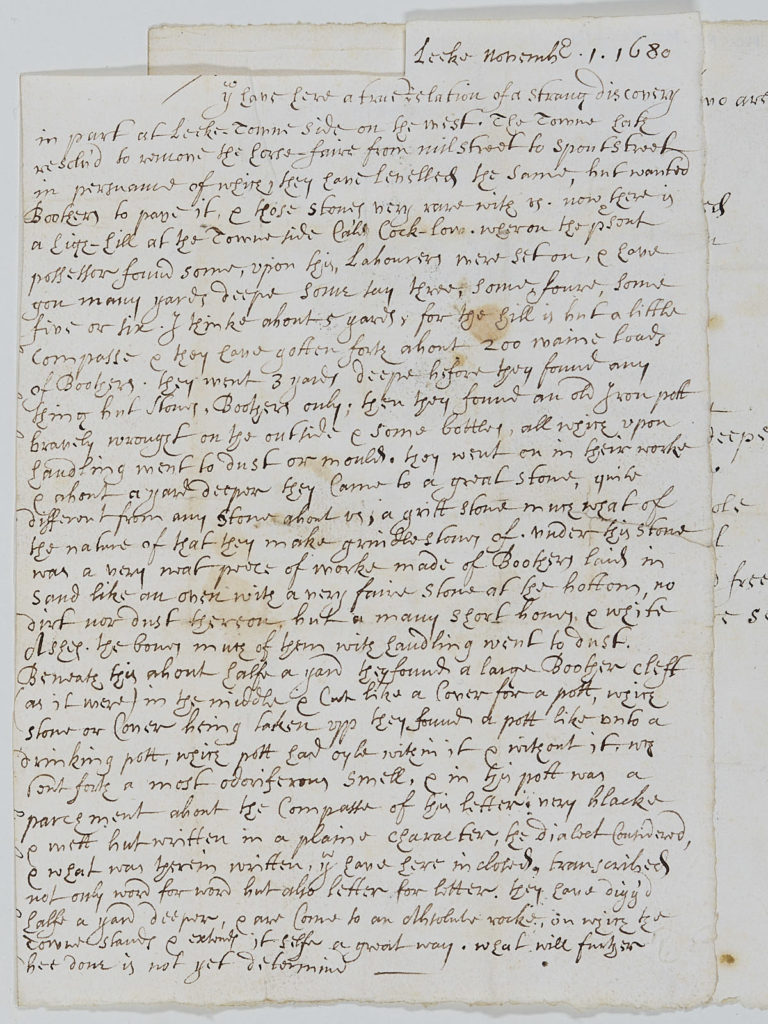 In all surviving manuscript copies, the Shemang Englond prophecy is prefaced by the same account of its discovery near Leek. The manuscript contexts of these extant witnesses are various. The prophecy is found in collections of political and satirical poems; papers about astrology and medicine; the collected letters of the natural philosopher Robert Boyle; papers on alchemy; and a survey of funeral monuments, by one Thomas Dingley.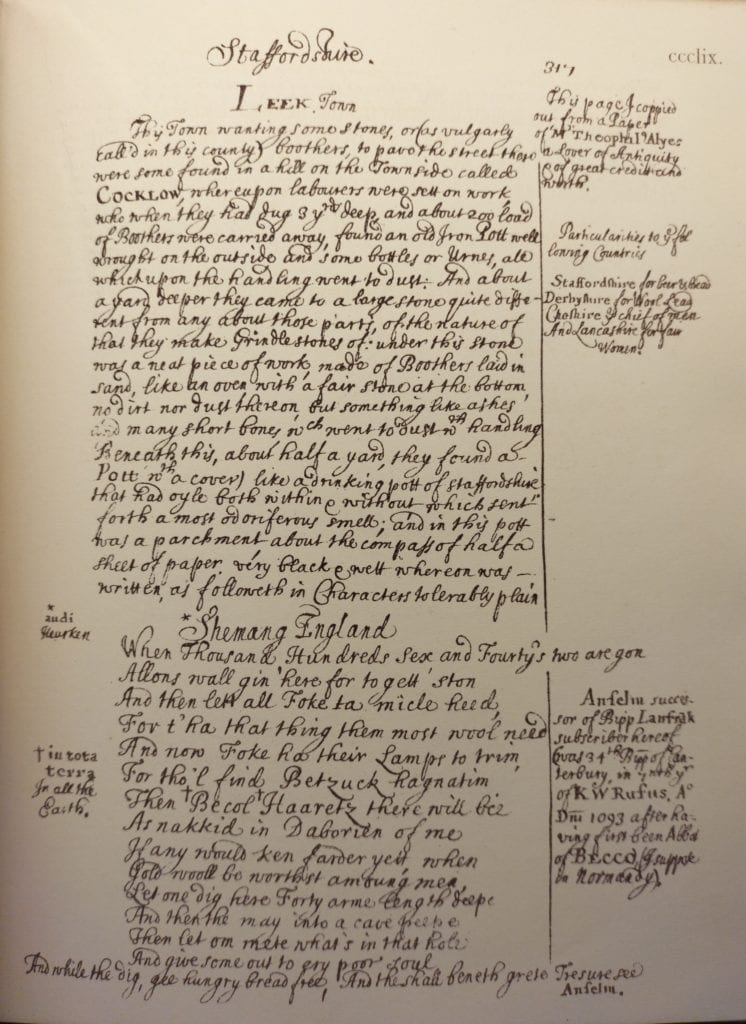 Several political prophecies entered circulation amid the 'Popish Plot' furore. Among these were such obviously partisan publications as Strange and Remarkable Prophecies and Predictions of the Holy, Learned, and Excellent James Usher (1678) and Dr Martin Luther's Prophecies of the Destruction of Rome (1679). Shemang Englond, meanwhile, appears uninfected with the 'Popish Plot' fever:
Shemang Englond
When Thousand hundreds sex & fortys two are gon
Mons wal gin here for to get ston
And then let all foke ta micle heed
fort ha that thing them most wool need
And now foke ha there lamps to Trim
for thol find Betzuk hagnatim
Then Becol Haaretz there will bee
As nakkid in dahorim of mee
If any would ken farder yet, when
Gold wool bee worth'st among men
Let om dig here forty-Arme-length deepe
And then the ma into a Cave peepe
Then let om mele whats in that hole
And give som out to ery poore soul
And while the dig gee hungry bread free
And the shall beneth great Treasure see
Anselm
The title of this sixteen-line poem in rhyming couplets carries the sense of 'Hear, O England': 'shemang' is a borrowing from the Hebrew šema, the imperative of 'to hear'. The first line features a date formula identifying the year of the prophecy's fulfilment: 'Thousand' (1000) + 'hundreds sex' (600) + 'fortys two' (2 x 40) = 1680. Line two is Staffordshire dialect for 'Men will go in here to get stone', a presumed reference to the quarrying work that supposedly brought the prophecy to light. Lines 11-16 enjoin the diggers to give free bread to the hungry: if they do, they will unearth 'great Treasure', which they should melt ('mele') and distribute among every 'poore soul'. Eschewing direct engagement with the 'Popish Plot' controversy, this prophecy is nonetheless political, issuing an appeal for the redistribution of wealth.
A distinctive feature of the Shemang Englond prophecy is the use of transliterated Hebrew phrases among snatches of Staffordshire dialect. I am grateful to Hebrew-speaking colleagues for suggesting the following readings of text in lines 6-8: 'Betzuk hagnatim' ('on the precipice of time'); 'Becol Haaretz' ('in all the land'); and 'nakkidin dahorim' ('pure lambs'). The Hebrew transliterations are common to all known manuscript versions; interestingly, though, garbled English phrases were substituted when Shemang Englond was printed in 1680, in a pamphlet capitalising on the popularity of mid-century prophetical anthologies edited by William Lilly.
The printed version includes some rather creative exposition, suggesting that St Anselm (the authority to whom the prophecy is attributed) produced the promised 'treasure' through alchemical processes. Some extant manuscript versions also feature glosses, revealing how the Shemang Englond prophecy was read and interpreted in its time. Sadly, Jane Bagot does not offer her thoughts on the prophecy. Her letter and enclosures are nonetheless intriguing: they provide rare and valuable evidence of a female market for political prophecy in the late 17th century, thus demonstrating the breadth of popularity once enjoyed by this type of political writing, which endured for centuries before finally falling out of favour.
Why not try typing some search terms of your own into our archival catalogue? Who can predict what treasures you might unearth?
Written by Dr Emily Jennings, Assistant Archivist and Records Manager
With thanks to Dr Suzanne Schneider and Esther Yadgar
Further reading
A. Walsham, Providence in Early Modern England (Oxford, 1999)
T. Thornton, Prophecy, Politics and the People in Early Modern England (Woodbridge, 2006)