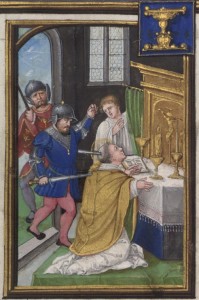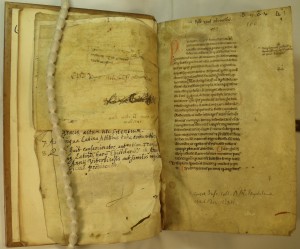 Many of the books in Magdalen College Library had interesting previous owners, from Cardinal Thomas Wolsey to the Elizabethan adventurer Arthur Throckmorton; the Nonjuror librarian John Fitzwilliam to the botanist John Goodyer.
However, this is the only book in the Magdalen collection which once belonged to a saint: Saint Thomas of Canterbury, Thomas à Becket (c.1120–1170). Becket was, according to the surviving medieval biographies, born in Cheapside in London. When he was young he was more interested in hunting than in learning Latin; however he had a talent for financial manners, keeping the accounts of a London banker and from there moving into the household of Theobald, Archbishop of Canterbury, in 1145. Becket was supported and groomed for greatness by Theobald, becoming Archdeacon of Canterbury in 1154 and then Chancellor to the new king, Henry II, in 1155. He served Henry loyally, raising taxes to finance wars from all the landowners—nobles and churches alike—despite his role as Archdeacon.
When Theobald died, King Henry wanted his Chancellor to run the Church in England as well as his finances, and the monks of Canterbury dutifully followed his orders and elected Becket as the new Archbishop in 1162. Becket's time as Archbishop was famously turbulent. He kept apart from the monks, with his own staff of secular clerks. He used his financial talents to the advantage of the Archbishopric, revoking leases of estates and recovering lands usurped by laymen. The real tensions arose, however, when he sought to defend the rights of the Church over those of the King, abandoning his previous master. Becket defended canon law against the ancient customs of England, particularly supporting the 'benefit of clergy', the principle that members of holy orders should be tried by ecclesiastical rather than secular courts, which Henry opposed.
Henry summoned a great council at Woodstock in 1164, where he forced Becket to agree to observe all the ancient laws and customs of the Kingdom. With Becket humiliated, his friends abandoned him and cases started to be brought against him, by nobles he had slighted and by the King for embezzlement. Becket fled to France, threw himself at the mercy of Louis VII, and took up residence first in the Cistercian abbey at Pontigny and then in the Benedictine abbey of St Columba near Sens. Finally, a rapprochement was reached, and Becket returned to England in 1170. He was welcomed enthusiastically by many people, which worried the government, and passed sentence against the bishops who he believed had betrayed him. Henry II, campaigning on the continent, was fed up with Becket's trouble-making and sent a mission back to England to present the Archbishop with the King's demands to forgive the bishops, and possibly even to arrest him if he refused. Bad weather in the Channel split up the mission, and the first group of barons to encounter Becket were particularly harsh and uncompromising. They demanded that he release the bishops from their sentences or face arrest: he refused, fought back when they tried to man-handle him, and was brutally cut down inside Christ Church Cathedral, Canterbury.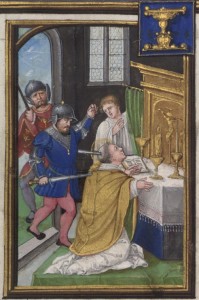 Within a month a cult of the martyr had sprung up, which grew and grew. Becket was canonised in 1173, and in 1174 Henry II made pilgrimage to Becket's tomb, humiliating himself and being scourged. Phials of Becket's blood were sold by the cathedral, and Canterbury became one of the greatest venues of pilgrimage in the Middle Ages. Becket was for several hundred years regarded as England's patron saint, and his relics were widely revered and kept in magnificent caskets. His impact is shown in the illumination above from Cardinal Wolsey's Lectionary, over 350 years later, depicting his martyrdom.
However, perhaps surprisingly, some of his possessions were never viewed as relics: his books. Despite the fact that someone's collection of books can tell you so much about their thoughts and interests, after Becket's death his personal books were simply added to the Cathedral's library, and they remained there for hundreds of years. The early 14th-century Eastry catalogue of Christ Church Canterbury catalogued the library collections, and recorded which shelves contained Becket's books. These included lots of modern and up-to-date theological works, including Peter Lombard's Sentences, sermons, and glossed bibles. There were many law-books, perhaps reflecting the time that Theobald sent Becket to study law on the continent. The collection was strong in Cistercian texts, presumably as he developed his collection whilst at Pontigny, and in books relating to the role of the clergy. Interestingly the collection contained John of Salisbury's Policraticus (which survives at the Parker Library in Cambridge), a book about the relationship between a king and his subjects. John of Salisbury was a close friend of Becket's, and it is possibly John who helped Becket develop his magnificent collection of Latin classics.
This book was also from Becket's library: Cassiodorus' Variae epistolae, the letters of Flavius Magnus Aurelius Cassiodorus Senator (c.485–c.585). Cassiodorus was a Roman statesman and writer who was a leading civil servant under Theoderic the Great, King of the Ostrogoths, and his successor Athalaric. After the death of Athalaric he retired, travelled to Constantinople, and then established a monastery where he built up a fine library. His Variae epistolae is a collection of the official edicts, letters, and documents which Cassiodorus wrote for Theoderic and Athalaric. The book is a fascinating guide to writing official Latin letters, and how to deal with kings. It is not hard to see why Becket might find such a book useful, and how he might have seen Cassiodorus as a kindred spirit.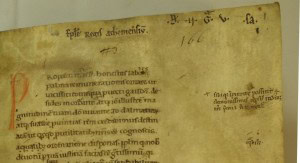 The shelf mark on the upper right of the first page, 'D ij. Ga v. sa', is its Christ Church shelf mark and confirms that this is indeed the copy once owned by Becket. This is re-confirmed by the entry in Prior Eastry's catalogue, where it appears as number '835. Epistole Regis Atheniensium'. This is not the correct title of the book, but it is the title entered in error on the top of the first page of our manuscript, showing that this is indeed the copy which Eastry catalogued. The text is written in a mid-12th-century protogothic bookhand, with stylistic influences that suggest it was probably written in northern France, perfectly tallying with the place and period of Becket's exile.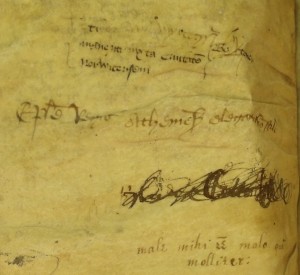 At some point the book left Canterbury, and came into the hands of William Worcester (c.1415– c.1482) in the city of Norwich, as is recorded on the fly leaf with the (very faint) inscription 'Pertinet W Wyrcetyr manenti iuxta Ciuitatem Norwicensem'. William Worcester was the secretary of Sir John Fastolf (1380–1459), the Hundred Years War general whose estates helped endow Magdalen College. Worcester was also an associate of our founder, William Waynflete, a fellow executor of Fastolf's original will. We know that Waynflete gave the college 800 books in the 1480s, the foundation of our library, and that many of these books were gifts from his friends: this is one of four manuscripts in our library that we can trace to Worcester.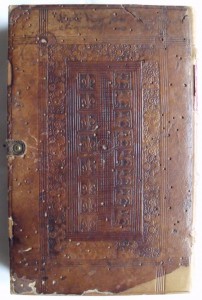 This book was re-bound in the late 15th century, in a fine blind-stamped leather binding, suggesting the book was highly valued. The binding stamps used enabled Oldham to identify it as one of the five surviving books bound by 'the Crucifer Binder'; however unfortunately it is not known where this binder was based.
Further Reading
Ralph Hanna, Catalogue of Manuscripts in Magdalen College Library (forthcoming)
Thomas Hodgkin, The Letter of Cassiodorus (London, 1886) – available online here
Montague Rhodes James, The Ancient Libraries of Canterbury and Dover: the Catalogues of the Libraries of Christ Church Priory and St. Augustine's Abbey at Canterbury and of St. Martin's Priory at Dover (Cambridge, 1903) – available online here
James J. O'Donnell, Cassiodorus (California, 1979) – available online here
J. Basil Oldham, English Blind-Stamped Bindings (Cambridge, 1952)