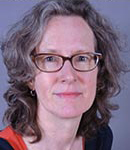 Ms Jane Eagan
Department: Oxford Conservation Consortium (OCC)
College appointment: Head of Conservation and Preservation, OCC
What I Do Here
I am the Head of Conservation and Preservation of the Oxford Conservation Consortium, working in the library/archive collections of 17 Oxford colleges, including Magdalen. I manage a team of seven book/paper conservators. At Magdalen, I am responsible for developing and delivering a broad programme of collection care which includes remedial conservation treatment and preservation activities in the historic library, archive, and chattels collections.
Qualifications/Professional Experience
My first degree was in French/English Translation from the University of York, Toronto, Canada (MA Hons 1982). After a period of work as a translator, I obtained my MA in Book Conservation at Camberwell College of Arts, London (MA 1995). I am accredited by the Institute of Conservation (Icon), and an elected fellow of the International Institute for Conservation (IIC).
My professional activity has been in the areas of conservation publications, information services, and education. From 1997, I was involved in the publishing activities of the Institute of Paper Conservation (IPC), editing the 1998 London conference papers, and co-editing the 25th anniversary issue of The Paper Conservator in 2001. I was sole editor of IPC's refereed journal, The Paper Conservator, from 2003-2007. From 2008-2016, I was a member of the Institute of Conservation's editorial board, involved in the transition to an academic publisher, and the establishment of the board and its terms of reference. From 2001 to 2014, I was the Honorary Librarian of Icon's resource centre, the Chantry Library, and I continue to work to maintain the Chantry Library, owned and supported by OCC since 2016. I have been a CPD reader for Icon since 2009, and support the profession by ensuring the maintenance and enhancement of professional capability through career professional development. I am the Programme Advisor to the Conservation of Books and Library Materials BA/MA courses offered by West Dean College, making recommendations on teaching, assessment, and workshop practice.
Research Interests
My interests are the history of the book, the description of historic bindings, and the history/manufacture of paper. I have contributed binding descriptions to two recently published manuscript catalogues.
Sosower, Mark L., A Descriptive Catalogue of Greek Manuscripts at St. John's College, Oxford (Oxford, 2007).
Pormann, Peter E., ed., A Descriptive Catalogue of the Hebrew manuscripts of Corpus Christi College, Oxford (Oxford, 2015).
Select Publications
'A textile binding once in the library of Henry VIII – technical examination and conservation', Care and Conservation of Manuscripts 8 (Copenhagen: Museum Tusculanum Press, 2005).
'Fit for a king: Evidence of the refurbishment of a group of medieval manuscripts for the library of Henry VIII', Care and Conservation of Manuscripts 13 (Copenhagen: Museum Tusculanum Press, 2012).
'An Unexpected Discovery; Early Modern Recycling', https://www.merton.ox.ac.uk/library-and-archives/conservation/ream-wrapper (2016).