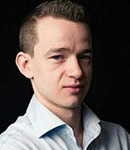 Mr Alan Eustace
Subject: Law
Department: Law
Academic position: Fixed-Term Fellowship by Special Election & Lectureship in Law
Background information:
I studied law at Trinity College, Dublin (LL.B 2018, PhD pending) and St Cross College, Oxford (BCL 2019). I taught at Trinity College Dublin before joining Magdalen in 2021.
Teaching:
My college teaching includes Constitutional Law for Mods and European Union Law for FHS.
Research:
My research interests include individual and collective labour law, human rights law, constitutional law and theory, EU law, and jurisprudence.
My PhD thesis, entitled The Worker and the Constitution: A Theory of Constitutional Labour Law, is supported by the Government of Ireland Postgraduate Scholarship from the Irish Research Council.
Recent publications include:
'An Alternative Future? Lessons for Ireland on Trade Union Victimisation and Art 11 ECHR' (Irish Employment Law Journal, forthcoming)
Public Health Law in Ireland during the Covid-19 Pandemic (Trinity College Dublin, 2021) [co-editor and contributor]
'If It Walks Like Misconduct and Quacks Like Misconduct … It's "Poor Performance"? O'Donovan v Over-C Technology Ltd' (2021) 18(2) Irish Employment Law Journal 31
A Right to Disconnect: Irish and European Legal Perspectives (Trinity College Dublin, 2021) [contributor]
'A Shock to the System: Sectoral Bargaining Under Threat in Ireland' (2021) 12(2) European Labour Law Journal 211
Collective Benefit: Harnessing the Power of Representation for Economic and Social Progress (FÓRSA 2021)
'The Virus and the Hare: Irish Coursing Club v Minister for Health' (2021) 39(6) Irish Law Times 86
Covid-19: Public Policy Report on Supporting Individuals, Communities, Businesses and the Economy (Trinity College Dublin, 2020) [contributor]