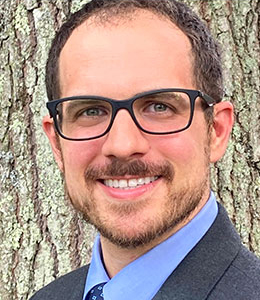 Dr Raymond Carlson
Subject: Fine Art, Modern Languages
Department: Medieval and Modern Languages
Academic position: Fellow by Examination
Background
Raymond received his BA from Yale University with a double major in Italian Language and Literature and History of Art. He subsequently completed two MPhils in European Literature and Culture (Italian) and History of Art and Architecture at Clare College, University of Cambridge, where he held the Paul Mellon Fellowship. While earning his PhD in Art History and Archaeology from Columbia University, Raymond was awarded the Anthony M. Clark Rome Prize at the American Academy in Rome. Before joining Magdalen College in 2021, he was Jane and Morgan Whitney Fellow at the Metropolitan Museum of Art.
Research
Raymond's interdisciplinary scholarship is concerned with early-modern visual and literary culture, with a focus on the relationship between art and literature in Renaissance Italy. Combining close study of original artworks and textual sources, Raymond engages a variety of critical approaches including gender studies, queer theory, material philology, cultural history, connoisseurship, and technical art history.
Raymond's current book manuscript re-evaluates the creative production of Michelangelo Buonarroti across media. This research addresses why, at the peak of his fame and professional obligations, Michelangelo devoted considerable energy to writing hundreds of poems. At Magdalen Raymond is also developing a literary, visual, and social history of artists' workshops in Renaissance Italy. Among his additional projects is a study of the interchange between popular literature and bronze sculpture in the Veneto during the sixteenth century.
Selected Publications
'Epistolary Criticism, the Minerva Christ, and Michelangelo's Garzone Problem,' Mitteilungen des Kunsthistorischen Institutes in Florenz 63, no. 1 (2021): 126-145.
'"Eccellentissimo poeta et amatore divinissimo": Benedetto Varchi and Michelangelo's poetry at the Accademia Fiorentina," Italian Studies 69, no. 2 (2014): 169-188.