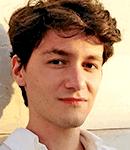 Dr Marcello Cattaneo
Subject: English
Department: English
Academic position: Fellow by Examination
Background
I gained my BA in English at Christ Church, Oxford, my MPhil at Trinity College, Cambridge, and my DPhil at Merton College, Oxford. Before joining Magdalen in 2019, I was also a visiting fellow at the Oxford Centre for Hebrew and Jewish Studies.
Research
I work on the intellectual and literary cultures of early modern England and Europe, with a special interest in the history of humanism and of philology, and in the intersections of literature and scholarship in the period 1600-1750. My doctoral thesis discussed the early satires of Jonathan Swift in the context of seventeenth-century erudition and theological controversy. Other areas of my research interests include various aspects of Neo-Latin writing; the history of satire and of scholarly polemics; Christian Hebrew scholarship and the reception of Jewish texts in Christian circles; the history of theology and confessional identity; the reception of the church fathers and the study of Christian and Jewish antiquity in the early modern period.
Publications
'Between Antiquarianism and Satire: Tertullian's De Pallio in the Age of Confessions, ca. 1590-1630', in Erudition and the Republic of Letters (forthcoming, 2020).