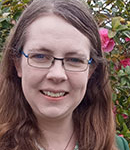 Dr Lucy Smith
Department: Libraries and Archives
College appointment: Wilson Project Archivist
I have a BA (Hons) in English from the University of Exeter (2008). After gaining experience in the archive sector I studied for a Masters in Archive Administration at Aberystwyth University (2012) where I wrote my dissertation on the treatment of literary archives. In 2013, I began a full-time PhD at the University of Portsmouth entitled 'Julia Margaret Cameron and Archival Creativity: Traces of the Photographic Imagination from the Victorian Album to Neo-Victorian Fiction' which I completed in 2017. My research interests include the relationship between literature and the archive, nineteenth-century photography and neo-Victorian fiction.
In 2019, I completed a cataloguing project at Gwent Archives funded by the Wellcome Trust on ''A Penny in the Pound' to 'Free at the Point of Delivery': Cataloguing the pre- and post-1948 hospital records of Monmouthshire'. This cataloguing project traced the origins of the NHS in South Wales Medical Aid Societies to the fruition of a universal health care system in early NHS records, and culminated in a public event in April 2019. I have also worked as an Assistant Archivist at Bath Record Office in 2011.
Role at College
As Wilson Project Archivist, my role is to catalogue the records of Jeremy Wilson (1944-2017), the authorised biographer of TE Lawrence (1888-1935), archaeologist, resistance leader and writer. Lawrence was also a Senior Demy at Magdalen College. The College is actively collecting material relating to TE Lawrence and the Wilson project is funded by the Harry and Alice Stillman Foundation. Jeremy Wilson spent fifty years working on Lawrence, producing his official biography, publishing editions of Lawrence's works via the Castle Hill Press and advising public exhibitions on Lawrence.
Publications
"Julia Margaret Cameron and Archival Imagination: Materiality and Subjectivity in Biofictions of a Victorian Photographer". Neo-Victorian Biofictions. Ed. Marie-Luise Kohlke and Christian Gutleben. Amsterdam: Rodopi. (to be published 2020).
''Expanding the Limits of What Can be Imagined': Multiple Photographies as Catalysts of Literary Perception' (Review). Journal of Victorian Culture 23:4 (Nov 2018): 574-577.
'Creating Narratives from the Victorian Photographic Archive: Re-imaginings of Julia Margaret Cameron's Work in Ulverton (1992) and The True and Splendid History of the Harristown Sisters (2014)'. Word and Image2 (Summer 2017): 170-182.
'Flights of Archival Imagination: Virginia Woolf's Transcendent Materiality in Contemporary Archive Fiction'. Virginia Woolf and Heritage. Eds. Jane de Gay, Tom Breckin and Anne Reus. Clemson, South Carolina: Clemson University Press, 2017. 223-228.