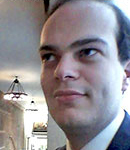 Dr Daniel Robinson
Subject: History
Department: History
College appointment: Senior Demy
Background
Born in Northumberland in 1990, Daniel Robinson came to Magdalen as a Fellow by Examination in October 2017, having received his BA, MPhil, and PhD from Peterhouse, Cambridge. He was formerly a postdoctoral fellow at the Rothermere American Institute, and Senior Policy Adviser to the Minister for the Cabinet Office, responsible for Union and devolution policy in the aftermath of the EU referendum.
Research
His academic work focuses on interactions between the English-speaking world and Continental Europe. His first monograph – 'In Liberty's and Europe's Cause': The European World, Colonial Political Culture, and the Origins of the American Revolution– traces how attitudes towards the European states system shaped British-American political culture in the eighteenth century, and ultimately the American Revolution itself. His second book – Natural and Necessary Unions: The Scottish Question in British Geopolitics– explores the deep history of British unionism and Scottish nationalism through their relationships with contexts overseas, drawing out some lessons for political theory and contemporary policy.
His current project is an inquiry into the transmission of nationalist and federal ideas between Europe, North America, and Australasia during the half-century prior to the First World War. He is involved with the Cambridge Centre of Geopolitics and Grand Strategy, a contributor to the think-tank These Islands, and co-convenor of 'The Long History of Identity, Ethnicity, and Nationhood' a network based in the Oxford Research Centre in the Humanities. He is also a portrait painter. From Michaelmas 2018, he will serve as one of the Deans of Arts.