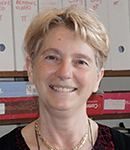 Dr Angela Minini
Subject: Modern Languages
Department: Italian
Academic position: Special Lecturer in Italian
Prof. Angela Minini has been appointed by MAECI, Ministero degli Affari Esteri e della Cooperazione Internazionale, Lettrice di Ruolo di Lingua Italiana in the Faculty of Medieval and Modern Languages at Oxford University.
She graduated in "Lingue e Letterature Straniere" from the University of Bergamo.
After spending a year in London working as a Foreign Language Assistant of Italian and cooperating in a few Summer Italian Courses for Foreign Students organized by the University of Bergamo, she took up teaching English as a Foreign Language to Italian students aged 14 to 18.
She has also been appointed by the Italian Ministry of Education Teacher Trainer of Primary School Teachers for whom she organized and ran courses of English as a Foreign Language at different levels before starting teaching Italian at the University of Oxford.